Zantac may raise patients' risk of cancer. In April 2020, the U.S. Food and Drug Administration (FDA) recalled Zantac and generic ranitidine due to the presence of a probable human carcinogen. Thousands of people across the United States have used this popular medication to treat heartburn and other gastroesophageal conditions, and now, many are filing lawsuits against Zantac's manufacturers.
If you were diagnosed with cancer after taking Zantac, trust an experienced Zantac lawsuit lawyer at Estey & Bomberger, LLP. Our Zantac attorneys represent injured patients nationwide in their claims against drug manufacturers. We will fight tenaciously to secure the compensation that you deserve.
Why Hire Estey & Bomberger, LLP for Your Zantac Injury Claim?
Our Zantac lawyers have represented thousands of clients in claims against manufacturers of dangerous and defective products. We have the skills, experience, and resources necessary to represent your claim.

In a five-year period alone, our attorneys secured over $500 million on behalf of our clients. We are dedicated to recovering a maximum settlement in your case.

Our law firm operates on a contingency fee basis for maximum affordability. We never charge a fee to handle your claim. You will only pay if we secure a financial award on your behalf.
What Is Zantac?
Developed by the drug company GlaxoSmithKline, Zantac (ranitidine) was released on the market in 1983. A medication that helps decrease stomach acid production, ranitidine effectively treated common conditions many Americans suffer with on a daily basis such as heartburn and acid reflux. Over the last four-decades, Zantac went on to become one of the biggest selling GSK products worldwide. Sold as both a prescription and an over-the-counter drug, Zantac was also widely available as the generic ranitidine.
Over the past ten years, the majority of Zantac sold has been the over-the-counter drug manufactured by the French pharmaceutical company Sanofi SA, which is the third largest pharmaceutical company in the world. Another major manufacturer of ranitidine was Boehringer Ingelheim of Germany. Both companies recently stopped producing Zantac after the United States Food and Drug Administration released an announcement stating that ranitidine may be carcinogenic and that it was unsafe for general use. In April of 2020, the FDA requested the removal of all ranitidine products from the U.S. market.
What Do I Need to Know About Zantac Lawsuits?
Long-term research on ranitidine has lead to the belief that the molecules of the drug break down in the body to form a substance called N-Nitrosodimethylamine (NDMA). According to the World Health Organization, NDMA is considered to be a potent carcinogen. According to a number of studies, the use of ranitidine leads to NDMA accumulating in levels that are many times higher than what is considered safe. Due to these findings, there was a world-wide recall of the popular drug.
NDMA is associated with cancers including esophageal cancer, stomach cancer, bladder cancer, kidney cancer, pancreatic cancer, colon cancer, liver cancer, intestinal cancer, colorectal cancer, and prostate cancer in those under the age of 65 at the time of diagnosis. If you or a loved one used NDMA and developed cancer we encourage you to contact our team of compassionate legal professionals today to explore your legal options.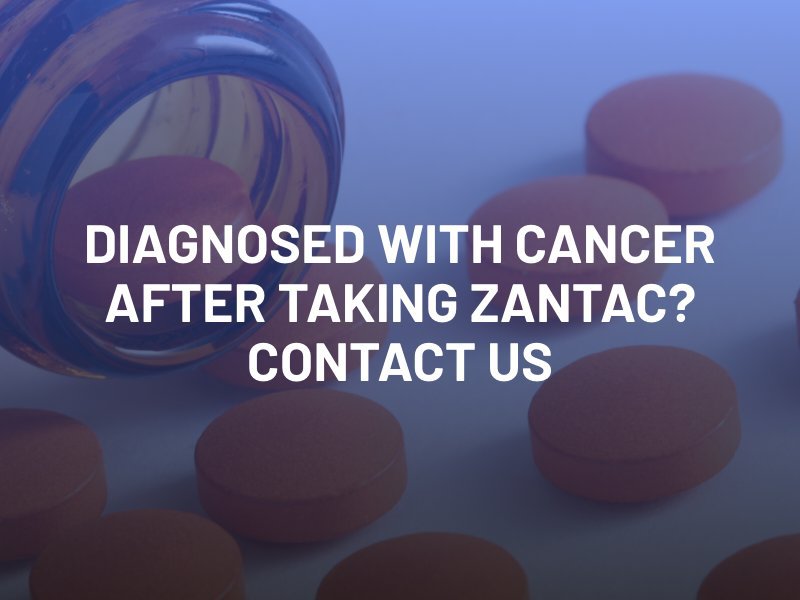 What Are the Common Side Effects of Zantac (Ranitidine)?
Like most medications, taking Zantac may cause side effects in some patients. Most of these symptoms are mild and go away over time. Common side effects of Zantac include the following:
Headaches
Diarrhea
Nausea
Stomach pain
Constipation
Insomnia
Drowsiness
Vomiting
Chest pain
Rash
Fever
Shortness of breath
In very serious and rare cases, Zantac can result in dangerous side effects such as irregular heartbeat, vision problems, loss of appetite, jaundice, and weakness. If you experience any severe or unusual side effects, see a healthcare provider as soon as possible. Then, speak with a Zantac lawsuit attorney as soon as possible to learn your available legal options.
Why Did the FDA Recall Zantac?
The FDA issued a recall for Zantac and its generic form ranitidine in April 2020. This decision came after an online pharmacy discovered unsafe levels of N-Nitrosodimethylamine, a probable human carcinogen, in batches of the medication.
NDMA was previously used to make rocket fuel and is now used by researchers to induce tumors in animal studies. The carcinogen occurs naturally in certain foods and water. Humans can safely consume up to 96 nanograms of NDMA per day.
Researchers at Valisure, an online pharmacy, discovered NDMA levels in excess of 3 million nanograms per tablet in batches of Zantac. Subsequent research by the FDA found that NDMA impurities increase when Zantac is stored at high temperatures and for long periods of time.
Why Are Zantac Lawsuits Being Filed?
Sustained, high levels of NDMA exposure may increase patients' risk of certain cancers. While humans can safely consume up to 96 nanograms per day, some Zantac tablets have NDMA levels well in excess of this thresholds. Most patients take Zantac twice per day, potentially exposing themselves to 6 million nanograms of NDMA for a long period of time.
Patients who were diagnosed with cancer after taking Zantac are now filing lawsuits against the drug's manufacturers. These patients argue that Zantac is defective and failed to warn patients about the increased risk of cancer. Therefore, Zantac's manufacturers are financially liable for the damages that these patients endured.
Types of Zantac Cancer Cases We Handle
What Cancers Does Zantac Cause?
The danger to the health of those who regularly used Zantac is still unclear as research continues to reveal more information in regard to harmful effects of ranitidine. Litigation against the drug companies that produced Zantac is still in the early stages, and it remains unclear which cancers ranitidine use may cause. Research supports that high levels of NDMA may lead to developing cancer of the bladder, colon, small intestine, stomach, esophagus, and liver.
Bladder Cancer
Bladder cancer has a 96% five-year survival rate if identified before the disease can spread from the bladder. In cases where cancer has spread from the bladder, survival rates plunge to 5%. Symptoms of bladder cancer can include blood in the urine, frequent urination, pain during urination, and lower back pain.
Colorectal Cancer
There is a 90% five-year survival rate for patients with localized colorectal cancer. If the cancer has moved into other systems of the body, the survival rate drops to 14%. Symptoms of colorectal cancer include sudden changes in bowel habits, rectal bleeding or blood in the stool, and a constant urge to have a bowel movement.
Small Intestine Cancer
Small intestine cancer has a five-year of 86% for patients who are able to receive treatment while the cancer is still localized to the intestine. Survival rates drop by more than half to just 42% should the cancer spread. Small intestine cancer symptoms can include jaundice, anemia, dark stools, weight loss, and abdominal pain.
Stomach Cancer
Stomach cancer has a 69% five-year survival rate following a diagnosis if the cancer remains localized to the stomach. Should stomach cancer move on to other parts of the body, the survival rate falls to a lowly 5%. Symptoms of stomach cancer include a loss of appetite, heartburn, vomit containing blood, and dark stool.
Esophageal Cancer
Esophageal cancer patients have a 47% five-year survival rate if diagnosed and treated while the cancer remains localized to the esophagus. Who esophageal cancer spreads to other parts of the body, a 5% survival rate is expected. Symptoms include difficulty swallowing and chest pain and like other gastrointestinal cancers, patients with esophageal cancer may experience dark stool, vomit containing blood, and abdominal pain.
Liver Cancer
An incredibly aggressive illness, those afflicted with liver cancer face a five-year survival rate of only 33% if the cancer is identified while still local to the liver. Unfortunately, if the cancer spreads from the liver, patients face the prospect of a 2% survival rate. Liver cancer symptoms can include fatigue, enlarged liver, enlarged spleen, bloating, weight loss, and abdominal pain.
Types of Zantac Lawsuits
Zantac lawsuits typically fall into one of two categories: personal injury or wrongful death. Patients may file a personal injury lawsuit for the damages they suffered due to their Zantac-related cancer. Injury claims involving a defective product are known as product liability lawsuits.
In wrongful death claims, a patient's family members or personal representative files a claim on his or her behalf after he or she dies from Zantac-related cancer. Different states have specific laws on who can file a wrongful death claim.
Zantac Personal Injury Claims
Through a Zantac personal injury or product liability lawsuit, you can hold the drug's manufacturers accountable for the physical, emotional, and financial hardship that you suffered. However, you will need to prove that these losses occurred due to your cancer diagnosis, not for another reason.
More importantly, you will need to show that Zantac is defective and caused your cancer. This will require presenting multiple pieces of evidence, including scientific research, testimony from expert witnesses, medical records, and other essential documents.
The Zantac attorneys at Estey & Bomberger, LLP represent Zantac patients nationwide and are on the cutting edge of Zantac cancer-related research. We will leverage our skills, experience, and resources to craft a compelling case in your favor.
Zantac Wrongful Death Claims
In a wrongful death lawsuit, the family and estate of the deceased can hold Zantac's manufacturers accountable for the deceased's passing. If you lost a loved one due to Zantac-related cancer, you could recover compensation for final medical expenses, funeral costs, pain and suffering endured by the deceased and the family, and many other losses.
States have strict laws regarding who may file a wrongful death claim and the damages that they are eligible to collect. For example, the deceased's surviving spouse, child, or grandchildren could file a claim in California. In New York, only the personal representative of the deceased's estate may file the lawsuit, but damages are awarded to immediate family members.
The Zantac lawyers at Estey & Bomberger, LLP hold extensive knowledge of wrongful death laws by state. We can help you and your family understand the litigation process and meet the necessary requirements to pursue a wrongful death claim.
How Do You Qualify for a Zantac Lawsuit?
If you or a family member received a cancer diagnosis after taking Zantac for at least one year, you may qualify for litigation against the drug companies who manufactured ranitidine. In order to qualify for litigation, you must meet three crucial criteria:
Proof of Use
You must prove you or a family member took Zantac or a related ranitidine product. If Zantac was prescribed by your doctor, your medical records can serve as this proof. If you took ranitidine as an over-the-counter medication, receipts of purchases are valid proof of your use of the drug.
Link How NDMA From Zantac Leads to Cancer Development
The second thing you must prove is the link between NDMA from the use of ranitidine and the development of cancer in patients. Scientific evidence is still accumulating, but a growing volume of studies continue to show a significant relationship between the use of Zantac and how it causes a build up of the carcinogen NDMA. This correlation can then be applied to the link between high levels of NDMA and how it contributes to developing certain types of cancer in those who used ranitidine.
Correlate Your Zantac Use to a Cancer Diagnosis
The final step is proving a direct correlation between your use of Zantac and a cancer diagnosis. A history of taking Zantac for at least a year prior to a cancer diagnosis or taking high doses of ranitidine on a regular basis is generally required to file an effective case against the manufactures of the drug.
The only was to determine if you have a Zantac lawsuit is to speak with an attorney. At Estey & Bomberger, LLP, we offer free, no-obligation consultations so that you can speak to a compassionate lawyer who can outline the best plan of action for your specific case. We can help you hold the drug companies that produced Zantac accountable for the harm they have caused to you and your family. Schedule a consultation to get started today.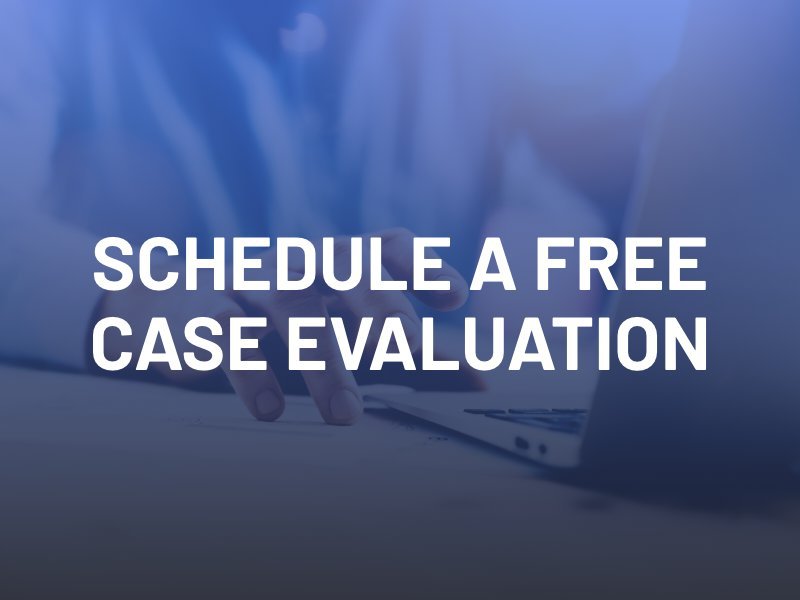 What Is the Statute of Limitations on the Zantac Lawsuit?
If you believe that you qualify for a Zantac lawsuit, it is important to seek the help of a Zantac lawsuit attorney as quickly as possible. Most states impose a statute of limitations on Zantac lawsuits, which sets a deadline for filing a lawsuit in civil court. If you do not file your claim in time, the court will very likely dismiss your case – preventing you from recovering compensation.
Statute of limitations laws vary by state. In some cases, certain exceptions and rules may extend or limit the amount of time that you have to file. Examples of filing deadlines for Zantac claims include the following:
In California, you must file your lawsuit within two years from the date of your cancer diagnosis.
In Connecticut, you will need to file your Zantac claim within three years from the date of your diagnosis. Additionally, you cannot file your claim more than 10 years from the date you purchased Zantac.
In Florida, you must file your lawsuit within four years of the date that you discovered or should have discovered your cancer. You cannot file more than 12 years after you purchase Zantac.
In Kentucky, you must file your lawsuit within one year of the date of your cancer diagnosis. If the diagnosis did not occur within eight years of taking Zantac, the court may presume that the product is not defective.
In Maine, you have six years from the date of your cancer diagnosis to file a Zantac lawsuit.
In North Dakota, you must file your lawsuit within 10 years from the date of the initial purchase, or within 11 years from the date of manufacture.
What Is the Average Settlement for a Zantac Lawsuit?
If you plan on filing a Zantac lawsuit, you are likely wondering how much money you can expect to receive. In a Zantac claim, you are eligible to recover two types of compensation: economic damages, which refer to your financial losses, and non-economic damages, also known as pain and suffering.
Damages available in Zantac lawsuits include the following:
Past and future medical expenses
Lost wages and loss of future earnings
Disability accommodations
Rehabilitation and physical therapy
Chronic pain
Permanent disability
Emotional distress
Depression and anxiety
Loss of quality of life
The value of your Zantac settlement will depend on the individual losses that you suffered. As a result, it is difficult to estimate your Zantac claim without speaking with a Zantac lawsuit lawyer. However, certain factors could influence the value of your claim.
For example, if you have cancer that is very advanced and requires prolonged, specialized treatment, you will likely require more compensation for medical expenses. You may spend more time away from work and experience significant pain and suffering. As a result, your award will likely be higher than a patient who develops early-stage cancer and requires less treatment.
Your Zantac lawsuit attorney from Estey & Bomberger, LLP can evaluate your case and identify what types of compensation you can recover. Using this information, he or she will accurately calculate your potential settlement, helping you avoid insufficient offers and secure the compensation that you deserve.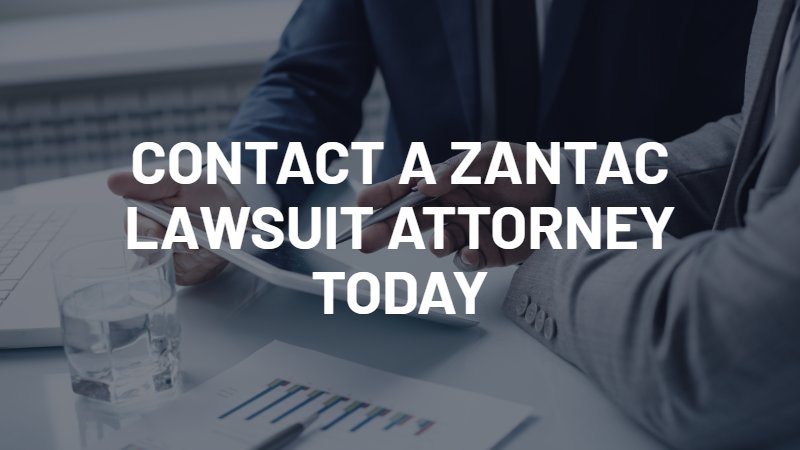 Contact a Zantac Lawsuit Attorney Today
Our team of attorneys at Estey & Bomberger, LLP, understands the life changing impact a Zantac injury can have on you and your family. If you received a cancer diagnosis after taking Zantac, we can help. When you choose Estey & Bomberger, LLP, our legal team will handle everything. During this difficult time, you and your family need to focus on what is important, recovering from you illness.
Our Zantac injury lawyers have pursued justice on behalf of injured parties for over 40 years. The strategies we have developed over the decades allow our attorneys to build effective cases that are ready for trial against large corporate legal teams. We never settle for less than what our clients deserve, and we will aggressively pursue justice on your behalf.
To learn more about how Estey & Bomberger can help you and your family achieve justice, call (800) 260-7197 or schedule a free Zantac lawsuit consultation today.