Zantac is a popular medication that is used to treat health conditions related to the overproduction of stomach acid. Millions of patients across the United States have used this medication. In April 2020, the U.S. Food and Drug Administration (FDA) recalled Zantac after a cancer-causing contaminant was found in the medication.
If you were diagnosed with cancer after taking Zantac, trust the New Hampshire Zantac lawyers at Estey & Bomberger, LLP to fight for your right to recovery. Our New Hampshire Zantac lawsuit attorneys can represent your lawsuit against the drug's manufacturers and secure compensation for your medical care, lost wages, and pain and suffering. 
Why Choose Estey & Bomberger for Your Zantac Claim?
For decades, our firm has fought for the rights of dangerous drug victims. We represent Zantac patients in their lawsuits nationwide.

Our attorneys will dedicate themselves to recovering full compensation in your case. In a five-year period alone, we secured over $500 million in settlements and jury verdicts.

If we do not win a settlement in your case, you will not pay any legal fees. Our firm operates on a contingency fee basis to help limit our clients' out-of-pocket costs.
How Zantac Can Cause Cancer in Patients
Zantac and its generic form ranitidine may contain dangerous levels of N-Nitrosodimethylamine (NDMA). This substance is a possible human carcinogen, which means that it may cause cancer when ingested regularly in high quantities. These unsafe NDMA levels caused the FDA to recall Zantac.
For many patients, the damage was already done. Many people who used to take Zantac were subsequently diagnosed with cancers such as bladder cancer, stomach cancer, liver cancer, pancreatic cancer, and more. If you developed cancer after taking Zantac, you could file a lawsuit against the manufacturer and hold the company accountable for your losses.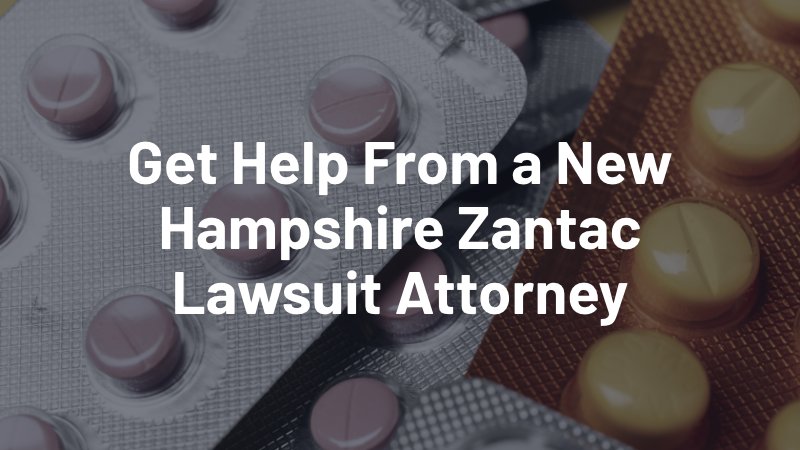 Do You Need a Lawyer for Your Zantac Claim in New Hampshire?
Zantac lawsuits can be complex and often require professional assistance. In these situations, you need a lawyer who can guide you through the legal process. A New Hampshire Zantac lawsuit attorney from Estey & Bomberger, LLP can help you build a strong case and prove your right to full compensation.
Hiring a Zantac lawyer in New Hampshire can benefit your case in several ways:
Experience with Similar Cases:

Your attorney will have represented many Zantac victims in their claims and will leverage his or her skills and experience to craft a compelling case.

Access to Resources:

Your lawyer will have access to scientific research used to prove other Zantac claims, as well as expert witnesses who can testify on your behalf.

Ability to Calculate Compensation:

You want to ensure that you recover the full value of your claim. Your attorney can evaluate all paths to compensation and accurately calculate your award.

Peace of Mind:

Living with cancer can be painful. Your lawyer will take care of all matters related to your case so that you can focus on treatment, not litigation.
Contact a New Hampshire Zantac Lawsuit Attorney Today
Were you diagnosed with cancer after taking Zantac? The Zantac injury lawyers at Estey & Bomberger, LLP can fight for your right to justice. Contact us today at (800) 260-7197 to schedule a free case consultation with our New Hampshire Zantac lawsuit attorneys.