Zantac is a popular heartburn medication. Unfortunately, patients across the United States have been diagnosed with cancer after taking Zantac, likely caused by a carcinogenic impurity in the drug. Now, Zantac manufacturers are facing lawsuits from former patients. 
If you were diagnosed with cancer after taking Zantac, the lawyers at Estey & Bomberger, LLP can fight for your right to recovery. Our Idaho Zantac lawsuit attorneys can help you hold the manufacturer accountable and recover compensation for medical bills, pain and suffering, and more.
Why Choose Estey & Bomberger for Your Zantac Claim?
For over 20 years, our firm has helped injured people recover compensation from drug manufacturers. We will do everything in our power to secure the award that you deserve.

We have a strong track record of success. Over our years of operation, our attorneys have recovered over $500 million in settlements and jury verdicts. 

If we do not win a settlement for you, we will not charge any legal fees or expenses. Our law firm takes all cases on a contingency fee basis, helping limit your out-of-pocket costs.
Can Zantac Cause Cancer?
In April 2020, the U.S. Food and Drug Administration (FDA) recalled Zantac after finding dangerous levels of N-Nitrosodimethylamine (NDMA) in batches of the drug. NDMA is a carcinogenic or cancer-causing substance. Dangerous levels of NDMA can develop in Zantac and its generic ranitidine over time and when stored at higher-than-room temperature.
Zantac use has been linked to multiple types of cancer, including:
Who Qualifies for a Zantac Cancer Lawsuit in Idaho?
Zantac manufacturers failed to warn patients and medical providers about the dangerous effects of this medication. As a result, these companies are liable for any damages suffered by patients as a result of their cancer diagnoses. 
As a former Zantac patient, you have the right to file a lawsuit against the manufacturer and recover compensation to pay for your damages. Generally, you must meet the following criteria to qualify for a lawsuit:
You took Zantac for at least one year before your cancer diagnosis.

You were diagnosed with a type of cancer associated with Zantac use.

You used Zantac at least once a week for one year or longer.
It can be difficult to know whether you qualify for litigation without speaking to a lawyer. An Idaho Zantac lawsuit attorney from Estey & Bomberger, LLP can assess your case eligibility and help you find your optimal path to financial recovery. Then, your Zantac injury lawyer in Idaho will work on gathering records to help build your case.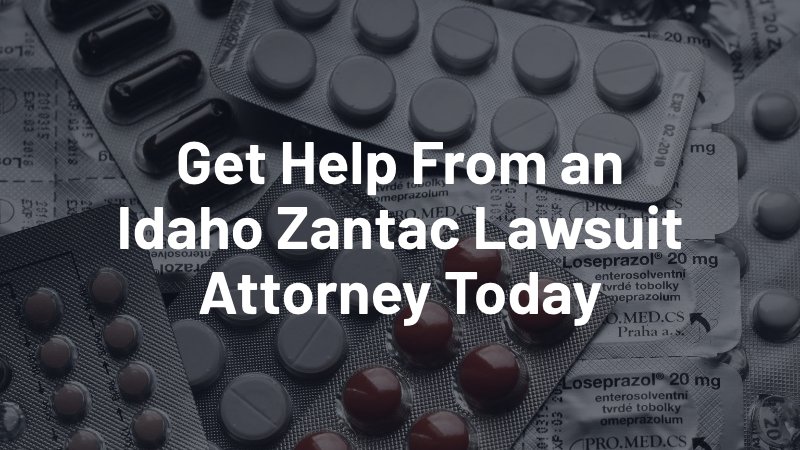 What Is Idaho's Statute of Limitations for Zantac Claims?
If you were diagnosed with cancer after taking Zantac, it is important to act quickly. In Idaho, your Zantac lawsuit must be filed within two years from the date of your cancer diagnosis and no more than 10 years from the initial purchase. The court will likely dismiss your case if you file after the deadline, so it is critical to consult with a Zantac injury attorney in Idaho right away.
Contact an Idaho Zantac Lawsuit Attorney Today
Victims of defective medication deserve fair compensation for their injuries. If you were diagnosed with cancer after taking Zantac, trust the Zantac lawsuit attorneys at Estey & Bomberger, LLP to help you seek justice. Contact us today at (800) 260-7197 to schedule your free consultation with a specialized Zantac lawyer in Idaho and plan your next steps.