San Diego Car Accident Lawyer
If you or a loved one have been injured in a car accident in the San Diego area, you need an experienced attorney. Car collisions are a leading cause of injury and death in the United States. If you've suffered serious injuries, securing fair compensation for is essential to a full recovery. Unfortunately, the unscrupulous business practices of many insurance companies make that process difficult and complex.
The San Diego car accident attorneys at Estey & Bomberger can help. We have committed our practice to handling personal injury plaintiff cases and the majority of our work a reputation for excellence, with a 99% Success Rate representing accident victims. Our attorneys can give you peace of mind, allowing you to focus on rehabilitation while we deal with insurance companies on your behalf. We never charge for consultations, and we handle cases on a contingency basis – you pay nothing unless we recover money on your behalf.
Do I Need an Attorney after a Car Accident in San Diego?
Retaining an attorney after a car accident in San Diego County may not be the first thing on your mind after a collision. However, hiring an experienced lawyer is incredibly important, especially when a motor vehicle accident involves serious injuries.
An attorney can assist you through the whole post-collision procedure. This includes filing any paperwork necessary to obtaining a settlement. More importantly, an attorney can give you valuable counsel regarding seeking compensation for any damages. If you've suffered serious physical damages and even injuries, an attorney can help you negotiate for compensation for your car accident claim.
Help with medical bills and loss of income. Hiring a law firm with the means to cover the costs of expensive medical bills, hire experts and temporary loss of income is crucial. The simple fact is, however, that not every law firm can do so. The attorneys at Estey & Bomberger have the means and desire to help, every step of the way.
An attorney can also advise on the best course of action in recovering your damages. It may be ideal to settle through an insurance claim first – but in serious accidents, it may be more effective to take legal recourse with a personal injury claim.
Should you decide to pursue recovery through a lawsuit, an attorney will be invaluable throughout the process. A lawyer with trial experience can help you organize the paperwork needed to file a lawsuit, utilize their resources to gain more information and data pertinent and essential to winning your case, and have the knowledge to fight for you if the lawsuit proceeds to a trial setting.
If you have been in a car wreck in San Diego, it is highly recommended to retain the counsel of an experienced attorney. You'll find such an attorney at the offices of Estey & Bomberger, LLP.
Quick links to browse this page
Tips for Choosing a Lawyer in San Diego
If you have been injured in an auto accident, it's important to contact a lawyer as soon as possible. But, what do you look for? Here are a few tips on choosing a good car accident attorney in San Diego:
Experience. Always choose an attorney with experience. Specifically, you want a lawyer with a history of taking cases similar to your situation.
Knowledge. You can tell much about a lawyer by asking for their education achievements, certifications, and association memberships.
Fees. You should only choose attorneys that charge on a contingency fee basis. In this case, you don't pay lawyer fees unless your case is successful settled. This shows confidence and honesty on the part of the lawyer.
History. An honest and truthful lawyer will let you see past results and previous settlements to give you an idea of what to expect.
Car Accident Statistics in San Diego County
With over 3,337,000 residents, San Diego county is the second most populous county in California. San Diego county is home to the 17th largest Metropolitan Statistical Area in the U.S., the San Diego-Carlsbad MSA and the San Diego-Tijuana metropolitan area, the largest shared area between the U.S. and Mexico. The city of San Diego, the county city, is the eight most populous city in the United States.
As with any densely populated area, motor vehicle collisions are a primary safety concern. Weather conditions, defective road conditions, unexpected delays, heavy traffic, large commercial trucks, and dangerous driving behaviors can all lead to accidents, injuries, and death. For the last few years in San Diego and throughout San Diego county, the number of accidents involving motor vehicles is on the rise.
While traffic laws and safety regulations are attempting to curb these dangerous trends, the effects have not yet been felt. In 2016 alone, there were 28,163 motor vehicle collisions in San Diego County. As the chart shows, these numbers are increasing with each year. While fatalities from automobile accidents slightly dropped from 251 to 242 in 2015, these numbers are up significantly from 2010. Taking a look at San Diego County specifically, the leading causes of collisions were Unsafe Speed, Improper Turning, Automobile Right-Of-Way and Driving or Bicycling Under the Influence of Alcohol or Drugs.
Which Cities in San Diego County Had the Most Car Accidents From 2010-2016?
Unsurprisingly, the city of San Diego had the most car accidents in a 7-year timeframe by an overwhelming amount – the city had more than six times as many accidents as the next highest, the city of Chula Vista.
San Diego County Crashes by City
| wdt_ID | City | Crashes | Injuries | Fatalities |
| --- | --- | --- | --- | --- |
| 1 | San Diego | 63.021 | 58.340 | 571 |
| 2 | Chula Vista | 10.238 | 8.151 | 79 |
| 3 | Oceanside | 9.774 | 6.904 | 69 |
| 4 | Escondido | 7.422 | 8.225 | 62 |
| 5 | El Cajon | 6.455 | 5.634 | 56 |
| 6 | Carlsbad | 6.402 | 4.325 | 32 |
| 7 | Vista | 5.463 | 3.068 | 35 |
| 8 | San Marcos | 4.853 | 2.676 | 26 |
| 9 | National City | 4.118 | 2.874 | 36 |
| 10 | La Mesa | 4.056 | 2.461 | 21 |
| | City | Crashes | Injuries | Fatalities |
San Diego County Roads with the Most Accidents
The most accidents in San Diego County occur on San Diego's University Avenue (372). El Cajon Blvd (344), Valley Pkwy in Escondido (275), College Blvd (223) and Route 76 in Oceanside round out the top five.
San Diego County: Crashes by Street
| wdt_ID | Street | City | Crashes | Injuries | Fatalities |
| --- | --- | --- | --- | --- | --- |
| 1 | University Av | San Diego | 372 | 499 | 3 |
| 2 | El Cajon Bl | San Diego | 344 | 472 | 1 |
| 3 | Valley Pkwy | Escondido | 275 | 431 | 2 |
| 4 | College Bl | Oceanside | 223 | 267 | 0 |
| 5 | Rt 76 | Oceanside | 212 | 220 | 1 |
| 6 | El Norte Pkwy | Escondido | 187 | 285 | 2 |
| 7 | Oceanside Bl | Oceanside | 187 | 216 | 1 |
| 8 | Centre City Pkwy | Escondido | 186 | 296 | 3 |
| 9 | Washington Av | Escondido | 184 | 297 | 1 |
| 10 | Mission Av | Escondido | 181 | 291 | 0 |
| | Street | City | Crashes | Injuries | Fatalities |
Collisions Involving Multiple Vehicles: 2007-2016
Not all motor vehicle collisions involve multiple vehicles. Very often, drivers strike fixed objects, such as guardrails and utility poles, or roll their vehicle over on their own. However, when drivers do collide with other vehicles, the results can be disastrous. In San Diego, collisions with other motor vehicles in transit (i.e. not parked cars) hit 10 year peak at 18,094 in 2016 and resulted in 9,869 injuries and 69 deaths.
Common Causes of Car Accidents in San Diego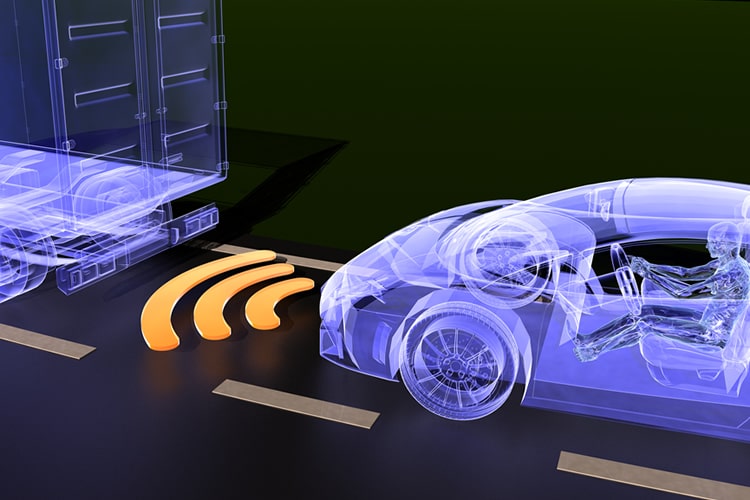 While the cause of every vehicle accident is unique and different, it's usually possible to blame the majority of collisions on a few common causes. Sadly, drivers are not learning from past mistakes and continue to put others at risk when they cause collisions as a result of the following:
Distracted Driving. One of the biggest concerns in driver safety is the rising prevalence of distracted driving. In 2016, distracted driving caused more than 390,000 injuries according to the National Safety Council. Any action you take that otherwise diverts focus from the road counts as distracted driving, and includes actions such as eating, drinking, reading, talking to strangers, or messing around with the radio.
Phone Use. Data shows that in the U.S., there are more than 660,000 drivers using cell phones while driving at any given moment. Texting while driving is the biggest concern of late, especially in San Diego County. According to the San Diego and Chula Vista police departments, nearly 3,000 citations were issued in 2016 for smartphone use while driving.
Driving Under the Influence. As much publicity as driving under the influence receives, you would think the numbers would subside. Sadly, though, people continue to operate their vehicles while under the influence of drugs or alcohol. In San Diego County alone, driving or bicycling under the influence injured 9,535 people and killed 305 victims between 2010 and 2016. Driving under the influence contributed to more motor vehicle fatalities in the county than any other moving violation.
Improper Turning. Drivers making unsafe or improper turns contributed to 32,321 collisions during the same time frame and led to 293 fatalities.
Unsafe Lane Changes. Unsafe or negligent lane changes led to 10,102 collisions in San Diego County.
Other Causes. Other leading causes include driver fatigue, reckless driving, rubber-necking or gawking, defective car parts, bad weather conditions, and unsafe roadways.
Types of Injuries Related to Car Accidents
Car accidents can cause injuries that may not seem serious at first but can be incredibly debilitating later on in life. Despite all the safety measures in an automobile, even a minor crash can cause serious injuries. Some common injuries include:
Neck Injuries. Drivers and passengers can be easily thrown around and jolted, even with the proper restraints in place. The human body is simply not built for the forces of even a minor car collision. Injuries can range from minor neck strain and whiplash, to more serious incidents like disc displacement and cervical radiculopathy.
Back Injuries. Along with the neck, the back and spinal cord is at high risk for long-lasting injuries. Back injuries may include bruises and sprains, but spinal cord injuries are considerably more dangerous. These include hernias, bulging discs, and more serious injuries such as fractures and nervous system impingements.
Head Injuries. Sudden, unexpected collisions can result in a driver or passenger's head impacting the seat, the side windows, or the steering wheel. Even the high impact of an airbag can cause injuries to the head and brain. All head injuries are typically treated seriously – even mild concussions can drastically affect someone's life and future.
Broken Bones. Fractures can be common in injury-causing car accidents. Thinner limbs such as arms, legs, fingers, wrists, ankles, and feet can be most susceptible, along with ribs in the torso. Ultimately, however, every part of the body can be at risk in a high-impact collision.
Flail Chest. In extremely serious, high-impact collisions, an injury called flail chest can occur in drivers or passengers. The sheer blunt force trauma of something like a steering wheel to the chest can cause multiple fractures along adjacent ribs, completely separating a segment. As a result, a segment of the rib cage is detached from the rest of the body and moves independently of the rest of the chest. This is a life-threatening condition marked by chest pain and shortness of breath, and requires surgery, pain management, and intensive rehabilitation in order to return to a somewhat normal state.
Burns. Although drivers and passengers may suffer burns in accidents where fires are present, they may also suffer similar injuries due to friction burns from moving parts within the vehicle or on the roadway itself. These can lead to painful first, second, or third degree burns that may cause permanent disfigurement and scarring.
Bruises, Cuts, & Lacerations. Minor injuries can be common even in minor fender benders, and while they may not seem serious, they may still require hospital care and other expenditures that could be covered by the at-fault party.
Loss of Limbs. Catastrophic injuries such as loss of limbs can be an unfortunate reality in the most serious automobile collisions.
Death. Car wrecks are one of the leading causes of unintentional injury death in the United States across nearly all age groups. 1,542 people were killed in motor vehicle accidents in San Diego county from 2010-2016.
In certain cases, even minor injuries can incapacitate you financially. Having a car accident attorney can help you mitigate those damages and get you the compensation you deserve.
Car Accident Laws in California
It is important to keep in mind the various California laws regarding motor vehicle accidents and filing claims.
Insurance Claims. California follows an "at fault" system for insurance claims – meaning that the other party's insurance may provide compensation only if the other party had some fault in the incident.
California is a "pure comparative negligence" jurisdiction, where compensation via a settlement or a lawsuit can be affected by the percentage of fault the other party had in the incident. For example, if it was determined that the other party was 70% at fault, he is liable for 70% of the damages.
Statute of Limitations. If you're seeking damages through a lawsuit, it's important to note that there are strict statutes of limitations depending on the type of suit. You have 2 years for personal injury lawsuit and 3 years for property damage lawsuits from the date of the accident. If a government agency was involved, such as a postal service driver, you have 6 months.
Compensation Limits. Generally, there are no limits to recovery to most drivers. Limits only come into play if you are an uninsured driver or were driving under the influence at the time. In these cases, the injured person may not seek recovery of non-economic damages – any damages that are not quantifiable by a set worth. This includes pain, suffering, inconvenience, and permanent disfigurement.
Dealing with Insurance Companies
Aside from injuries, dealing with insurance can be one of the most difficult parts of being involved in a car accident. There are things you should do, things you shouldn't do, tips, suggestions, and pieces of advice coming from all angles. While there is some truth to much of this information, dealing with insurance after a vehicle accident can be broken down into basic advice. Your San Diego car accident attorney will be able to advise you on the following:
Contacting Insurance. First and foremost, it's important to understand who you need to talk with. When at fault, it is important to notify your insurance company right away. As a victim of another's negligence, you may call the other driver's insurance company or wait to hear from them. If you haven't heard from them in a reasonable amount of time – usually a couple of days – it's best to contact them yourself.
Know Your Rights. The insurance process can be tricky and confusing for those outside of the industry, so make sure you know and understand your rights. If you are speaking with your insurance company, they can require you to give a recorded statement.
This statement will be used to determine who is at fault and what they may owe. When speaking with the other driver's insurance company, you are not required to give a recorded statement and should not under any circumstances offer one. Anything you say could be used against you.
The first steps immediately following an accident are very important.
Pull over, if possible. If both vehicles are able to be moved, it's highly recommended to get them to the side of the road. Leaving damaged vehicles in the middle of a busy road may jeopardize the safety of the accident victims and any other passersby, potentially causing more accidents as a result.
Call 911. If there are any serious injuries, call an ambulance immediately. It's also highly recommended to request a police officer at the scene. They can write up an unbiased police report, which can be invaluable during the claims process.
Assess the situation, document the crash. Take pictures of the damage to all vehicles involved, internal and external.
Record any and all information necessary. This includes essentials such as the name, address, driver's license number, insurance provider, insurance number, and license plate number of the other parties, along with any other pertinent information. The more information you have, the better during the claims process.
Go to the doctor ASAP. Schedule a medical appointment immediately, even if you feel or show no symptoms. The adrenaline rush of an accident may result in little to no indication of injury until days or even weeks after the collision – at which point the injury may become more complicated.
Obtain the police report. A detailed police report can provide an unbiased account of the events of the accident, which can help in your fight for recovery.
Call your attorney before your insurance provider. While it is important to notify your insurance provider of your accident, insurance companies are do not have your best interests in mind. Speaking with an attorney first can go a long way towards protecting you and help you avoid an insurance company's attempt to devalue your claim.
Establishing Liability in Car Accident Cases
Car accident liability is largely determined by the exact circumstances of the accident. What makes one driver liable in a given accident may not mean another driver is liable in a separate collision.
Rear end collisions are almost always the fault of the driver hitting the other vehicle from behind. While there are circumstances that change liability in these situations, they are few and far between. The rule of the road is that you are supposed to leave enough room between your vehicle and the car in front of you to stop if necessary.
In situations involving a left turn collision, no matter who the plaintiff is, the driver making the turn is almost always at fault. That's because all other vehicles usually have the right of way over a left turning vehicle. Exceptions may include a car speeding through an intersection, running a red light, or failure to obey a yield sign.
Generally speaking, the police report will determine liability. The police officer on the scene will record statements, make notes of injuries, and file a report suggesting which party is liable for the accident. It is usually difficult to get around the details of the official police report, but it is certainly possible with professional assistance.
How to File a Car Accident Claim
After an accident, you may decide to file an accident claim to pursue any compensation for damages. By this point, you may have already contacted your insurance company. Remember, it is always recommended that you retain an attorney in order to obtain your desired compensation.
Do not take the first settlement. Often, insurance companies will offer a quick settlement upon initial filing of the claim. This settlement is a vastly reduced amount that companies offer with extremely quick turnaround to prevent further negotiations.
Prepare a demand letter. This is your main weapon towards maximum recovery. In this letter, detail exactly the amount you're seeking, along with evidence and documentation as to why you believe it is a reasonable amount. Submit all photographic proof, a police report, and any other documentation that may help your case.
Engage in negotiations. At this point, an insurance provider is required to respond to your letter and start the negotiation process. If you are not able to reach the desired amount by then, you may need to consider litigation a possibility.
What are the Steps in a Car Accident Lawsuit?
Draft and file a formal legal complaint. Also called a "petition," this starts the lawsuit process in California's courts. It usually consists of the main details of what happened, the damages claimed to be incurred as a result, and a legal basis for proceeding with a lawsuit. Upon filing the complaint, the process officially begins.
Serve complaint to the other driver. In US court proceedings, the defendant has a legal right to know the charges of a lawsuit. This provides the defendant an opportunity to defend their position in the eyes of the court. Hence, plaintiffs are required to serve defendants a copy of the complaint, with a court summons if necessary. Typically, the plaintiff has 30 days from the filing to serve the defendant.
The defendant files an answer. At this point, the defendant is required to respond to the plaintiff's complaint. He or she can either admit the allegations and settle for an amount of money or deny the claims and proceed to trial with a prepared legal defense.
Engage in discovery process. This is the process wherein all involved parties exchange valuable information that's relevant or important to the suit. This is done so that each side can view all the facts of the incident and plan their cases accordingly. This includes gathering evidence, building arguments, engaging in depositions, and any other methods used to gain a valuable leg-up on the trial.
This is where each side may present their case in court. This formal process may involve opening statements, presentations of the evidence, and cross-examinations in order to reach a desired verdict.
It's important to note that during the trial process, you have the right to settle at any time. If the other party provides a settlement offer that is satisfactory, you may settle the case and end it early.
Additionally, a plaintiff is not legally required to retain the services of an attorney to file a lawsuit. However, in cases where a serious car collision is involved, or you are going up against a large insurance company, it is strongly recommended to seek counsel from an experienced car accident attorney.
Whether you decide to accept an insurance settlement or file a personal injury or car accident claim, an experienced accident attorney is always recommended. Before going down any of those paths, contact the San Diego car accident attorneys at Estey & Bomberger to explore your options for maximum recovery.
What Damages Can I Recover?
Whether you're looking to settle with an insurance company or want to take your claim to court, you have a legal right to pursue various kinds of compensation or damages. Essentially, any out-of-pocket expenditures as a result of the accident may be fair game. This includes:
Physical property. This includes any damage to your vehicle, and any other associated costs with it, such as a rental vehicle.
Medical expenses. This includes hospital bills, costs for emergency services, and any rehabilitation or equipment necessary to function as normally as possible.
Lost wages. Any potential salary or wage lost as a result of the vehicle accident. If you were unable to work because of injury recovery or loss of your primary vehicle, you may be entitled to compensation for any wages you would have otherwise earned in the time you missed.
Lost earning potential. If you were in a serious accident that resulted in a permanent or long-lasting injury that affects your ability to work, you may be entitled to compensation for any future wages you may have been able to earn had you been healthy. Calculating lost earning potential is a complicated process; often, an accountant or financial professional is consulted to calculate a proper course of compensation for a plaintiff.
Legal fees. Any legal fees stemming from the car accident may be pursued.
An experienced car accident attorney will have the knowledge and knowhow necessary to pursue the maximum amount of recovery possible. Additionally, some law firms may have accountants on retainer to accurately calculate complicated processes such as lost earning potential, so you have the most accurate recovery ideal for compensation.
Recent Client Testimonial:
Click below to hear the story of our car accident client Martin Fricke.

Another Client Testimonial:
"I was very impressed with Estey & Bomberger. They were always professional, courteous and caring. My accident claim had challenges and obstacles but despite this, they were able to obtain a satisfactory settlement in a short time frame. I have recommended them to several friends and colleagues and will continue to do so." – Nancy W.
Frequently Asked Questions Regarding Auto Accidents
An automotive accident is a scary experience for everyone involved. If you were injured in a car collision, you may not know where to turn. Consult our FAQs below for a comprehensive look at car accidents.
I was injured in a motor vehicle accident. What should I do next?
Call the police and seek necessary medical attention
Maintain bodily safety by exiting the roadway completely
Obtain information from the other driver and any nearby witnesses
Note all memories of the accident and actions that followed
Keep record of all medical attention and repairs after the accident
Collaborate with an experienced auto accident lawyer
How soon should I seek legal counsel after my accident?
The sooner the better. Though we will wait to file your claim until all medical treatment has been administered and the vehicle repairs have been estimated, we can help you work with the police and the insurance companies throughout the process.
Why do I need a police report following an accident?
A police report is a valuable, unbiased piece of evidence for your case. Police reports hold up fully in court. Police are also an important asset on the scene to mediate any further interaction between you and the other driver, or to advocate for you in the case of a hit and run.
Should I release my medical records to the insurance company?
No! This could hurt your case significantly. If an insurance company requests your medical records, consult a lawyer before releasing anything.
The insurance company is offering a decent settlement. Should I accept?
No! In most cases, we can get you a better settlement than what the insurance company offers. Insurance companies make preliminary offers to close the case quickly and avoid trial. This will not benefit you.
What happens if I am partially at fault for the accident?
Comparative negligence in court will determine your percentage of fault against the other driver's, and damages will be split accordingly.
Can I file a claim if I am a passenger who is injured in an accident?
Yes, absolutely. You can file a claim against the responsible driver whether you were in the at-fault vehicle or the other vehicle.
What if the other driver is uninsured or leaves the scene?
Often, your own insurance can protect you through Uninsured Motorist coverage. However, your insurance company and the police can track down a driver who leaves the scene with enough identifiers.
Can I file a claim against my vehicle's manufacturer?
Absolutely. If it can be determined that your vehicle was in an accident as a result of a product defect, the manufacturer may be responsible.
Would my reimbursement include payment for time off of work?
Yes. Successful settlements can cover lost wages.
Who is responsible for providing a rental vehicle during my vehicle's repair?
If complete fault is placed on the other driver, his or her insurance company will provide a rental. If liability is being debated, you should be able to obtain a rental from your insurance company, and your company can dispute reimbursement with the other company.
I feel okay following my car accident. Should I see a doctor?
Probably. Many back and neck injuries can become symptomatic after the fact, but a doctor can determine if your body was affected by the impact.
What if the doctor says I will never recover from injuries sustained in my accident?
Individuals who sustain permanent injury, disability, and a significant reduction in quality of life following an accident may be eligible for much greater recovery in court. Discuss your options with your attorney for best results.
Our Experienced San Diego Car Accident Lawyers Fight for Maximum Recovery
The San Diego car accident attorneys at Estey & Bomberger, LLP can assist you in your time of need. We have dedicated lawyers with decades of experience in personal injury and car accident claims. We understand that the needs of each and every client is different and advise all of our clients according to these needs.
A serious car wreck can be a life-changing event – physically, financially, and emotionally. Estey & Bomberger, LLP can help get your life back on track by fighting for maximum recovery. Ultimately, we want you to get your life back to normal and devote our experience to that. If the compensation you desire requires going to trial, we will not hesitate to fight on your behalf for honest, fair recovery.
Help is just a phone call or email away. Please contact us today for a free consultation to explore your options.