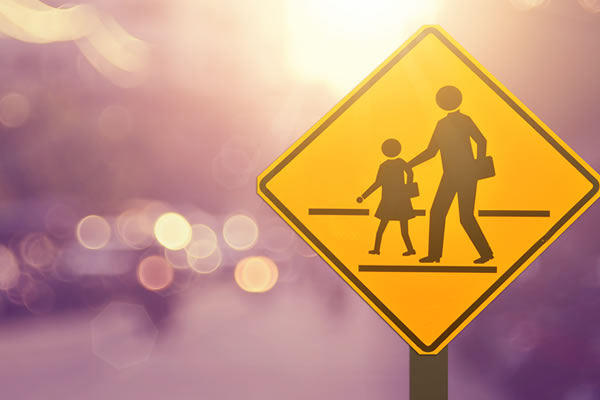 If you or a loved one was injured in a pedestrian accident in San Diego, you may be entitled to financial compensation. The lawyer you choose to represent you in a pedestrian accident case will be one of the most important decisions you can make. The right law firm can be the difference between a small settlement and a very large verdict. The pedestrian accident lawyers at Estey & Bomberger have a proven track record of recovering large settlements and verdicts on behalf of those people who were harmed as the result of negligence by another person, entity or company. Call our office today to get a free, no obligation consultation and find out how we can help you.
Why call us?
Free consultations
Extensive experience handling pedestrian accident cases in California
We have recovered millions of dollars on behalf of pedestrian accident victims and their families
>We are incredibly passionate about standing up for people and fighting against the insurance company
We handle all cases on a contingency fee basis. This means you pay us NOTHING unless we recover money for you!

Among the many forms of transportation in which people partake, walking remains one of the healthiest and most sustainable. Although San Diego and other cities are becoming more aware of the importance of creating a safe and conducive environment for pedestrians, much remains to be done to protect pedestrians from traffic accidents. San Diego pedestrian accident attorneys at Estey & Bomberger, LLP understand all the ins and outs of pedestrian accident cases and can help you understand your case better.
Infrastructural components such as sidewalks and crossing signals – as well as pedestrian and motorist awareness of applicable traffic laws and procedures – are crucial to the safety and well being of pedestrians. When a vehicle collides with an unprotected human being, the pedestrian most often bears the brunt, leading to severe injuries and death. Regardless of who is at fault, such incidents are tragic and usually preventable.
Notable Results for Pedestrian Accidents
Confidential v. Confidential
$21 MILLION SETTLEMENT for individual pedestrians who suffered injuries from a dangerous product.
Acuna v. City of San Diego Read the news story here
$18.5 MILLION SETTLEMENT for amputation and other injuries of a pedestrian run over by a City of San Diego garbage truck — the largest such settlement ever paid by the city.
John Doe v. Roe School District
$14 MILLION SETTLEMENT for TBI, traumatic brain injury, and stroke.
Rodriguez v. Ehlers
$3.5 MILLION SETTLEMENT for TBI, traumatic brain injury, and multiple other injuries including a broken pelvis, a punctured lung and internal bleeding, of a pedestrian struck in a parking lot by an automobile.
Logan v. Los Angeles County Metropolitan Transportation Authority (LACMTA)
$3.3 MILLION SETTLEMENT for extensive degloving to the lower extremity, and multiple other injuries, as a result of a pedestrian versus bus collision.
Standley v. Laub, MW Reid Welding
$2.05 MILLION SETTLEMENT for spinal fracture requiring surgery, and multiple other injuries, of a pedestrian struck in a crosswalk by a motor vehicle.
Porco v. Porco
$1 MILLION SETTLEMENT for severe orthopedic injuries, requiring subsequent surgery, as a result of a pedestrian versus automobile collision.
Testimonials from our Pedestrian Injury clients
News Stories about our Pedestrian Injury cases
Elderly driver's 'pedal misapplication' injures pedestrian in a parking lot, as his family watches in horror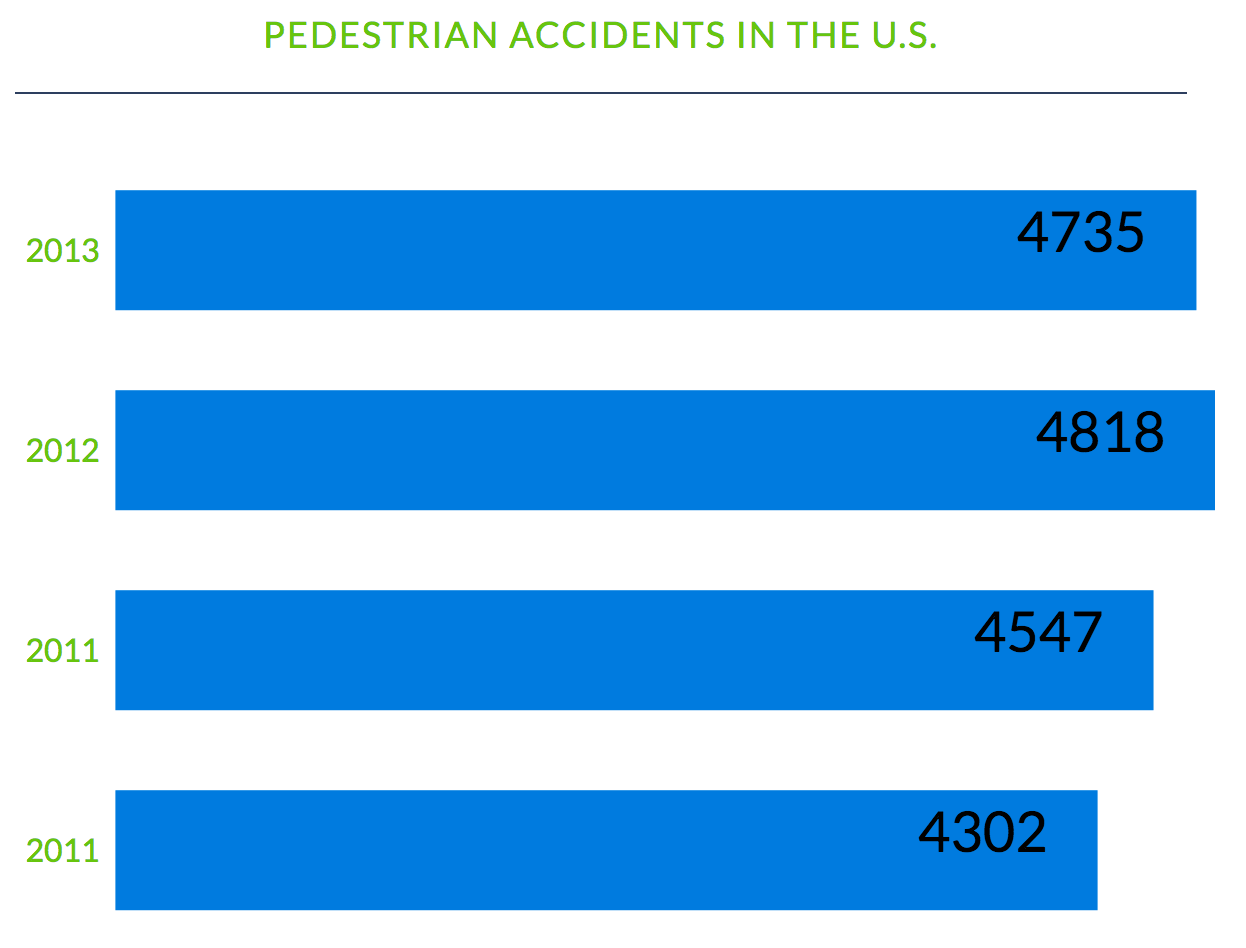 Pedestrian Accidents in the United States
The number of pedestrian-related injuries and fatalities has consistently increased over the past five years. In the United States, there were 4,743 pedestrian fatalities and another 76,000 injured victims as the result of motor vehicle collisions in 2012. This represents a 6 percent increase from 2011.
Additionally, pedestrian fatalities accounted for 14 percent of all vehicle collision-related deaths. Three percent of all individuals injured in car crashes were pedestrians.
These pedestrian accident statistics account for any individual walking, standing, jogging, running, lying down, sitting, or hiking when involved in a car crash.
Pedestrian Accidents in the State of California
The California Office of Traffic Safety reports that the number of pedestrian fatalities resulting from traffic accidents has steadily increased over the past few years. According to the Governors Highway Safety Organization, California is one of the top three states for pedestrian deaths, although the number of individuals who died in pedestrian accidents decreased by 37 in 2013. In 2012, Florida, Texas, and California together comprised one-third of all such fatalities in the country.
Pedestrian Accidents in San Diego
A recent report by NBC 7 in San Diego found that 7,509 pedestrian accidents occurred in the city between January 2001 and December 2012. Of these incidents, approximately half occurred at crosswalks. This information is especially notable, considering the city's statute limiting how many crosswalks may occur within its limits.
Of these accidents, 40 percent occurred at intersections with crossing signals, 37 percent at mid-block, 21 percent at signal-less locations, and 3 percent in driveways or alleys. Additionally, from 2011 to 2012, pedestrian fatalities from traffic collisions went up by more than 100 percent – from 11 in 2011 to 23 in 2012.
We conducted a study recently regarding the most dangerous intersections in San Diego. Click the link for more information.
Laws and Regulations Related to Pedestrian Traffic
In most states, legislators have acknowledged the need for motorists to give careful consideration to the safety of pedestrians. California law places the onus on drivers to yield to pedestrians in marked or unmarked crosswalks, likely due to the higher risk to pedestrians in the case of a collision.
When drivers approach pedestrians, it is their responsibility to reduce speeds or take other precautionary measures to best avoid a collision. This remains true whether the pedestrian is in a marked or unmarked crosswalk.
However, the law does not absolve pedestrians from the responsibility of behaving in a manner that keeps themselves and others safe. For instance, individuals walking near roadways may not suddenly run or walk in front of a vehicle, and they may not take up excessive amounts of time proceeding through crosswalks, to the extent that it impedes the flow of traffic.
Liability
Involvement in a pedestrian accident is often a highly distressing and frightening occasion for drivers and pedestrians alike. Regardless of the severity of the pedestrian's injury, courts will examine such incidents through the lens of the "law of negligence." In other words, whichever individual failed to behave in a manner using a reasonable standard of care in the incident will assume the fault.
Liability in pedestrian accident cases depends on the unique circumstances surrounding the event. For instance, the driver may be wholly responsible if she ran a red light and struck a pedestrian who was lawfully crossing at a designated crosswalk. Conversely, a pedestrian may assume full liability if he darted out in front of fast-moving traffic and the court finds the driver could not have safely avoided him.
However, in many cases, both parties may share responsibility for a pedestrian accident. In such circumstances, California courts adhere to the "comparative negligence" doctrine, which attempts to ascribe a percentage of damages to one or both parties based on the degree to which each individual contributed to the accident.
Most Common Causes of Pedestrian Accidents
According to the Center for Problem-Oriented Policing, pedestrian accidents occur for many reasons related to unusual conditions, vehicle or driver distraction or impairment, pedestrian behaviors, or physical environments. These causes include:
Traffic congestion At busy times, such as "rush hour" and holiday shopping seasons, drivers and pedestrians often become frustrated by increased congestion and behave more aggressively. Focusing on one's destination rather than one's immediate surroundings often leads to making reckless decisions that endanger others.
Infrastructural deficiencies When intersections lack appropriately marked crosswalks and adequate traffic signals, drivers and pedestrians often become confused as to who has the right of way. Such circumstances may contribute to the likelihood of pedestrian accidents.
Exceeding speed limits in residential areas In sectors heavily populated by family homes, more children and adults frequent streets and sidewalks. As a result, posted speed limits are significantly lower than in business districts and on highways. However, drivers failing to observe residential speed limits are often unable to respond to pedestrian movements in a safe and efficient manner.
Public intoxication Pedestrians who have been drinking excessively often lack the coordination, focus, and judgment to utilize safe walking behaviors, such as maintaining comfortable distances from motor vehicle traffic, observing traffic signals, and ensuring the road is clear before crossing. Despite the best efforts of drivers, sudden movements by impaired pedestrians contribute to the likelihood of pedestrian accidents.
Collisions between two vehicles When accidents occur between two or more vehicles, the force of the impact may carry them onto a sidewalk or into a crosswalk, endangering pedestrians. Such incidents often cause multiple injuries or fatalities, particularly for pedestrians.
Driving under the influence The dangers of intoxicated driving have been extensively studied, documented, and broadcasted. Unfortunately, a significant number of drunk drivers continue to populate the roads in San Diego. Such impairment increases the likelihood a driver will fail to obey traffic signals and signs or watch for pedestrians before turning or entering intersections.
Distracted pedestrians Individuals not paying attention to posted signs or traffic may put themselves in situations in which they are more likely to be hit by cars. Particularly significant has been the proliferation of texting or talking on mobile phones while walking. Those not carefully surveying their surroundings are unable to take timely and adequate measures to protect themselves from potential danger.
Types of Injuries Suffered
The high number and significant severity of injuries in pedestrian accidents reflects the difference in weight, velocity, and protection provided by a vehicle versus a fragile human body. According to a study by the Association for the Advancement of Automotive Medicine, two percent more pedestrians die from traffic accidents than do other individuals, such as drivers or passengers.
The most common injuries sustained during pedestrian accidents include:
Cuts and lacerations Whether from striking the vehicle, the ground, or another surface, pedestrians frequently experience severe damage to delicate protective tissue, which can lead to infections and scarring.
Back and neck injuries The trauma of even a low-speed collision can cause damage to important supportive bone structures, occasionally leading to disability and long, painful rehabilitation processes.
Loss of limb When an accident damages one or more of a pedestrian's extremities beyond repair – or when the impact instantly severs a limb – the long-term effects are devastating and debilitating to the victim.
Burns Heat from the car's engine or a fire resulting from the accident may leave a pedestrian with significant burns. The possibility for lifelong disfigurement and excruciating recovery is a frightening prospect.
Head and brain damage The most important organ in the human body is also one of the most easily damaged in a pedestrian accident. From concussions to severe brain trauma, the lasting effects of a head injury can change an individual's life forever.
Broken bones When a pedestrian's arms, legs, or other bones break during a car crash, the healing process can take months, often resulting in lost work and quality of life.
Wrongful death When an individual sustains such severe injuries that they lose their lives, the emotional and financial difficulties their families face cause untold suffering.
Dealing With Insurance Companies after a Pedestrian Accident
Immediately after a pedestrian accident, the driver should first contact the police, who will interview the pedestrian, driver, and witnesses in an attempt to determine who caused the incident. Should evidence gathered at the scene fail to provide a definitive answer, the next step will involve a thorough and detailed investigation.
When the driver's insurance company receives a copy of the accident report, they will begin their own investigation to ascertain their own perception of who was at fault. The driver and pedestrian (or the pedestrian's family, if deceased) will need to remain in close contact with the insurance company to ensure their perspective is reflected in the outcome of the claim.
Insurance companies often operate in the interest of paying out as little as possible in a claim, which can mean a difficult claims process for everyone involved. In cases where significant injury or death has occurred, it remains in the best interest of both parties to contact an attorney. These legal professionals understand the intricacies of California laws and will work with the facts of the case and the testimonies of their clients to provide the best chance of a desirable outcome.
How a Personal Injury Lawyer Can Help After a Pedestrian Accident
Pedestrians who have suffered an accident caused by the negligence of a driver, infrastructural defects, or a combination of factors often feel overwhelmed by multiple concerns. Individuals with debilitating injuries often miss long periods of work and face enormous medical bills. Families of those who have died in pedestrian accidents face funeral expenses, as well as managing the deceased's financial affairs and (if applicable) caring for their dependents.
With such devastating consequences and high stakes, individuals affected by pedestrian accidents benefit greatly from the services of a personal injury lawyer. Attorneys are well versed in the laws regarding such negligent acts and will work with law enforcement agencies and insurance companies to help clients receive the compensation they deserve.
When seeking out a personal injury lawyer, look for a professional who displays characteristics such as:
Credentials. Find out where an attorney received their legal education, as well as what professional memberships, certifications, and recognition they have achieved.
Expertise. Work with a lawyer whose experience includes multiple cases similar to yours; this ensures he or she can draw on past successes to help you.
Rates. An attorney of integrity will rarely charge clients fees unless (and until) they win the individual's court case. Ascertain a lawyer will charge on a contingency basis before enlisting their help.
Realistic expectations. The best lawyers use past settlement amounts and outcomes to help clients form accurate expectations of how their case may conclude.
Choosing Estey & Bomberger for Pedestrian Accident Cases
The San Diego personal injury lawyers at Estey & Bomberger have worked with clients impacted by pedestrian accidents for years. We possess an empirical and theoretical knowledge of California law regarding such cases, and we will work tirelessly to advocate on your behalf as you seek compensation for your injury or loss.
We believe strongly that we are not entitled to a dime unless you win your case; this is why we serve all personal injury clients on a contingency fee basis. Contact Estey & Bomberger today at (619) 295-0035 to discuss your legal options, or fill out our online contact form. We look forward to helping you secure justice in your pedestrian accident case.