One of the most painful injuries for a person to deal with is a burn. If someone else was responsible for a burn injury you or a loved one has suffered, you may need help from an experienced San Diego burn injury attorney. At Estey & Bomberger, LLP in San Diego we have successfully represented many people who have been victims of these types of painful injuries and we believe we can help you. We handle all burn injury cases on a contingency fee basis, meaning you pay nothing unless we win your case so don't hesitate to call us for a free consultation.
Burn Injury Information
In 2016, 486,000 individuals were treated for burns. While the survival rate of those admitted to burn centers is somewhere around 96.6%, 3,275 victims died as a result of burns in 2016.
Preventing burn injuries in your home and work atmosphere requires careful planning, prevention, promotion of safer fuels and heat sources, controlled cooking, enforcement and implementation of safety regulations and plans in commercial buildings and at home, capped tap water temperature, fire education, and more. The best place to start is developing an understanding of the primary causes.
How Much Is My Burn Claim Worth?
Burn injuries are often severe. They can cause permanent scarring, disfigurement, amputations, and disabilities. They can also be traumatic, causing emotional distress for victims such as post-traumatic stress disorder, flashbacks, or phobias. For such catastrophic injuries, victims could be eligible for significant financial recovery. Our past case results can give you an idea of the types of settlements and verdicts we have been able to achieve for clients. Although each case is unique, and we cannot guarantee results, you could be eligible for various damages:
Past and future hospital bills. Burn injuries can cost victims thousands of dollars in medical expenses. Severe burns often take weeks or months to heal, in which time the victim may require extended hospital stays, multiple surgeries or treatments, skin grafts, rehabilitation therapies, and other medical services. Victims may qualify to recover the full value of their out-of-pocket medical expenses.
Disability damages. If a bad burn causes significant damage and permanent disability, the survivor may qualify for compensation for lifelong medical costs, equipment, medications, therapies, and home or vehicle modifications. Lost earning capacity may also be a form of available compensation if the victim's burns prevent him or her from returning to a job held before the incident.
Pain and suffering. A burn victim could be eligible for the various non-economic damages relating to a serious burn injury. These can include physical pain, chronic pain, emotional distress, mental anguish, diminished quality of life, lost enjoyment of life, and loss of consortium. California caps non-economic damages in medical malpractice lawsuits at $250,000.
Work-related losses. Most burn injuries require time off work for treatments, surgeries, and recovery time. Some survivors may never be able to return to their previous careers or pay scales. Victims can request compensation for every cent of their lost wages relating to a bad burn injury, as well as lost future earning capacity.
Punitive damages. A judge may award punitive damages if he or she feels compensatory damages are not enough to make up for the victim's extreme losses. Punitive damages can provide additional compensation for catastrophic burn injuries. A victim may also receive punitive damages as a form of punishment for the defendant, if the defendant caused the burn through gross negligence, wanton disregard, or malicious intent to harm.
In general, the more severe your burn injuries are, the more your claim will be worth. Catastrophic and permanently disabling burns will typically qualify for more compensation than minor burn injuries. If you lost a loved one in a fire or to other fatal burn injuries, your family could qualify for funeral/burial expenses and loss of consortium in addition to the above-listed damages. Discuss your case with an attorney to discover the potential value of your San Diego burn injury claim.
Who Is Liable for a Burn Injury?
Depending on what caused the burn injury, the victim could have the elements of a claim based on negligence, product liability, premises liability, or workers' compensation in California. The type of claim can help a victim determine the liable party. A burn that happened at work, for example, could point to employer or coworker negligence. If the burn occurred because of a defective product, the manufacturer could be liable for damages. The liable party will be the person or entity most at fault for causing the burn injuries:
Product manufacturer or distributor
Employer or coworker
Negligent or reckless driver
Careless property owner
A business owner
The City of San Diego
A combination of multiple parties
A lawyer can help victims identify who could be accountable for causing a serious burn injury. A lawyer can investigate the burn case, collect evidence, and present a case in front of a judge or jury. Proving liability can be difficult and involve complex legal processes. Meanwhile, an insurance company may try to take advantage of the burn victim and offer a lowball settlement. If you are unsure who may be liable for you or a loved one's recent burn injuries in California, contact us for a free consultation. We can go up against insurance companies in pursuit of fair compensation for serious burn injuries in San Diego.
What are the Top Causes of Burns?
Fire or Flame. 43% of all burns are caused by direct contact with open flame. This includes bonfires and fireplace fires, matches, lighters, and candles.
Scalding Liquids. 34% of burn injuries stem from scalding liquids. Of all burns sustained by children under 4, 65% are from scalding liquid. Surprisingly, overly hot tap water accounts for more scalding burn injuries than any other liquid.
Contact. Contact with hot objects accounts for 9% of all burn related injuries. However, the incident rate is much higher for those under 4, as 20% of burn injuries in this category result from contact with hot objects, including curling irons, regular irons, cooking equipment, heaters, and more.
Electric. Electric burns account for 4% of all burn injuries treated each year. These are more often sustained in occupations by individuals who work closely with hazardous electric panels and wires. Some electric burns are the result of dangerous behavior with electricity or from lightning strikes.
Chemical. As the least common cause of burns, chemical burns represent only 3% of all burn injuries. Individuals hospitalized from chemical burns are often poisoned.
Other. 7% of all burns are from miscellaneous or undetected sources. This can include salt burns, sun burns, ice burns, and more.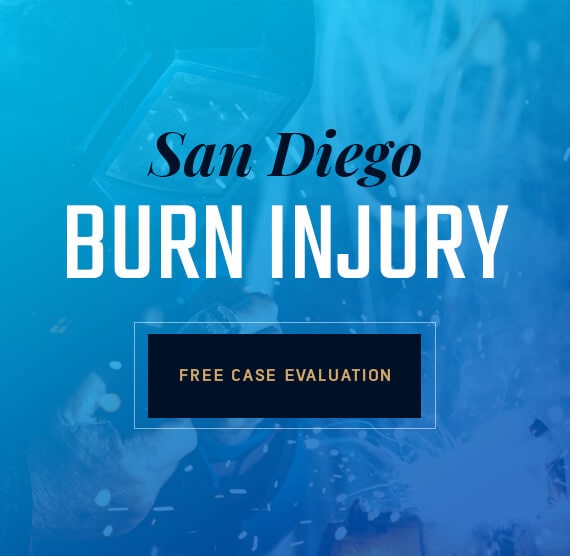 Burns are Most Likely to Occur at Home
72% of burns occur in the home, while only 9% occur at work or in other, unspecified locations. Another 5% happen on the road, as a result of car fires or down power lines, while 5% occur through sports and recreation.
Burns are often preventable through safety measures, preparedness, and careful behaviors. Some burns are the result of a seemingly unavoidable accident, while others are the result of product negligence, personal negligence and abuse toward children, abuse or arson toward an adult or home, automobile accidents, or unmanaged, hazardous conditions. In the event of violence or negligence, a burn victim may be eligible to receive reparation with the help of our skilled burn injury lawyers.
What are the Different Classifications of Burns?
After suffering a burn injury, one of the first things medics will do is diagnose the degree of the burn. The degree of a burn refers to how many layers of skin and muscle tissue the burn impacted, based on the severity of the injury. The degree of the burn can determine the best course of treatment, as well as the patient's long-term prognosis. Although some medical professionals recognize four burn degrees, a three-degree scale is most common:
First-Degree Burn (Superficial)
A first-degree burn, or superficial burn based on the new classification system, only affects the outermost layer of skin (the epidermis). First-degree burns can be painful and cause red or dry skin but will not cause blistering. First-degree burns are the mildest category but can still be serious if they cover a large portion of skin or affect a sensitive part of the body, such as the face.
The prognosis for first-degree burns is good. Most patients fully recover, with no lingering scar tissue or changes in skin color. Long-term damage from a first-degree burn is rare. Many patients do not need professional medical care for first-degree burns, unless they qualify as serious based on the above-mentioned stipulations. Typically, soaking the burned area in cool water and taking pain relief medications is treatment enough.
Second-Degree Burn (Partial Thickness)
Second-degree burns affect the epidermis and the top layers of the second level of skin, the dermis. The dermis contains blood vessels, hair follicles, and nerve endings that deal with pain and sensation signals. Damage to the dermis because of a burn can be painful and cause blistering. The skin may also appear red and swollen.
Partial-thickness burns typically take around three weeks to heal but may leave permanent scars. They can require medical treatment to prevent infections and aid healing. Patients must keep second-degree burn sites clean, sanitary, and protected (often with gauze). Treatments can include antibiotic ointments, pain relief medications, regular dressing changes, and daily wound cleaning to debride dead skin and reapply ointments.
Third-Degree Burn (Full Thickness)
A third-degree burn is the most serious burn type. It can impact the epidermis, entire dermis, and potentially the underlying muscles, tendons, and bones. Third-degree burns often come with lack of pain, due to destroyed nerve endings. The skin may appear swollen, dry, and leathery. It can take on colors such as white, yellow, brown, or black.
A third-degree burn will generally leave permanent scars. They often require surgeries and skin grafts due to the destruction of the epidermis and hair follicles. Treatments can also include IVs for fluids, removing dead tissues, pain medications, and the possibility of amputation for the most severe burn injuries. Third-degree burns can be fatal. They can also heal slowly without emergency medical care.
Implications of Burn Injuries
Burns are painful to endure and treat. They often leave patients disfigured or otherwise lead to a wrongful death. The stigma that burn patients suffer, such as constantly being stared at and feeling less attractive or welcome in society, can be emotionally debilitating. Burns to the face can affect sensory input, and bodily burns can limit mobility or cause nerve damage which leads to chronic pain.
Burns can also be costly if they result in hospitalization, skin graft, or treatment of disfigurement. For burn victims who were under age 18 at the time of the accident, costs exceeded $211 million last year. That figure doubles for adult patients. Because burns are so severe, 30,000 of the 40,000 patients who are hospitalized at any time are sent to special burn units or particular hospitals dedicated to the treatment of burns.
Our San Diego Burn Injury Lawyers are on the Case!
At Estey & Bomberger, LLP we represent injury claims of all kinds. If your burn injuries were sustained as a result of product negligence, faulty equipment, sustained on the job, in an automobile accident, or as a result of malice, you may have cause for representation. Contact the law office of Estey & Bomberger in San Diego today to discuss the nature of your case and determine the best course of action. (619) 295-0035