In April 2020, Zantac was recalled by the U.S. Food and Drug Administration (FDA) due to the presence of a cancer-causing impurity. Now, patients across the United States are filing lawsuits against the drug's manufacturers for the damages they suffered.
If you were diagnosed with cancer after taking Zantac, trust the Georgia Zantac injury lawyers at Estey & Bomberger, LLP to fight for your right to justice. Our Georgia Zantac lawsuit attorneys specialize in defective drug claims, and will not rest until you recover the compensation you deserve. 
Why Choose Estey & Bomberger for Your Zantac Claim?
Our attorneys represent clients nationwide in their lawsuits against dangerous drug manufacturers. We have the skills, knowledge, and resources that you need to pursue a Zantac lawsuit.

Our firm has received numerous awards recognizing our outstanding track record, including National Trial Lawyers' "Top 100" and Daily Journal's "Top Plaintiff Attorney."

We understand the financial hardship that our clients often face. We take our cases on a contingency fee basis—if you do not recover an award, you will not pay any legal fees.
What Is The Risk of Cancer From Zantac?
Zantac and its generic version ranitidine may contain dangerous levels of N-Nitrosodimethylamine (NDMA). NDMA is a probable human carcinogen that can lead to cancer when consumed at high levels over time. Former Zantac patients have been diagnosed with cancers including:
If you were diagnosed with cancer after taking Zantac, you may qualify for a lawsuit against the manufacturer. By filing a claim, you could hold the company accountable for your cancer-related losses, such as medical bills, pain and suffering, and lost wages.
How Long Do You Have to File a Zantac Lawsuit in Georgia?
In Georgia, a Zantac lawsuit must be filed within two years from the date that you discovered or should have discovered the cancer. Additionally, there is a 10-year statute of repose, meaning that you cannot file more than 10 years after you purchased the product. If you do not file in time, the court will likely dismiss your case.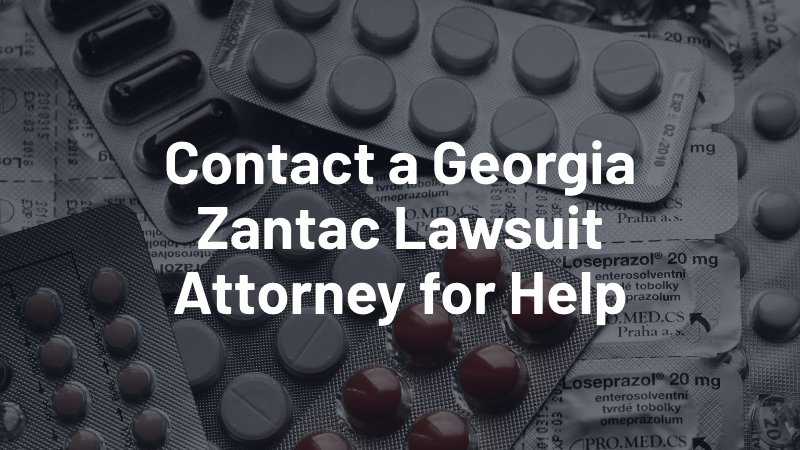 Why You Need a Georgia Zantac Lawyer for Your Zantac Claim
Zantac claims can be very complex. Successful lawsuits often require a combination of medical knowledge and legal experience. If you were diagnosed with cancer and believe Zantac is to blame, you need a Georgia Zantac lawsuit attorney on your side.
Hiring a Zantac lawsuit attorney in Georgia can provide several advantages to your case, such as the following:
Your lawyer will always have your best interests in mind and will work tirelessly to ensure that your rights are protected. 

Your attorney will have significant experience representing similar claims and will leverage case strategies, evidence, and more to build your case.

Your lawyer will be able to investigate your claim on your behalf and gather relevant evidence like medical records, financial documents, and scientific evidence.

Your attorney can enlist the help of medical experts who can testify on your behalf and validate critical facts about your case.

Your lawyer can calculate your potential award and advocate aggressively for your right to full compensation.
Contact a Georgia Zantac Lawsuit Attorney Today
Were you diagnosed with cancer after taking Zantac? The Zantac lawsuit attorneys at Estey & Bomberger, LLP can help you secure the settlement that you deserve. Contact us today at (800) 260-7197 to learn more about your legal options from a Georgia Zantac lawsuit attorney.