Truvada is a prescription medication designed to act as a pre-exposure prophylaxis (PrEP) to prevent the development of human immunodeficiency virus (HIV). People at risk of contracting HIV-1 during sexual activity often use Truvada daily to take additional precautions against the virus — but recent reports show this medication can contribute to severe kidney and bone damage.
Hundreds of former Truvada patients have filed lawsuits against Gilead Sciences, Inc. for the losses they suffered as a result of this medication. If you believe you developed kidney or bone damage due to Truvada use, the San Diego Truvada lawsuit attorneys at Estey & Bomberger, LLP can help.
Why Choose Us
Over our years of operation, our San Diego personal injury attorneys have secured millions of dollars in compensation for our clients. We dedicate ourselves to your maximum possible recovery, exploring every possible avenue to determine your case value.
Our firm holds a 99% success rate and has won numerous awards from legal organizations, proving we have the knowledge and experience necessary to win your Truvada lawsuit.
Our team of attorneys have more than 40 years of combined legal experience. We have developed strategies and gathered valuable resources to benefit our clients in their fight for compensation.
What Injuries Can Truvada Cause?
Although Truvada may prevent its patients from contracting HIV, the medication may also result in a decrease in bone density and place significant stress on the kidneys. These side effects are highly dangerous, and current litigation shows that Truvada may contribute to the following injuries.
Kidney failure: Since it is the kidneys' job to filter Truvada from the bloodstream, regular Truvada use can lead to significant kidney damage. Kidney failure can occur with long-term use, leading to serious, life-threatening complications.
Osteopenia: This condition develops when your bone density weakens significantly, contributing to higher rates of broken bones and fractures. Osteopenia can lead to severe back pain, loss of height, and stooped posture.
Osteoporosis: Truvada's bone-weakening effects may harm the body's ability to absorb and replace bone tissue. As a result, you can develop osteoporosis, leading to extremely weak and brittle bones.
Osteomalacia: This condition occurs when your bones become noticeably softer, often as a result of vitamin D deficiency. Since the kidney plays an important role in vitamin D development, Truvada's bone and kidney side effects can contribute to this condition. Osteomalacia can lead to severe pain, muscle weakness, and limited mobility.
Lactic acidosis: Prolonged Truvada use may contribute to lactic acidosis, or the accumulation of lactate in the bloodstream. Damage from Truvada can prevent kidneys from performing their intended function: filtering substances from the blood. With kidney damage, lactate can build up in the blood and leak to weakness, nausea, and difficulty breathing.
All of these conditions can lead to lifelong consequences. However, filing a defective drug lawsuit against Gilead Sciences, Inc. can help you collect the funds that you need to recover from your injuries.
Potential Compensation in Truvada Lawsuits
If you developed a bone condition or kidney damage as a result of Truvada use, you can experience serious losses. You may have to undergo intensive medical treatment, requiring procedures and ongoing care that your insurance may not cover. You may need to take time off work to get treatment, and the condition can lead to serious physical pain and psychological harm.
Under California law, you have the right to collect compensation for any losses you suffer due to defective Truvada use. Common types of Truvada damages include the following.
Past and future medical care
Dialysis treatments
Medications
Physical and psychological therapies
Chronic pain and disability
Lost wages
Emotional distress
Loss of quality of life
Understanding all of your pathways toward maximum possible compensation is necessary in a defective drug lawsuit — estimating your case value can help you avoid accepting a lower offer than you need, as well as ensure the settlement you ask for can cover all of your potential expenses.
Your Truvada attorney from Estey & Bomberger, LLP can help you determine which damages you may qualify for and the estimated value of your settlement. We will partner with economic experts to determine your long-term care costs, as well as help you gather necessary documentation to prove your damages.
How Do You Prove a Defective Drug Case in California?
Simply alleging that Truvada contributed to your bone or kidney damage is not enough to secure the settlement you need to recover. To prove a defective drug claim, you and your lawyer will need to gather enough evidence to prove four main facts.
You suffered an injury.
The medication was defective.
The defective medication was the direct cause of the harm you suffered, and the defect itself was responsible for the development of your injuries.
You used the product as the manufacturer intended you to use it.
For a Truvada lawsuit, you will need to prove that you developed kidney or bone damage after using the drug, and that the medication caused this damage. You will also need to scientifically prove the defective nature of the drug, as well as prove that you took Truvada in accordance with the manufacturer's instructions. This will require medical knowledge and access to expert witnesses and relevant evidence.
Pending lawsuits against Gilead Sciences, Inc. allege that Truvada has an inherent design defect that contributes to the injuries that patients are suffering from. In addition, current litigation suggests that the manufacturer intentionally delayed a safer PrEP medication for several years as a way to increase Truvada profits — contributing to injuries that patients could have avoided.
Partnering with a firm on the cutting edge of Truvada lawsuits is key to obtaining scientific evidence, medical witnesses, and other valuable information to solidify your right to damages. Estey & Bomberger, LLP are currently working on Truvada litigation, representing clients throughout California in their lawsuits against Gilead Sciences, Inc.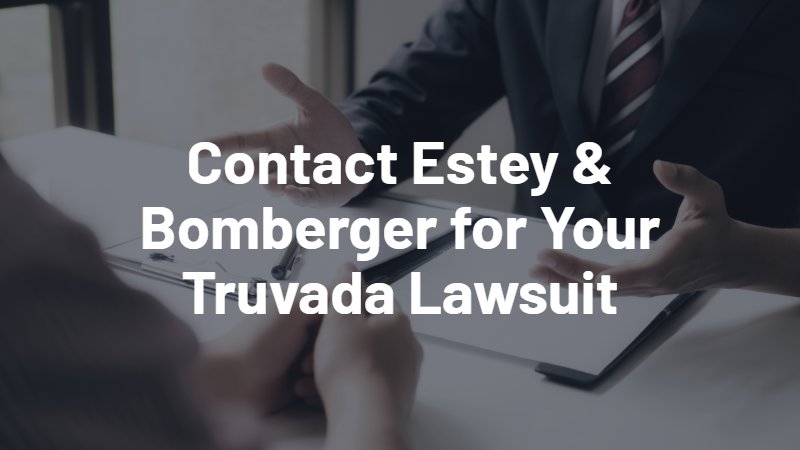 Schedule Your Free Consultation with a San Diego Truvada Lawsuit Attorney
Are you struggling with kidney or bone damage after taking Truvada? Trust the attorneys at Estey & Bomberger, LLP to fight for your right to compensation. We partner with medical experts who can provide unique insight into your injuries to prove your need for damages and fight large corporate legal teams in the courtroom.
Schedule your free consultation today by calling (619) 295-0035. Our San Diego Truvada attorney will discuss your legal options and help you prepare for the next steps to justice.