A Continuous Positive Airway Pressure (CPAP) machine is a medical device designed to aid individuals with sleep apnea, ensuring they receive consistent airflow while sleeping. These devices are critical to preventing disruptions in breathing and potentially life-threatening events during sleep. However, Philips has recalled several of its CPAP devices due to potential health risks, raising concerns about users' safety.
At Estey & Bomberger, LLP, our lawyers have a long history of representing individuals affected by product recalls and medical device concerns. If you or a loved one has been impacted by the Philips CPAP device recall, we can help you secure the compensation that you deserve. Contact us today at (800) 260-7197 to take your first steps toward justice.
Why Choose the Attorneys at Estey & Bomberger, LLP?
Estey & Bomberger, LLP believes that companies must be held accountable for harmful products. We have staunchly dedicated our practice to defending the injured against powerful corporations like Philips.

Over the years, our award-winning attorneys have secured millions of dollars in settlements and verdicts while boasting a 99% success rate. In a five-year period alone, we recovered over $500 million for our clients.
With over 20 years of experience, our law firm not only brings vast experience but also deep compassion and support. We will guide you through every stage of your CPAP machine lawsuit.
The Philips CPAP Machine Recall
In a series of concerning developments for sleep apnea and respiratory patients, Philips Respironics has been at the center of major recalls involving its CPAP and BiPAP ventilator machines. In 2021, the initial recall was driven by the potential health risks associated with the breakdown of PE-PUR foam used for sound abatement in these devices.
Over time, it became evident that this foam could disintegrate and release particles and gases into the user's airway, posing potential threats like cancer and respiratory problems. These risks were especially pronounced in devices older than three years or those exposed to humid or hot environments.
However, the issues did not end with the 2021 recall. In 2023, the U.S. Food and Drug Administration (FDA) issued a Class I recall, the most severe designation, for certain replacement Philips CPAP and BiPAP DreamStation respiratory devices. This recall followed discoveries that many of these replacement devices were incorrectly reprogrammed with duplicate or wrong serial numbers, leading to potential therapeutic mishaps. Such errors could result in patients receiving incorrect breathing support or, in extreme cases, no support at all, leading to severe health risks, including respiratory and heart failure.
List of Recalled CPAP and BiPAP Devices
The Philips breathing device recalls have brought significant attention to certain models of CPAP, BiPAP, and ventilators. While not all Philips models were affected, there was a prominent focus on the Philips DreamStation line. It's essential to note that devices from other manufacturers remain unaffected by these recalls.
Recalled models of Philips CPAP, BiPAP machines, and ventilators include:
Aeris

A-Series BiPAP A30

A-Series BiPAP A40 (ventilator)

A-Series BiPAP Hybrid A30

A-Series BiPAP V30 Auto (ventilator)

C-Series ASV

C-Series S/T and AVAPS

Dorma 400, 500, Auto

DreamStation ASV, Go, ST, Auto, and AVAPS

DreamStation Auto

E30

FR REP DreamStation Auto BiPAP, DOM-RECRT

Garbin Plus

LifeVent

OmniLab Advanced Plus

REMstar SE Auto

REP DreamStation Auto CPAP, DOM-RECERT

REP DreamStation Auto CPAP Recert

SystemOne ASV4, Q-Series, 50 series, and 60 series

Trilogy 100

Trilogy 200

Trilogy Evo ventilators
Recalled models of Philips magnetic CPAP masks include:
Amara View Full Face Mask

DreamWear Full Face Mask

DreamWisp Nasal Mask

Therapy Mask 3100 NC/SP

Wisp and Wisp Youth Nasal Mask
Health Problems Linked to Recalled CPAP Machines 
With the recall of certain Philips CPAP machines, there has been heightened concern over the adverse health effects these devices might induce. Many former patients have reported serious health problems, including breathing issues, cancer, and organ damage.
Exposure to Degraded Foam Particles and Gas
One of the primary issues with the recalled machines centers around the disintegration of sound abatement foam. When this foam breaks down, it releases particles and gases, leading to direct exposure when users breathe through the device. 
The inhalation of these chemicals and particles can result in serious side effects, such as the following:
Respiratory Tract Irritation

: Users might experience discomfort in their respiratory system, potentially worsening pre-existing conditions.

Asthma

: New or exacerbated symptoms of asthma, a disease that affects lung function, can manifest in individuals predisposed to this condition.

Allergic or Inflammatory Reactions

:

The body may react adversely to foreign particles or chemicals, causing allergic reactions or localized or systemic inflammation.

Eye, Nose, and Skin Irritation

: Beyond the respiratory system, other parts of the body may exhibit signs of irritation due to the foam particles or off-gassed chemicals.

Nausea and Vomiting

: Ingesting or inhaling these chemicals can affect the digestive system and cause vomiting as well as overwhelming feelings of nausea.
Long-Term Health Complications
Prolonged exposure to the degrading foam and its by-products may result in more severe health issues. Below are some of the gravest concerns:
Cancers

: Long-term exposure to PE-PUR foam has been linked with the development of specific cancers, notably bladder, lung, and stomach cancers.

Organ Issues

: Continuous inhalation of toxic chemicals can adversely affect major organs, with the kidneys and liver being particularly susceptible.

Chronic Respiratory Problems

: The usage of a recalled CPAP device can amplify respiratory issues, potentially leading to chronic conditions or exacerbating existing ones.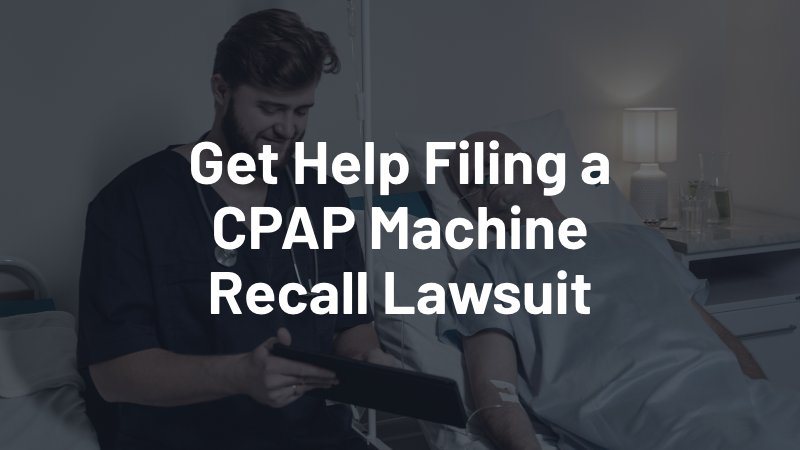 Legal Options for Victims of Recalled Philips CPAP Machines
If you've been harmed by a recalled Philips CPAP machine, it's crucial to understand your legal rights and potential pathways to seek justice and compensation. Ensuring that you're adequately compensated for any health problems, medical expenses, or emotional distress caused by these devices is essential.
In these situations, you can file a lawsuit against Philips and recover a settlement to pay for the damages that you suffered. To be eligible for a claim, you generally need to prove that:
You regularly used a recalled Philips BiPAP, CPAP, or ventilator.

You suffered dangerous or serious health consequences linked to the device, such as lung damage or cancer.
For many people, the litigation process can seem daunting. Before pursuing legal action, it is important to consult with a lawyer who has experience in product liability lawsuits, particularly medical device claims. A CPAP machine recall lawyer from Estey & Bomberger, LLP can help streamline the process and fight for the compensation that you deserve. 
What Compensation Can You Recover in a Philips CPAP Lawsuit?
When filing a lawsuit against Philips for harm caused by a recalled CPAP device, you might wonder what types of compensation you can pursue. While each case is unique, you can claim several types of damages in your lawsuit, depending on the extent and nature of the harm you've experienced.
Medical Expenses
One of the most immediate and tangible costs faced by victims is medical expenses. This can include hospital bills, prescription medications, medical equipment, and ongoing treatments related to health problems caused by the recalled CPAP machine.
In your lawsuit, you have the right to recover compensation for all past and future medical costs related to the CPAP device. To prove your damages, maintaining comprehensive records of all medical treatments, consultations, and prescriptions is crucial. Bills, doctor's notes, pharmacy receipts, and other medical documents serve as solid evidence of incurred expenses.
Lost Wages and Earning Potential
If your health complications have forced you to take time off work or take a lower-paying job, you can seek compensation for these lost wages. If you are unable to work at all due to the injury, or your long-term earning capacity is diminished, you can also claim the loss of future earnings.
Employment records, pay stubs, and testimonials from employers can substantiate lost wages. For diminished future earning capacity, expert testimony might be required to calculate potential earnings lost over a lifetime.
Disability Accommodations
Serious health issues may require modifications to your home or vehicle. If these alterations become necessary due to complications from the recalled device, their costs can be included in your overall settlement.
Receipts from the renovations or adjustments, alongside medical documentation, can establish the direct link between the CPAP-induced harm and the need for disability accommodations.
Pain and Suffering
Beyond the tangible losses, the emotional and physical trauma caused by the faulty CPAP machines is significant. Compensation for pain and suffering may encompass emotional distress, loss of enjoyment of life, physical pain, and permanent disability.
Because pain and suffering is intangible compared to medical expenses or lost wages, these damages can be difficult to prove. Personal journals detailing daily struggles, testimonials from friends and family, and psychological assessments can all serve as evidence of your pain and suffering.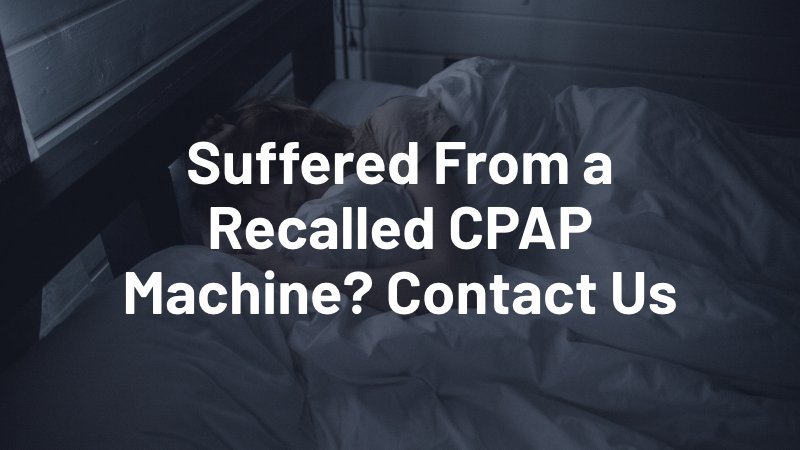 Do You Need an Attorney for Your Philips CPAP Lawsuit?
Deciding to seek compensation after being harmed by a recalled Philips CPAP machine is a significant step toward justice. However, the litigation process can be lengthy and complex, which can add more stress during an already difficult time. In these situations, hiring a lawyer who specializes in these claims is paramount.
An attorney from Estey & Bomberger, LLP can provide several benefits for your case. From legal expertise to strong negotiation skills, our CPAP Machine Recall lawyers will advocate for your rights and best interests every step of the way. 
Expertise in Product Liability Claims
The attorneys at Estey & Bomberger, LLP are specialists in product liability claims, particularly cases involving defective medical devices. We have spent countless hours studying and working on cases that involve defective products, advocating aggressively for the rights of victims. We will leverage our specialized knowledge and expertise to craft a compelling case in your favor. 
Gathering and Analyzing Evidence
Building a compelling case requires comprehensive evidence. Our attorneys are skilled in collecting, analyzing, and presenting evidence in a way that reinforces your lawsuit and proves your right to compensation.
Our firm will conduct an in-depth investigation into your case, analyzing all available documents to determine your right to compensation. Whether we are using medical records, expert testimonies, or journal entries, we will leverage all available pieces of evidence to support your case.
Navigating the Legal Process
The legal process is filled with complexities that can be daunting, especially for someone suffering from a serious health problem. At Estey & Bomberger, LLP, our attorneys can lead you through your lawsuit and provide critical guidance at each stage. We will handle all paperwork, communications, and legal matters on your behalf so that you can focus on healing and recovery.
Negotiating with Other Parties
Many lawsuits are resolved via negotiations with the defendant's lawyers or insurance companies. With vast negotiation experience, the attorneys at Estey & Bomberger, LLP know how to navigate these discussions. We will work diligently to negotiate favorable terms that align with your interests, and we will not hesitate to bring your claim to court if necessary.
What to Do If You Are Using a Recalled CPAP Machine
If you are using a Philips CPAP machine that has been recalled, it's essential to act promptly to prioritize your health and safety. Here are a few key steps that you should take:
Verify Your Device's Status

: Begin by visiting the Philips website. Ensure your specific device model is listed among the recalled products.

Register with Philips: After verifying your device's recall status, register it on the Philips website. This step can help you stay informed about any updates or solutions provided by Philips.
Talk to Your Doctor About Alternatives: Don't stop using your device; this can be dangerous and lead to sleep apnea-related complications. Instead, consult with your healthcare provider as soon as possible. He or she can advise on potential risks and suggest alternative treatments or machines.
Report Any Unusual Symptoms: If you experience any health issues or symptoms that you suspect are related to the recalled machine, notify your healthcare provider immediately. It's crucial to document any health effects potentially caused by the device.
Contact a CPAP Machine Recall Attorney: If you believe you've been harmed by the recalled product or face potential health risks, speak with an attorney to learn about your legal options.
Schedule a Free Consultation with a CPAP Machine Recall Attorney
Have you experienced health complications due to a recalled CPAP machine? The product liability lawyers at Estey & Bomberger, LLP can help protect your rights and recover the compensation that you deserve. Contact us today at (800) 260-7197 or fill out our online contact form to discuss your case with one of our attorneys.