Colorectal or colon cancer is a serious medical condition that affects thousands of people every year. Many factors can lead to this illness—including the use of Zantac, a popular heartburn medication that was recalled in April 2020.
Many former Zantac patients developed colorectal cancer after taking this drug. If you are one of them, you may be eligible for a lawsuit against the manufacturer. In these situations, trust the Zantac colorectal cancer attorneys at Estey Bomberger, LLP to fight for your right to recovery.
Why Choose Estey & Bomberger, LLP for Your Zantac Cancer Lawsuit
Our injury attorneys specialize in litigation against companies who fail to protect consumers. We will leverage our skills and experience to craft a compelling case in your favor.

Our law firm has recovered over $500 million for our clients in a five-year period alone. We will advocate aggressively for your highest possible settlement.

We understand the financial hardship that colorectal cancer can create, which is why our firm operates on a contingency fee basis. If we do not secure a settlement in your case, you will not be charged any legal fees.
What Is Zantac?
Zantac is a medication that was available in both over-the-counter and prescription formulations. It belonged to a category of drugs called H2 blockers, which work by blocking a chemical called histamine. As a result, the drug reduced the amount of acid that the stomach produced. You can no longer purchase Zantac in the United States.
Patients and providers relied on this medication to relieve unpleasant conditions related to gastroesophageal conditions, such as the following:
Heartburn

Acid indigestion

Gastric ulcers

Gastroesophageal reflux disease (GERD)

Erosive esophagitis
Can Zantac Cause Colorectal Cancer? 
In April 2020, the United States Food and Drug Administration (FDA) requested a recall of all prescription and over-the-counter Zantac products, as well as its generic ranitidine. This was due to the discovery of N-Nitrosodimethylamine (NDMA) in the medication.
NDMA is a carcinogenic or cancer-causing substance. While humans can safely consume up to 96 nanograms of NDMA per day, researchers discovered dangerous levels of this carcinogen in Zantac tablets. Plus, this impurity increases over time and at high temperatures. 
These variables were very concerning, causing the FDA to request a recall. Because of the presence of NDMA, Zantac may increase patients' risk of several types of cancers, including colorectal cancer. 
Signs and Symptoms of Colorectal Cancer
Colorectal cancer typically begins in the large intestine, which is known as the colon. However, it may also develop in the rectum. Over time, the cancer can spread to other parts of the body, leading to serious and unpleasant symptoms.
Like many forms of cancer, many people with colorectal cancer do not notice any symptoms in the early stages of the disease. As the condition progresses, patients may begin to experience the following:
Unexplained weight loss

Blood in the stool

Weakness or fatigue

Persistent abdominal discomfort

A feeling that your bowel is not completely empty

A sudden and persistent change in your bowel movements
How to Qualify for a Zantac Colorectal Cancer Claim
Zantac patients are filing lawsuits against Sanofi and other manufacturers for the losses that they suffered due to their cancer diagnoses. If you were diagnosed with colorectal cancer after taking this medication, contact a Zantac injury lawyer to find out if you can pursue a claim of your own.
To secure compensation in a Zantac cancer lawsuit, you will first need to prove that you are eligible for a claim. Generally, you qualify for legal action if you meet the following three criteria:
You used to take either prescription or over-the-counter Zantac.

You were diagnosed with colorectal or colon cancer.

You took Zantac for at least one year prior to your cancer diagnosis.
The Zantac colon cancer attorneys at Estey & Bomberger, LLP can help you identify whether you qualify for litigation and help you take your first steps toward filing a claim.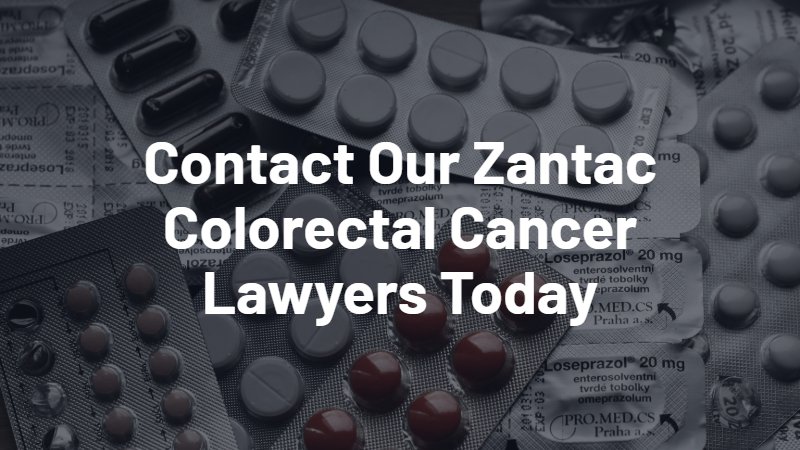 How to Prove a Zantac Cancer Lawsuit
Manufacturers failed to warn patients and medical providers of the cancer risk that Zantac posed. Therefore, these entities are liable for the damages and losses that patients have endured. By filing a Zantac colorectal cancer lawsuit, you can recover financial compensation for your medical expenses, lost wages, pain and suffering, and more.
However, you will need to prove the following facts in order to secure a settlement in your claim:
You were diagnosed with colorectal cancer.

Zantac is defective.

Zantac's defect caused you to develop colorectal cancer.

You used the medication as the manufacturer intended.
It can be difficult to prove these facts without the support of a product liability lawyer skilled in dangerous and defective drug claims. At Estey & Bomberger, LLP, our specialized Zantac colorectal cancer lawyers have represented several clients in their claims against Zantac's manufacturers. Our team of highly experienced Zantac lawsuit attorneys will leverage our skills, experience, knowledge, and resources to craft a compelling case in your favor, proving your right to maximum recovery. 
How Long Do You Have to File a Lawsuit for Zantac?
You have a limited time to file a Zantac cancer lawsuit. The clock typically begins running on the day that you knew or should have known about your condition, usually the date of your diagnosis.
Across the United States, governments have implemented rules that set deadlines for filing product liability claims. Depending on where you live, you could have as short as one year to as long as 10 years to file a lawsuit:
If you live in New York, you have three years from the date of your diagnosis to file your lawsuit.
If you live in Pennsylvania, you have two years from the date of your diagnosis to file.
If you live in Tennessee, you must file your claim within four years from the date on which the injury occurred.

If you live in North Dakota, you have 10 years from the date of the initial purchase and 11 years from the date of manufacture to file.
Contact a Zantac Colorectal Cancer Attorney Today
Have you or a loved one been diagnosed with colorectal cancer after taking Zantac? You may be eligible for a lawsuit against the drug's manufacturers. In these situations, trust the attorneys at Estey & Bomberger, LLP to secure the compensation that you deserve.
Our attorneys are skilled in defective products and dangerous drug lawsuits and are dedicated to fighting for the rights of injured consumers across the United States. Contact us today to schedule your free consultation and learn more about your legal options. Call (800) 260-7197 to speak to our Zantac injury lawyers serving clients nationwide.