Hearing loss is a silent but profound consequence experienced by many veterans who have served in loud and hazardous environments. Unfortunately, the 3M ear plugs, which were intended to safeguard their hearing, have been alleged to be defective, leaving countless veterans with life-altering damages.
At Estey & Bomberger, LLP, we understand the significant impact that hearing loss can have on the lives of veterans. Our attorneys are dedicated to representing those affected by faulty 3M ear plugs and holding those responsible accountable for the damages that their victims have sustained. If you suffered hearing loss due to this defective product, contact our firm today to take your first steps toward justice.
Why Choose the Attorneys at Estey & Bomberger, LLP?
Our product liability attorneys specialize in dangerous and defective product litigation. We understand the complex nature of 3M ear plug lawsuits and will leverage our knowledge to craft a compelling case in your favor.

Our firm is dedicated to recovering maximum compensation on our clients' behalf. We have recovered millions of dollars for our clients, including $500 million over a five-year period.

Many victims of 3M ear plugs suffer from significant financial hardship. That is why we accept clients on a contingency fee basis—if we do not win your case, we will not charge you any legal fees.
What Is the 3M Ear Plug?
From 2003 to 2015, the 3M Company and Aearo Technologies, Inc. supplied members of the United States military with dual-ended Combat Arms ear plugs designed to protect against loud sounds encountered in combat scenarios. These non-linear, selective attenuation ear plugs were intended to safeguard military personnel from bomb blasts, gunfire, and helicopter noise.
The 3M ear plugs, known as Combat Arms earplugs, featured a unique design. One end, colored olive, aimed to block all types of sound. The other end, colored yellow, provided a significant reduction of loud noises, such as explosions, while still allowing the wearer to hear spoken words in his or her surroundings.
The History of 3M Ear Plugs: Defects and Injuries
In 2003, Aearo Technologies, Inc. secured an exclusive contract to supply the military with dual-sided earplugs specifically designed for combat situations. Subsequently, 3M acquired Aearo Technologies, Inc. in 2008 and continued supplying these earplugs to members of the Army, Navy, Air Force, and Marines.
This military contract remained in effect until 2012 when Moldex-Metric Inc. won the contract from 3M, taking over the responsibility of supplying soldiers with its own line of combat earplugs. Nevertheless, 3M continued manufacturing their dual-ended earplugs until 2015.
Unfortunately, the 3M Combat Arms ear plugs were found to have design defects that rendered them ineffective in protecting users' hearing. The ear plugs could become loose in the wearer's ear, allowing dangerous noises to penetrate.
Furthermore, some soldiers' ear canals were not adequately accommodated by the ear plug's short stem, exacerbating the issue. Consequently, many individuals who relied on 3M ear plugs during combat have experienced significant hearing loss and debilitating tinnitus. 
The Timeline of 3M Ear Plus Lawsuits
In 2016, Moldex-Metric Inc. filed a whistleblower lawsuit against 3M and Aearo Technologies, Inc., alleging that the companies knowingly sold defective ear plugs to the U.S. military. The lawsuit asserted that 3M had engaged in fraudulent practices, resulting in a substantial number of soldiers likely experiencing hearing loss due to the faulty ear plugs.
While 3M did not admit any wrongdoing, the company reached a settlement in 2018, agreeing to pay $9.1 million to the U.S. Department of Justice to resolve the lawsuit. Now, numerous veterans have begun filing lawsuits against 3M, seeking compensation for their hearing loss and tinnitus, and aiming to recover the financial losses they have suffered as a result.
Who Is Eligible to File a 3M Ear Plug Lawsuit?
Both veterans and civilians who meet specific criteria may be eligible to file a 3M military defective ear plug lawsuit:
Veterans:

If you served in the U.S. military between 2003 and 2015, used the 3M Dual-Ended Combat Arms Ear Plugs during your military service, and were diagnosed with hearing loss, tinnitus, or related problems, you may be eligible for a lawsuit. Additionally, if you have a rating from the U.S. Department of Veterans Affairs for hearing loss, it could strengthen your case.

Civilians:

If you were issued the Combat Arms Ear Plugs, used them, and have suffered permanent hearing damage as a result of the faulty ear plugs may also be eligible to file a lawsuit against 3M.
To determine your specific eligibility and explore legal options, it is crucial to consult with a mass torts attorney who specializes in 3M ear plug lawsuits. At Estey & Bomberger, LLP, our law firm will evaluate your circumstances, review relevant medical records, and help you understand your options for compensation. If you qualify, our 3M ear plug lawyers will guide you through the process of pursuing compensation for your injuries and related damages.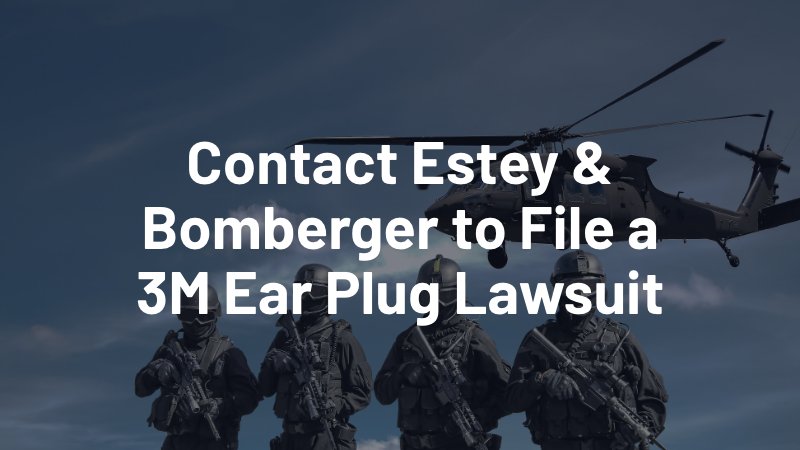 Common Symptoms of Hearing Loss and Tinnitus
Hearing loss and tinnitus can have a significant impact on a person's quality of life. The challenges associated with hearing loss, such as difficulty understanding conversations or participating in social activities, can lead to feelings of frustration, isolation, and decreased self-confidence. These conditions can affect communication, relationships, and overall well-being.
While symptoms can vary from person to person, many people with hearing loss and tinnitus have experienced the following:
Ringing, buzzing, or clicking sounds in the ears

Difficulty understanding conversations, especially in noisy environments

Muffled or distorted hearing

A sensation of pressure or fullness in the ears

Inability to hear high-pitched sounds or certain frequencies

Frequently asking others to repeat themselves or speak louder

Withdrawal from social activities or avoidance of group conversations

Increased volume of electronic devices or television

Difficulty localizing sounds or determining their source

Fatigue or increased stress due to the strain of listening

Feeling isolated or disconnected from others due to communication difficulties
If you notice any symptoms of hearing loss or tinnitus, seek medical attention as soon as possible. A medical professional can assess the extent of hearing loss or tinnitus and provide guidance on suitable treatment options to improve your quality of life. Remember, early intervention is key in managing these conditions effectively.
What Compensation Is Available in a 3M Ear Plug Lawsuit?
By filing a 3M ear plug lawsuit, you can recover compensation to help pay for the damages that you suffered due to hearing loss or tinnitus. Your settlement value can vary based on several factors, including the severity of your injury, the emotional distress that you experienced, and how the injury affects your ability to work.
Your 3M ear plug lawsuit attorney from Estey & Bomberger, LLP can help you calculate your potential award and use this information to fight for your right to maximum recovery. However, there are several types of damages that you will likely be able to claim in your lawsuit.
Medical Expenses
The majority of your award will likely be comprised of your past and future medical expenses. You can recover compensation for any treatment costs related to your hearing loss, including doctor's appointments, surgeries, prescription medications, rehabilitation, and physical therapy. If you require disability accommodations or equipment like hearing aids, your settlement can help pay for these necessities as well.
Your medical records, medical bills, and insurance documents will be valuable for proving your right to compensation. For long-term or future costs, your attorney can consult with expert witnesses like medical professionals and life care planners who can help determine your medical needs in the future.
Lost Wages and Future Earnings
In your lawsuit, you can claim compensation for any wages that you lost as a result of your hearing loss. This will likely involve the time that you have to take off of work to receive treatment or deal with the effects of the injury. If your hearing loss impacts your ability to work and you lose income as a result, you can also recover compensation for the loss of future earnings or a reduction in your earning potential.
There are several pieces of evidence that you could leverage to establish your right to lost wages and future earnings. These may include job contracts, timecards, correspondence with your employer, and financial documents.
Pain and Suffering
Pain and suffering, also known as non-economic damages, refer to the physical and emotional impact of hearing loss. This portion of your award will cover any emotional distress, chronic pain, permanent disability, depression, mental anguish, or loss of quality of life that you have suffered as a result. 
Unlike lost wages and medical expenses, you cannot quantify pain and suffering damages using hard evidence. Instead, you may need to apply different formulas to calculate this portion of your award. Your 3M ear plug lawsuit attorney can leverage these formulas to estimate your pain and suffering damages and include them in your estimated settlement amount.
The Statute of Limitations for 3M Ear Plug Lawsuits
The statute of limitations refers to the time limit in which you must file a certain lawsuit. If you do not file within the required time frame, the court will most likely dismiss your case. Different states have different filing deadlines for 3M ear plug lawsuits, so it is best to consult with a personal injury lawyer to protect your right to compensation.
For example, if you live in California, you must file within two years from the date that you discovered or should have discovered the hearing loss. If you live in New York, you must file within three years from the date of your hearing loss diagnosis. Different states also have certain exceptions to this rule, so it is important to speak with a 3M ear plug lawyer as soon as you can to initiate your claim and take your first steps toward justice.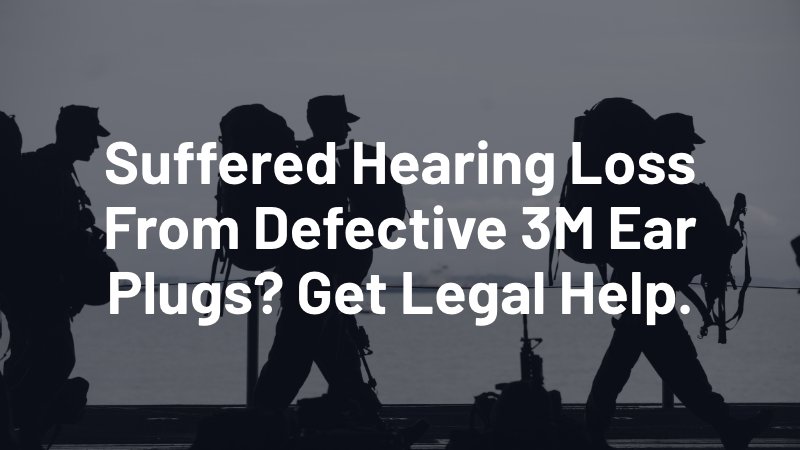 Do You Need an Attorney for Your Injury Claim Against 3M?
Navigating the labyrinth of a 3M earplug lawsuit can be overwhelming, especially when you are already grappling with the repercussions of hearing loss or tinnitus. These claims aren't as straightforward as they seem; they involve intricate legal procedures, countless pieces of evidence, and negotiations with powerful corporate entities. In these situations, you need an attorney on your side who can fight for your rights on your behalf.
At Estey & Bomberger, LLP, our product liability attorneys are dedicated to fighting for the rights of those harmed by defective 3M ear plugs. When you hire our firm to represent your lawsuit, you gain access to a wide range of important benefits:
Expert Guidance

: Our attorneys have comprehensive knowledge of the 3M ear plug lawsuits and can efficiently guide you through the complex legal process, helping you understand your rights and options.

Gathering Evidence

: We know precisely what evidence is necessary for a successful claim and have the resources to obtain it. We can help connect the dots between your hearing loss and the defective 3M ear plugs.

Peace of Mind

: Navigating a complex lawsuit can be challenging under any circumstances but is even more so when you are dealing with hearing loss. By handling the legalities, we allow you to focus on what's truly important: your health, your family, and your well-being.

Negotiation Skills

: Our skilled injury attorneys have years of experience fighting for our clients' rights at the negotiating table. We can adeptly handle negotiations with 3M's defense teams, ensuring your interests are best represented and your claim gets the attention it deserves.

Litigation Experience

: Our 3M lawsuit attorneys have substantial trial experience. If it becomes necessary to take your case to court, we are prepared and well-equipped to fight for your rights before a judge or jury.
Contact Estey & Bomberger, LLP Today
If you or a loved one have suffered hearing loss or related damages due to the defective 3M ear plugs, it's crucial to take immediate action. The specialized 3M ear plug lawsuit attorneys at Estey & Bomberger, LLP can stand by your side and fight for your right to fair compensation. With our extensive knowledge of the litigation process and our commitment to seeking justice, our team of attorneys are prepared to guide you each step of the way.
Contact us today to schedule a free case consultation with a 3M ear plug lawsuit attorney. You can call us at (800) 260-7197 or fill out our online contact form to learn more about your legal options.