Many Pennsylvanians struggle with conditions like heartburn and acid reflux and turn to medications like Zantac to relieve their symptoms. However, this popular medication may contain a dangerous carcinogen and raise patients' risk of cancer. 
If you developed cancer after taking Zantac, you may be eligible for legal action – and a Pennsylvania Zantac lawsuit attorney at Estey & Bomberger, LLP can help. Our Zantac lawyers can represent your claim against Zantac's manufacturers and help you recover the settlement that you deserve.
Why Hire Estey & Bomberger, LLP for Your Pennsylvania Zantac Claim?
Our attorneys have recovered millions of dollars in settlements and jury verdicts. We are dedicated to securing maximum compensation in your case.

Our firm maintains a 99% case success rate and have represented thousands of injured patients nationwide, including Pennsylvania residents.

We operate on a contingency fee basis. If our Zantac lawsuit attorneys do not secure compensation in your case, you will not be charged legal fees.
In September 2019, researchers at an online pharmacy made a startling discovery while testing batches of Zantac. Their tests found that batches of Zantac contained unsafe levels of N-Nitrosodimethylamine (NDMA), which is a substance that may cause cancer in humans. 
While humans can safely consume up to 96 nanograms per day, the researchers discovered NDMA levels higher than 3 million nanograms per tablet. The U.S. Food and Drug Administration (FDA) launched an investigation into the matter and identified the presence of this impurity. In April 2020, the FDA recalled Zantac and generic ranitidine products. If you or a loved one was diagnosed with cancer after taking Zantac, speak with a Zantac lawyer in Pennsylvania immediately to learn your legal options for recovery.
What Types of Cancer Are Associated with Zantac?
Due to the NDMA impurity, Zantac has been linked to multiple forms of cancer in patients. Many people who were diagnosed with cancer after taking Zantac do not have a family history of the disease or genetic markers that make them more susceptible. Their cancer was likely caused by an environmental contaminant, like NDMA.
Some of the cancers associated with Zantac include the following:
How Do You Qualify for a Zantac Lawsuit?
To qualify for a Zantac lawsuit, you or your Pennsylvania Zantac attorney will need to prove three factors: use, injury, and correlation between use and injury. In general, you will need to meet the following criteria:
You took prescription or over-the-counter Zantac.

You were diagnosed with cancer.

At least one year has passed since you first started taking Zantac and your cancer diagnosis.
These guidelines are general. The only way to identify whether you qualify for Zantac litigation is to speak with a lawyer. As soon as possible following your diagnosis, contact Estey & Bomberger, LLP to speak with a Pennsylvania Zantac lawsuit attorney.
How to Prove a Zantac Lawsuit in Pennsylvania
Zantac lawsuits fall under the category of product liability, which are claims filed against manufacturers of defective products. A product may be defective in its design or manufacturing, or its warnings and instructions. Zantac patients allege that manufacturers breached their duty of care by failing to warn patients and providers of the drug's cancer-causing side effects.
To recover a settlement in a Zantac lawsuit, you will need to prove four important facts:
You were diagnosed with cancer. 

Zantac is defective.

Zantac's defect caused your cancer.

You were taking Zantac as the manufacturer intended.
There are several pieces of evidence that you can leverage to help prove your right to financial compensation. Your medical records can help establish the nature and extent of your condition, as well as your history of Zantac use. Your attorney can also connect you with expert witnesses in the medical and product fields to help establish the nature of the defect and link Zantac to your cancer diagnosis.
What Is the Statute of Limitations for Zantac Lawsuits in Pennsylvania?
In Pennsylvania, you must file your Zantac lawsuit within two years of your cancer diagnosis. The court will likely dismiss your case if you file after this deadline, preventing you from recovering compensation. If you believe that you qualify for a Zantac lawsuit, speak to a lawyer at Estey & Bomberger, LLP as soon as possible.
How Much Is a Zantac Lawsuit Worth?
Through a Zantac claim, you can hold the manufacturer liable for the economic and non-economic damages that you suffered due to your cancer. Examples of damages in Zantac lawsuits include the following:
Past and future medical expenses

Lost wages

Loss of future earnings

Disability accommodations

Pain and suffering
A Zantac settlement can range from thousands to millions of dollars, depending on the severity of your cancer and the individual losses that you experienced. A Zantac attorney in Pennsylvania can calculate your estimated settlement value so that you can argue for the highest possible compensation throughout your case.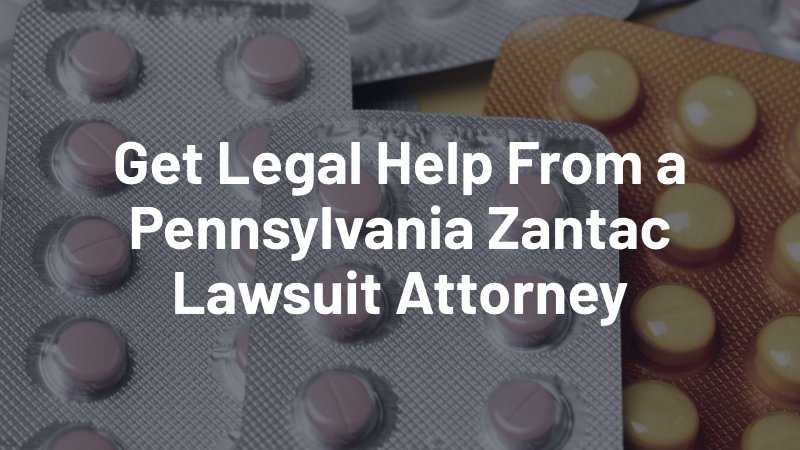 Do You Need a Lawyer to Represent Your Zantac Lawsuit?
You are not required to hire a lawyer to file a Zantac lawsuit. However, you should strongly consider enlisting the help of an attorney if you plan to pursue this complex litigation. 
Zantac manufacturers have large, highly paid legal teams on their side who are dedicated to protecting their best interests. They will do everything in their power to minimize the amount of compensation paid to former patients and may attempt to get your case dismissed. You need someone who can protect your interests and defend your right to recovery.
A Pennsylvania Zantac lawsuit attorney will have the skills, experience, and resources that you need to prove your right to recovery. He or she will fight for your rights each step of the way, working tirelessly to craft a compelling case in your favor and recover the compensation that you deserve.
What to Do If You Are Diagnosed with Cancer After Taking Zantac
Receiving a cancer diagnosis can be a scary and life-altering experience. However, if you believe that your cancer was caused by Zantac, you need to act quickly. You only have a short amount of time to file your lawsuit, and the clock starts ticking when you receive your diagnosis. 
After your diagnosis, receive medical care at the direction of your physician and keep up with your treatment. You should collect any medical records related to your cancer diagnosis, as well as your Zantac use. To prove that you used to take Zantac, collect any receipts, prescription slips, or empty bottles that you may have. 
Once you have gathered this evidence, speak to a Pennsylvania Zantac lawyer at Estey & Bomberger, LLP as soon as possible. Your lawyer will assess your case, identify your legal options, and help you take your first steps toward recovering the compensation that you deserve.
Schedule a Free Consultation With a Zantac Lawyer in Pennsylvania
If you were diagnosed with cancer after taking Zantac, the lawyers at Estey & Bomberger, LLP can help you secure the compensation that you deserve. Contact us today to schedule a free consultation and strategize your next steps with a Pennsylvania Zantac lawsuit attorney.