In April 2020, the U.S. Food and Drug Administration (FDA) issued a recall for the popular heartburn medication Zantac and its generic version, ranitidine. This decision came after the agency discovered that Zantac may raise patients' risk for certain cancers.
If you were diagnosed with cancer after taking Zantac, you may be eligible for financial compensation. In these situations, trust a Minnesota Zantac lawsuit attorney at Estey & Bomberger, LLP to fight for your best interests. Our Minnesota Zantac lawyers will advocate diligently for your right to the highest possible settlement.
Why Hire Estey & Bomberger, LLP for Your Minnesota Zantac Claim?
Our law firm is dedicated to securing maximum compensation in your case. We maintain a 99% case success rate and have recovered millions of dollars on behalf of our clients.

Our Zantac lawsuit lawyers specialize in dangerous and defective product litigation. We have the skills, knowledge, and resources to craft a compelling Zantac in your favor.

We understand how difficult a cancer diagnosis can be. Our Zantac lawsuit attorneys will handle all aspects of your claim so that you can focus on treatment.
Common Zantac Uses and Side Effects
Zantac belongs to a class of medications known as histamine-2 (H2) blockers. These drugs work by targeting a receptor that is responsible for producing stomach acid. By working to reduce the amount of acid that your stomach makes, Zantac can help relieve conditions like heartburn, gastroesophageal reflux disease, and stomach ulcers.
The most common side effects of Zantac include constipation, diarrhea, nausea, vomiting, and stomach pain. However, the medication is also known to cause serious side effects that require emergency medical care in rare cases. These side effects may include:
Loss of appetite

Dark urine

Fever

Chills

Chest pain

Shortness of breath

Fast or slow heart rate

Hair and skin problems

Easy bleeding or bruising

Jaundice, or the yellowing of the skin and eyes
Zantac may cause cancer due to the presence of N-Nitrosodimethylamine (NDMA), which is a probable human carcinogen. In September 2019, an online pharmacy detected dangerous levels of NDMA in Zantac and sent its findings to the FDA. The agency then issued a recall for Zantac and ranitidine products.
There are multiple cancers associated with Zantac use, including the following:
If you were diagnosed with any of the aforementioned cancers after taking Zantac, speak with a Zantac injury attorney in Minnesota as soon as possible to learn your legal rights.
Who Is Liable for Zantac-Related Cancer?
Drug manufacturers must abide by strict regulations and follow stringent quality control processes. If a medication is defective in its design, marketing, or warnings and instructions, the manufacturer would be financially responsible if any patients are harmed as a result. 
Because Zantac contains an NDMA impurity, and manufacturers failed to warn consumers of this risk, they may be held liable in a lawsuit. Many Zantac patients have filed lawsuits against the multiple companies who have produced the medication. 
Below is a partial list of Zantac manufacturers:
Sanofi

American Health Packaging

Amneal Pharmaceuticals

Mylan Pharmaceuticals

GlaxoSmithKline

Precision Dose Inc.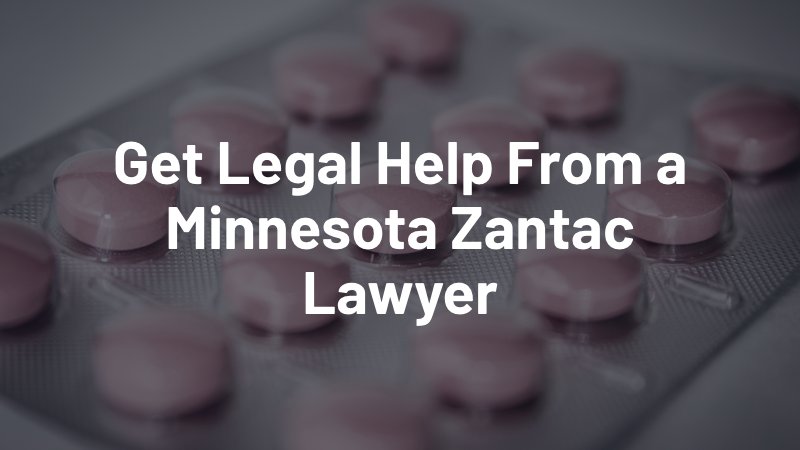 How Do You Qualify for a Zantac Lawsuit in Minnesota?
To qualify for a Zantac lawsuit, you or your Minnesota Zantac lawyer will need to prove three criteria: use, injury, and relationship. First, you must have taken Zantac for at least one year. Second, you must have been diagnosed with a cancer associated with Zantac use.
Finally, you will need to establish a relationship between your Zantac use and cancer diagnosis. Typically, you must prove that at least one year has passed between the diagnosis and your first dose of Zantac. 
What Is the Statute of Limitations for Zantac Lawsuits in Minnesota?
Under Minnesota law, you must file a Zantac lawsuit within four years of your cancer diagnosis. If you do not file within this time period, the court will likely dismiss your case. To protect your right to compensation, speak to a Minnesota Zantac lawyer at Estey & Bomberger, LLP as soon as possible.
How Much Is a Zantac Lawsuit Worth in Minnesota?
By filing a lawsuit against Zantac's manufacturers, you can recover compensatory damages for the cancer-related losses you experienced. Under Minnesota law, you can hold a manufacturer liable for two types of damages: economic and non-economic.
Economic damages refer to financial losses, such as past and future medical expenses, disability accommodations, and lost wages. On the other hand, non-economic damages involve the pain and suffering you experienced, such as chronic pain, emotional distress, depression, and anxiety.
The value of your Zantac settlement will depend on the losses that you endured. For example, if you were diagnosed with late-stage breast cancer, you will likely require more intensive treatment and longer recovery periods than a plaintiff with Stage I breast cancer. As a result, your settlement will likely be higher.
Should You Hire an Attorney to Represent Your Zantac Claim?
If you have been diagnosed with a type of cancer associated with Zantac and believe that you have grounds for a lawsuit, you need to speak with a lawyer right away. Filing a product liability claim is quite complex, and Zantac lawsuits are especially complicated. You need someone who can carefully assess your legal options, gather critical pieces of evidence, and craft a compelling case in your favor.
A Minnesota Zantac lawsuit attorney will have significant experience representing victims of this defective medication. He or she can leverage scientific evidence and case strategies used in other lawsuits to strengthen your case. Your lawyer will also enlist the help of expert witnesses who can testify on your behalf about complex topics, helping prove your right to compensation.
After your diagnosis, you should continue to receive treatment in accordance with your doctor's instructions. Then, schedule a consultation with a Minnesota Zantac injury lawyer at Estey & Bomberger, LLP. Your attorney will assess your case and strategize your optimal path to financial recovery. 
How Much Does a Zantac Lawsuit Attorney Cost?
Many people are hesitant to hire an Zantac lawsuit attorney in Minnesota due to the perceived cost of legal fees. Financial hardship is incredibly common after a cancer diagnosis, especially due to the cost of medical care and lost wages during treatment and recovery periods. 
Many Zantac attorneys, including those at Estey & Bomberger, LLP, understand this financial hardship and thus operate on a contingency fee basis. Under this arrangement, you will not be charged any legal fees unless we have recovered a financial award on your behalf—limiting your out-of-pocket costs.
Schedule a Free Consultation With a Zantac Attorney in Minnesota
If you were diagnosed with cancer after taking Zantac, the Minnesota Zantac injury attorneys at Estey & Bomberger, LLP can help you recover the compensation you deserve. Contact us today to schedule a free consultation with a Minnesota Zantac lawsuit attorney or call (800) 260-7197 at any time to learn more.