If you used to take Zantac, you may be eligible for financial compensation. The U.S. Food and Drug Administration (FDA) issued a voluntary recall for this medication after discovering that it may raise patients' risk for cancer. Now, former patients are filing lawsuits against the manufacturer to recover compensation for their losses.
The injury attorneys at Estey & Bomberger, LLP represent injured Zantac patients nationwide in their lawsuits against the manufacturer. If you are struggling with cancer after taking this medication, our Massachusetts Zantac lawsuit attorneys can help you seek justice.
Why Choose Us for Your Massachusetts Zantac Lawsuit
Over our years of operation, our attorneys have recovered

millions of dollars

for patients who have suffered from the side effects of dangerous medications.

Our team of attorneys have won multiple awards, including Top Plaintiff Attorney from the Daily Journal and AV-Preeminent from Martindale-Hubbell.

We take all cases on a contingency fee basis for maximum affordability. If we do not recover a settlement for you, you do not pay any legal fees.
Why Did the FDA Recall Zantac?
The FDA chose to recall Zantac in April 2020 after it discovered dangerous levels of a cancer-causing contaminant. N-Nitrosodimethylamine (NDMA) is a carcinogen that can increase a person's cancer risk. Zantac and generic ranitidine tablets can expose patients to unacceptable levels of this impurity.
Zantac use is linked to multiple types of cancer, such as:
Kidney cancer

Ovarian cancer
Do You Need an Attorney for a Zantac Cancer Claim in Massachusetts?
Cancer is a devastating illness that can have a major impact on your physical, emotional, and financial health. By filing a Massachusetts Zantac lawsuit, former patients of this dangerous medication can hold the manufacturer accountable for these losses. If you plan on pursuing a Zantac cancer claim, you need someone who can help you establish your right to financial compensation.
When you hire a Massachusetts Zantac injury attorney from Estey & Bomberger, LLP, you gain an advocate who will work tirelessly to secure the settlement that you deserve. The Zantac injury lawyers at our law firm have years of experience with dangerous and defective drug claims and representing former Zantac patients in their lawsuits. We will leverage our knowledge, connections, and case strategies to craft a compelling case in your favor and will provide you with the support that you need each step of the way.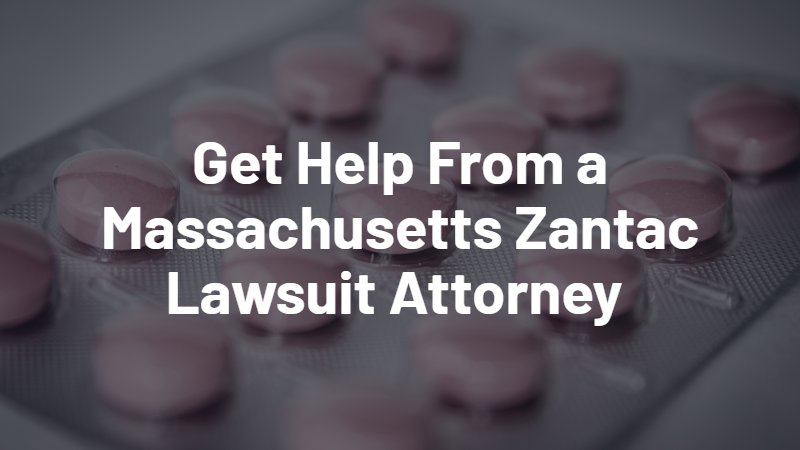 Who Is Eligible for a Zantac Lawsuit in Massachusetts?
Not everyone is eligible for a Zantac cancer lawsuit. Generally, you must meet the following requirements to qualify for a legal claim:
You must have been diagnosed with a cancer that is associated with Zantac.

You must have taken either prescription or over-the-counter Zantac on a regular basis for at least one year. 

Your cancer must have been diagnosed at least one year after the date that you began to take Zantac.
At Estey & Bomberger, LLP, our Massachusetts Zantac lawsuit attorneys can help you determine whether you can pursue legal action. We will carefully evaluate your case and identify your optimal pathway to financial compensation.
Contact a Massachusetts Zantac Lawsuit Attorney at Estey & Bomberger, LLP Today
A cancer diagnosis can change your life. If you believe that your illness is linked to your Zantac use, the lawyers at Estey & Bomberger, LLP can help you hold the manufacturers accountable.
Contact us today to schedule your free consultation with a Massachusetts Zantac lawsuit attorney. Our lawyer will assess your case and identify your optimal path to compensation.