In April 2020, the U.S. Food and Drug Administration (FDA) recalled Zantac, a popular heartburn medication, after discovering a cancer-causing impurity. Experts have linked Zantac to an increased risk for many types of cancer, including breast cancer.
If you were diagnosed with breast cancer after taking Zantac, the lawyers at Estey & Bomberger, LLP can help. Our injury attorneys can represent you in a lawsuit against the drug's manufacturers and advocate for your right to justice.
Why Choose Us for Your Zantac Cancer Lawsuit
Our Zantac lawsuit attorneys have recovered over $500 million for our clients. We are dedicated to securing the highest possible award in your Zantac lawsuit. 

Our law firm specializes in mass tort lawsuits and has years of experience representing clients in claims against manufacturers of dangerous drugs, including Zantac. We have the skills and experience necessary to fight for your best interests.

Our lawyers have won many awards recognizing our track record of success. We have received Consumer Attorneys of San Diego's Trial Attorney of the Year and Martindale-Hubbell's AV Preeminent Peer Review Rating.
What Is Zantac?
Zantac is a popular medication that is used to treat heartburn, acid reflux, indigestion, and other common gastroesophageal conditions. Before it was recalled by the FDA, Zantac was available as both an over-the-counter drug and a prescription medication. The generic version of this drug is known as ranitidine.
Does Zantac Cause Breast Cancer?
In September 2019, an online pharmacy discovered that batches of Zantac contained unsafe levels of N-nitrosodimethylamine (NDMA). NDMA is a probable human carcinogen—a cancer-causing chemical—that scientists now use to induce tumors in laboratory mice. 
Humans can safely consume low levels of NDMA, but the pharmacy found Zantac tablets that contained amounts that were in excess of the safe threshold. In response to these findings, the FDA recalled all prescription and over-the-counter versions of Zantac from the market in April 2020. 
Common Symptoms of Breast Cancer
According to the Centers for Disease Control and Prevention (CDC), approximately 225,000 women and 2,300 men are diagnosed with breast cancer each year in the United States. This condition is the second-most common cancer in women and the second-leading cause of cancer death. 
Breast cancer symptoms usually involve a change in the breast. Some of the most common signs of this condition include the following.
A lump or thick tissue in your breast

A nipple that suddenly becomes inverted

Redness or pitting of the breast skin, similar to an orange

Changes to the skin over the breast or the areola, such as peeling, crusting, dimpling, or flaking

Any change in the breast's shape, size, or appearance
If you notice anything unusual in your breast, such as a lump or a change in texture, contact a medical professional as soon as possible. The sooner that a doctor detects breast cancer, the sooner that you can receive treatment.
Am I Eligible for a Zantac Breast Cancer Lawsuit?
Filing a lawsuit against Zantac's manufacturers enables you to recover compensation for medical care, pain and suffering, lost wages, and other losses associated with your cancer. However, not all former Zantac patients are eligible to file a claim.
Generally, you may qualify for a Zantac cancer lawsuit if you meet the following criteria.
You used to take prescription or over-the-counter Zantac for at least one year. You can use evidence like receipts, prescription records, and bottles to prove this use.

You were diagnosed with a cancer associated with NDMA, such as breast cancer. Your medical records can substantiate this claim. 

A certain period of time has passed from the date that you first started taking Zantac and the date of your breast cancer diagnosis. Usually, this period is one year.
For example, if you were diagnosed with cancer and only took Zantac a few times, you are not likely to qualify for a claim. If you took Zantac daily for two years and were diagnosed with breast cancer, you are likely eligible. Contact a Zantac lawsuit attorney at Estey & Bomberger, LLP to discuss your legal options.
How Long Do I Have to File a Zantac Claim?
Across the United States, defective medication lawsuits are subject to a law known as the statute of limitations. This rule sets a time limit for filing a claim against Zantac's manufacturers in civil court. This deadline varies from state to state.
For example, if you live in California, you must file within two years from the date of your diagnosis. If you live in New York, you have three years to initiate your claim. To protect your right to recovery, always speak with a lawyer as soon as possible following your diagnosis.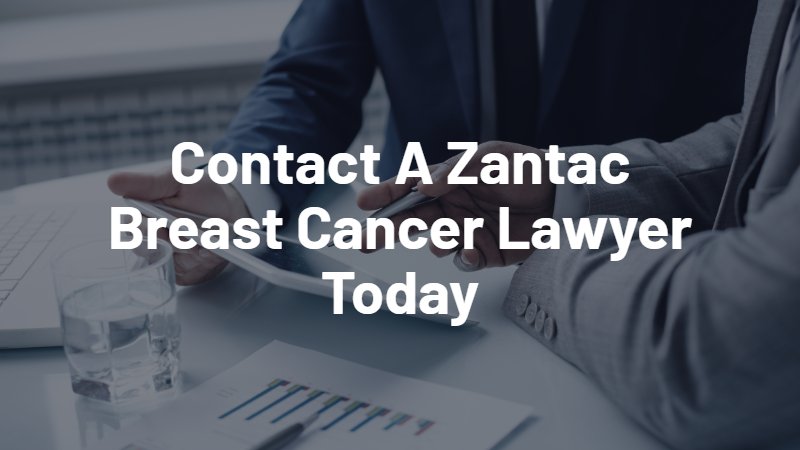 Why You Need a Lawyer for Your Zantac Lawsuit
Zantac claims can be complex to prove. You will need access to scientific evidence, expert witnesses, and knowledge of product liability laws to craft a compelling case in your favor. After a breast cancer diagnosis, handling a lawsuit by yourself can be an immense feat.
In these situations, trust the attorneys at Estey & Bomberger, LLP to guide you through the process and represent your claim on your behalf. Your Zantac breast cancer lawyer can provide several benefits to your case, such as the following.
Your lawyer has a strong understanding of product liability laws and will have handled similar claims. He or she can leverage this knowledge and experience to support your case.

You may be unsure of how much your case is worth. Your lawyer can accurately calculate your potential settlement and evaluate any offers that you may receive, helping you avoid a low offer.

Your attorney will have represented other clients in their Zantac lawsuits. He or she will have access to experts and cutting-edge scientific evidence that you can use to prove your right to recovery.

You may need to engage in negotiations throughout the litigation process. Your attorney can handle these discussions on your behalf, advocating aggressively for your best interests.
Contact a Zantac Breast Cancer Attorney Today
If you are diagnosed with breast cancer after taking Zantac, you deserve justice. Contact the attorneys at Estey & Bomberger, LLP for expert legal help holding the manufacturer accountable and securing the settlement that you deserve. Call (800) 260-7197 to find out how our attorneys can help with your specific case or contact us online to schedule your free consultation with a Zantac breast cancer attorney.