In April 2020, the U.S. Food and Drug Administration (FDA) announced the recall of Zantac, a popular heartburn and acid reflux medication. Researchers discovered that Zantac may raise the risk of several dangerous diseases, including liver cancer.
Many former Zantac patients are pursuing litigation for the damages they suffered due to their liver cancer. If you find yourself in this situation, trust the Zantac liver cancer attorneys at Estey & Bomberger, LLP to fight for your right to recovery. 
We have helped thousands of people hold dangerous companies accountable—and we will advocate aggressively for your best possible outcome.
Why Choose Estey & Bomberger, LLP for Your Zantac Cancer Lawsuit
Our firm is dedicated to achieving maximum results for our clients. In a five-year period alone, we secured over $500 million in settlements and jury verdicts.

Our injury attorneys have won multiple awards recognizing their track record of success, including Top Plaintiff Attorney from the Daily Journal and Outstanding Trial Lawyer from Consumer Attorneys of San Diego.

We operate on a contingency fee basis to reduce your out-of-pocket costs. If we do not win an award in your case, you will not pay any legal fees.
What Is Zantac?
Zantac was a popular over-the-counter and prescription medication that doctors prescribed to treat acid reflux, heartburn, indigestion, and other gastroesophageal conditions. You can no longer purchase Zantac in the United States, but manufacturers have released a reformulated version called Zantac 360.
The typical dosage for Zantac varies based on the age of the patient and the condition that he or she was using Zantac to treat. For example, a person with gastroesophageal reflux disease (GERD) would likely take 150mg of Zantac twice per day. 
Can Zantac Cause Liver Cancer? 
Zantac may lead to cancer due to the presence of N-nitrosodimethylamine (NDMA), a probable human carcinogen. The FDA discovered that Zantac had dangerous levels of NDMA when stored for long periods of time and at higher-than-normal temperatures, putting patients at risk of several types of cancer.
NDMA was used to manufacture rocket fuel in the United States but is no longer commercially available. Instead, researchers now primarily use NDMA to induce tumors for clinical animal studies. While humans can safely consume small amounts of NDMA, Zantac contained higher-than-normal levels, putting patients at risk of developing many types of cancer. Liver cancer is linked to Zantac use. 
Signs and Symptoms of Liver Cancer
Liver cancer is a condition that begins in the liver, an organ that is responsible for filtering and processing the body's blood. Many people do not experience any symptoms in the early stages of liver cancer, but the signs can become more apparent as the disease progresses and spreads.
Some of the most common symptoms of liver cancer include the following:
Loss of appetite

Pain in the upper abdomen

Unexplained weight loss

White, chalk-like stools

Swelling in the abdomen

Weakness and fatigue

Nausea and vomiting

Jaundice, or the yellowing of the skin and eyes
How to Qualify for a Zantac Liver Cancer Lawsuit
Zantac liver cancer lawsuits allow victims of this dangerous medication to hold the manufacturer accountable for their losses. If you were diagnosed with liver cancer after taking Zantac, you may be eligible to pursue legal action and recover compensation for medical expenses, pain and suffering, and other damages.
To qualify for a Zantac lawsuit, you typically need to meet the following three criteria:
You took prescription or over-the-counter Zantac. You can use evidence like receipts, medical records, and empty packaging to prove usage.

You took Zantac for at least one year before your cancer diagnosis. Again, your medical records and purchasing history can help establish this fact.

You were diagnosed with liver cancer, or another condition associated with Zantac use. You can use medical records and medical bills to prove your diagnosis.
If you are unsure whether you qualify for a claim, contact the Zantac injury lawyers at Estey & Bomberger, LLP today. Our firm has represented several clients in Zantac litigation and can help you better understand your legal options.
How to Prove a Zantac Liver Cancer Case
To secure compensation in a Zantac lawsuit, you will need to prove four important facts: you were diagnosed with liver cancer; Zantac is defective; Zantac's defect caused your cancer; and you were using the product as the manufacturer intended.
There are several pieces of evidence that you can leverage to prove your lawsuit. For example, you can use your medical records, journal entries, receipts, and correspondence with your employer to prove that you were diagnosed with cancer. 
Your Zantac liver cancer attorney can also enlist the help of expert witnesses, such as scientists and medical professionals, to establish Zantac's defective nature and how it caused your liver cancer. Our team of Zantac cancer lawyers are highly experienced and skilled in handling defective product and dangerous drug lawsuits.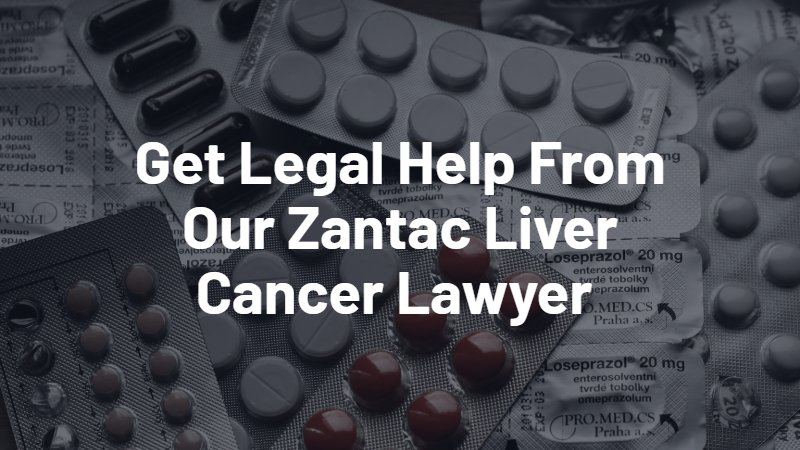 The Statute of Limitations for Zantac Liver Cancer Lawsuits
Across the United States, state governments enforce filing deadlines, known as statutes of limitations, for certain types of lawsuits. Depending on where you live, you only have a certain amount of time to file a Zantac lawsuit following your liver cancer diagnosis.
Below are a few examples of these filing deadlines:
If you live in Kentucky or Louisiana, you must file your lawsuit within one year from the date of your diagnosis.
If you live in California, Arizona, Ohio, Texas, or Washington, you have two years from the date of your diagnosis to file.
If you are a resident of Montana, Maryland, New York, and Wisconsin, you have three years to file a lawsuit.
If you do not file your lawsuit within the appropriate time frame, the court will likely dismiss your case and you will not be able to recover a settlement. There are some exceptions, but these also vary by state and do not apply to every case. To protect your right to compensation, speak to a Zantac liver cancer lawyer at Estey & Bomberger, LLP to identify your appropriate filing deadline.
Contact a Zantac Liver Cancer Attorney Today
If you were diagnosed with liver cancer after taking Zantac, you may qualify for legal action. In these situations, the Zantac lawsuit attorneys at Estey & Bomberger, LLP can fight for your right to maximum compensation.
Contact us today to schedule your free case consultation with a Zantac liver cancer attorney.