According to the U.S. Food and Drug Administration (FDA), the popular medication Zantac, used to treat gastroesophageal diseases, may cause cancer. If you have been diagnosed with cancer after taking Zantac, you may be eligible for a lawsuit against its manufacturers – and the Texas Zantac lawsuit attorneys at Estey & Bomberger, LLP can help. Our lawyers will fight tenaciously for your right to maximum compensation.
Why Hire Estey & Bomberger, LLP for Your Texas Zantac Claim?
Our firm specializes in defective and dangerous product litigation. We will leverage our skills, knowledge, and resources to craft a compelling case for your compensation.

Our Zantac lawsuit attorneys have helped thousands of clients nationwide secure justice from large corporations. We have recovered over $500 million in settlements and jury verdicts.

We will maintain an open line of communication with you throughout your case. Your Texas Zantac lawyer will be available to answer questions, respond to any concerns, and prepare you for the next stage.
What Was Zantac Used to Treat?
Zantac and its generic form, ranitidine, were primarily used to treat medical conditions caused by too much acid in the stomach. These conditions may lead to unpleasant physical complications, like chest pain, nausea, and a bitter, acidic taste in the mouth.
Heartburn

Acid indigestion

Gastroesophageal reflux disease

Peptic ulcer disease

Stomach ulcers

Intestinal ulcers

Zollinger-Ellison syndrome
Many of these conditions are relatively common in the United States, and millions of people have relied on Zantac to relieve their symptoms. This medication was available in both prescription and over-the-counter formulations, making Zantac a common household product in Texas.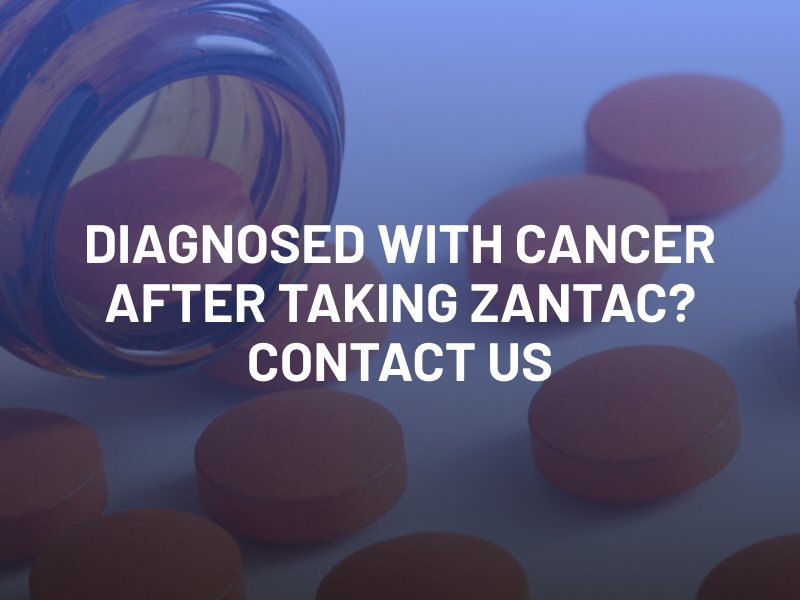 Zantac may cause cancer due to dangerous levels of the cancer-causing chemical N-Nitrosodimethylamine (NDMA). NDMA is a probable human carcinogen that is found naturally in meats, dairy products, and other foods. Humans can consume up to 96 nanograms of NDMA per day – but in September 2019, online pharmacy Valisure detected NDMA levels in Zantac as high as 3 million nanograms per tablet.
In response to these findings, the FDA issued a recall for Zantac in April 2020 and began to conduct tests on this medication. The agency found that NDMA impurities may increase in Zantac over time and when the drug is stored at higher-than-ideal temperatures. However, the impurity may also develop in properly stored medication.
Types of Cancer Associated with Zantac
If you have taken Zantac for a year or longer, you may have a significantly higher risk of developing cancer than the average person. Many former patients have been diagnosed with serious illnesses and are now filing lawsuits against Zantac's manufacturers to recover compensation for their damages.
Several types of cancer have been linked to Zantac, including:
If you have cancer, you may not experience any symptoms until the disease reaches the later stages. In the event that you notice any unusual symptoms like unexpected weight loss, chronic fatigue, or changes in your bowel or bladder habits, seek medical attention right away. 
How Do You Qualify for a Zantac Lawsuit?
Many Zantac patients who were diagnosed with cancer are filing lawsuits to secure compensation for their losses. You may qualify for litigation against Zantac's manufacturers if you meet the following criteria:
You were diagnosed with a cancer associated with Zantac.

You took prescription or over-the-counter Zantac for at least one year.

At least one year passed between your first dose of Zantac and your cancer diagnosis.
If you are unsure whether you qualify for a Zantac lawsuit, speak to a Texas Zantac attorney at Estey & Bomberger, LLP. Your lawyer can evaluate your claim and explain your legal options.
What Is the Statute of Limitations for Zantac Lawsuits in Texas?
If you are filing a Zantac lawsuit, you need to adhere to Texas's statute of limitations. Under this rule, you have two years from the date of your cancer diagnosis to file your lawsuit. If you or your Zantac lawyer in Texas do not file in time, the court will dismiss your case.
How Much Is a Zantac Lawsuit Worth?
Zantac lawsuits provide compensation for the economic and non-economic losses you sustained due to your cancer diagnosis. Common damages available in these claims include the following:
Past and future medical expenses

Lost wages and loss of future earnings

Disability accommodations

Chronic pain

Emotional distress

Mental anguish

Depression and anxiety

Loss of quality of life
Your Texas Zantac injury attorney from Estey & Bomberger, LLP can evaluate your claim and calculate your estimated settlement. Our firm will fight tenaciously to secure maximum compensation in your case.
How a Texas Zantac Lawsuit Attorney Can Support Your Case
If you have been diagnosed with cancer after taking Zantac, you should speak with an attorney as soon as possible about filing a lawsuit. Hiring a Zantac lawsuit attorney in Texas can have a major impact on the outcome of your case, and as these lawsuits continue to ramp up, you need a lawyer on your side to protect your best interests.
Zantac manufacturers have hired major legal teams to protect their assets and limit their liability. These lawsuits can be very complex, and you need someone with the medical resources and legal knowledge who can fight for your right to recovery. A Texas Zantac lawsuit attorney from Estey & Bomberger, LLP can bring the skills, experience, and assets that you need to obtain the best possible outcome in your claim.
An attorney can provide several benefits and advantages, such as:
Knowledge of Texas product liability laws and the standard of proof that you will need to meet

Access to expert witnesses, scientific evidence, and case strategies that he or she can leverage to prove your right to recovery

The ability to calculate your potential settlement and advocate for your right to maximum compensation

Experience representing lawsuits in the courtroom and the ability to craft a compelling case in your favor

The time and capacity to handle all matters related to your case so that you can focus on treatment, not litigation
As soon as possible following your diagnosis, reach out to a Texas Zantac lawyer at Estey & Bomberger, LLP to discuss your claim. Our firm will carefully evaluate your case and help you take your first steps toward recovering the settlement that you deserve.
Schedule a Free Consultation With a Zantac Lawyer in Texas
Were you diagnosed with cancer after taking Zantac? If so, you are not alone and the Texas Zantac lawsuit attorneys at Estey & Bomberger, LLP can help. Contact us today to schedule your free consultation and discuss your next steps with a Zantac lawyer.