Zantac is a popular medication that treats symptoms related to heartburn, acid reflux, and other gastroesophageal conditions. However, the U.S. Food and Drug Administration (FDA) issued a recall for Zantac after the discovery of dangerous levels of a cancer-causing impurity. Now, former patients are filing lawsuits against Zantac manufacturers after being diagnosed with various types of cancer.
If you believe that your cancer is related to Zantac, the lawyers at Estey & Bomberger, LLP can help you seek justice. Our Alaska Zantac lawsuit attorneys will leverage their skills, experience, and resources to recover the compensation that you deserve. 
Why Choose Estey & Bomberger for Your Zantac Claim?
For decades, our attorneys have dedicated themselves to securing justice for dangerous drug victims. We recovered millions of dollars in settlements and jury verdicts.

Our law firm has obtained numerous awards in addition to outstanding client reviews. We have been named in National Trial Lawyers' "Top 100" and as Consumer Attorneys of San Diego's "Trial Attorney of the Year."

We take all cases on a contingency fee basis for maximum affordability. If our attorneys do not recover an award in your case, you will not be charged any legal fees or expenses.
Why Did the FDA Recall Zantac?
In April 2020, the FDA requested the removal of Zantac and generic ranitidine products after discovering dangerous levels of N-Nitrosodimethylamine (NDMA) in the medication. NDMA is a cancer-causing contaminant, and many former Zantac patients have developed cancers such as:
NDMA impurities increase over time and when stored at higher than room temperature, making Zantac and ranitidine products potentially dangerous. Because Zantac manufacturers failed to warn patients of this risk, these companies can be held liable through a product liability lawsuit.
How Do You Qualify for a Zantac Lawsuit in Alaska?
By pursuing legal action against Zantac's manufacturers, you can hold the manufacturer accountable for the damages that you suffered as a result of your cancer diagnosis. These damages may include medical expenses, pain and suffering, and lost wages and future earnings.
You likely qualify for a lawsuit if you meet the following requirements:
You were diagnosed with a cancer associated with Zantac use, such as liver, bladder, or esophageal cancer.

You took Zantac weekly for at least one year or longer.

You were taking Zantac for at least one year before your cancer diagnosis.
If you are unsure whether you are eligible for a claim, the Alaska Zantac injury lawyers at Estey & Bomberger, LLP can help. Our team of Zantac attorneys in Alaska will carefully evaluate your case and assess your options for compensation. Then, we will help you take your first steps toward filing your lawsuit.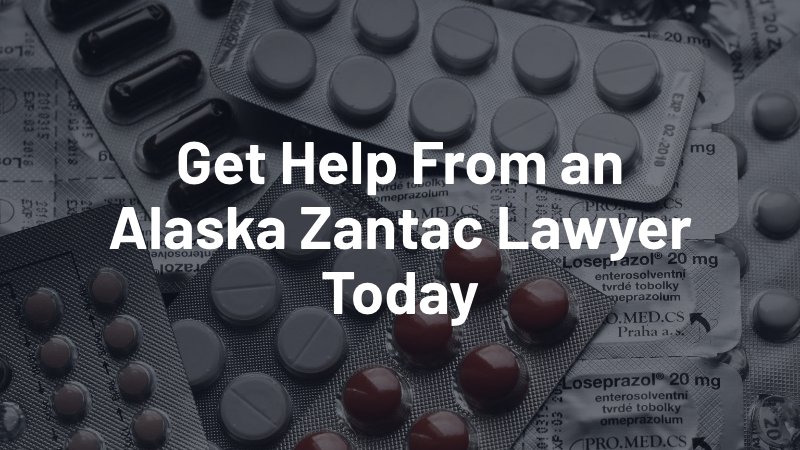 What Is Alaska's Statute of Limitations for Zantac Claims?
The statute of limitations sets a deadline for filing certain types of claims, like Zantac lawsuits. If you do not file your lawsuit within two years from when you discovered or should have discovered your cancer, the court will most likely dismiss your case. You can protect your right to recovery by speaking with a Zantac lawyer in Alaska as soon as possible after your diagnosis.
Contact an Alaska Zantac Lawsuit Attorney Today
Zantac manufacturers deserve to be held accountable for their dangerous medications. If you were diagnosed with cancer after taking this drug, the Zantac lawsuit attorneys at Estey & Bomberger, LLP can help. Contact us today at (800) 260-7197 for a free case consultation and to get started with your Alaska Zantac injury claim.