Zantac was a prescription and over-the-counter medication that helped treat conditions like heartburn and acid reflux. However, Zantac was recalled after a dangerous carcinogen, or cancer-causing substance, was found in batches of the medication.
If you were a former Zantac patient who was diagnosed with cancer, you may qualify for a lawsuit against the drug's manufacturer. In these situations, trust the Michigan Zantac lawsuit attorneys at Estey & Bomberger, LLP to fight for your right to compensation.
Why Choose Us for Your Zantac Lawsuit
In a five-year period alone, our attorneys recovered over

$500 million

in settlements and jury verdicts on behalf of our clients.

Our team of attorneys are highly regarded in their fields and have been recognized by organizations like National Trial Lawyers, Martindale-Hubbell, and the State Bar of California.

Our law firm charges a contingency fee for our legal services. If we do not recover compensation on your behalf, you will not pay any legal fees.
Zantac Is Linked to a Higher Risk of Cancer
Zantac may increase your risk of cancer because of the presence of a dangerous carcinogenic impurity. In April 2020, the U.S. Food and Drug Administration (FDA) recalled Zantac and its generic ranitidine after detecting unsafe levels of N-Nitrosodimethylamine (NDMA).
Although it is found naturally in certain foods and the environment, NDMA can be dangerous to humans if we consume too much of it. NDMA is a probable human carcinogen, meaning that it could cause cancers including:
If you were diagnosed with cancer at least one year after taking Zantac, NDMA exposure may be responsible. Zantac's manufacturers failed to warn patients and doctors about this risk, causing severe physical, financial, and emotional harm to its former users.
Filing a Lawsuit in Michigan Against Zantac's Manufacturers
If you were diagnosed with cancer after taking Zantac, you may qualify for a product liability lawsuit. In Michigan, victims of defective and dangerous drugs can pursue this type of claim and secure compensation for the losses that they experienced due to their injury or illness.
To secure a settlement in a Zantac cancer lawsuit in Michigan, you will need to show that the drug is responsible for your medical condition. In particular, you will need to provide sufficient evidence that establishes the following facts:
You were diagnosed with cancer.

Zantac is defective.

Zantac's defect caused your cancer.

You were taking Zantac as the manufacturer intended.
Not everyone qualifies for a Zantac claim. As soon as possible following your diagnosis, speak to a Michigan Zantac lawyer at Estey & Bomberger, LLP to determine your case eligibility.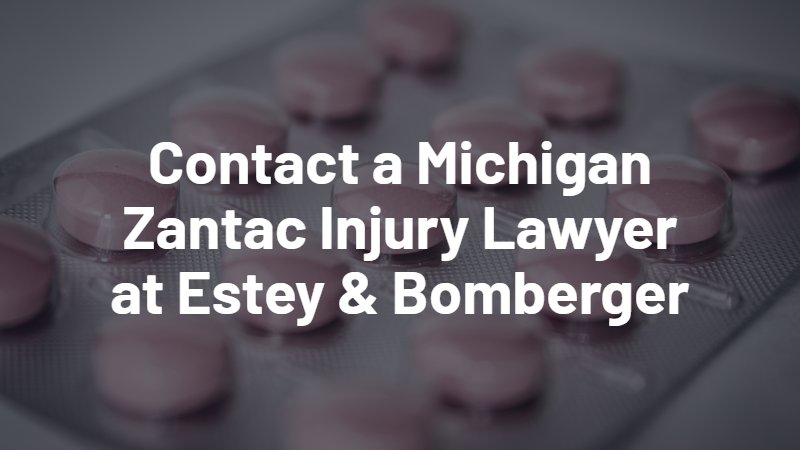 Why You Need a Michigan Zantac Lawsuit Attorney
Proving a Zantac lawsuit in Michigan can require a great deal of scientific evidence, legal knowledge, and experience representing similar claims. In these situations, you need an injury attorney on your side who can guide you through the litigation process.
At Estey & Bomberger, LLP, our Zantac lawsuit attorneys have years of experience representing the interests of injured Zantac patients. Our Michigan Zantac injury lawyers will handle all aspects of your case on your behalf and leverage the full power of our firm's resources to prove your right to recovery.
Contact a Michigan Zantac Lawsuit Attorney at Estey & Bomberger
Zantac's manufacturers deserve to be held accountable. If you developed cancer after taking this medication, the Zantac injury lawyers at Estey & Bomberger can help you recover a fair settlement to pay for your losses. Get expert legal representation on your side from our team of attorneys skilled in dangerous and defective drug claims. Call (800) 260-7197 to find out how our Michigan Zantac injury lawyers can help.
Contact us today to schedule your free case consultation with a Michigan Zantac lawsuit attorney.