According to the U.S. Food and Drug Administration (FDA), popular heartburn medication Zantac may contain a carcinogenic substance. If you were diagnosed with cancer after taking Zantac, you may be eligible for legal action – and the Indiana Zantac lawsuit attorneys at Estey & Bomberger, LLP can help. Our injury lawyers will advocate aggressively for your maximum compensation, helping hold the manufacturer accountable and secure the settlement you deserve.
Why Hire Estey & Bomberger, LLP for Your Indiana Zantac Claim?
Our Zantac lawyers have recovered millions of dollars on behalf of our clients and are dedicated to achieving maximum possible recovery in your Zantac lawsuit.

We understand how painful cancer can be. Our personal injury attorneys will handle all aspects of your Zantac lawsuit so you can focus on treatment, not complex litigation.

Our law firm operates on a contingency fee basis to help limit your out-of-pocket costs. We will not charge any legal fees unless we secure compensation in your case.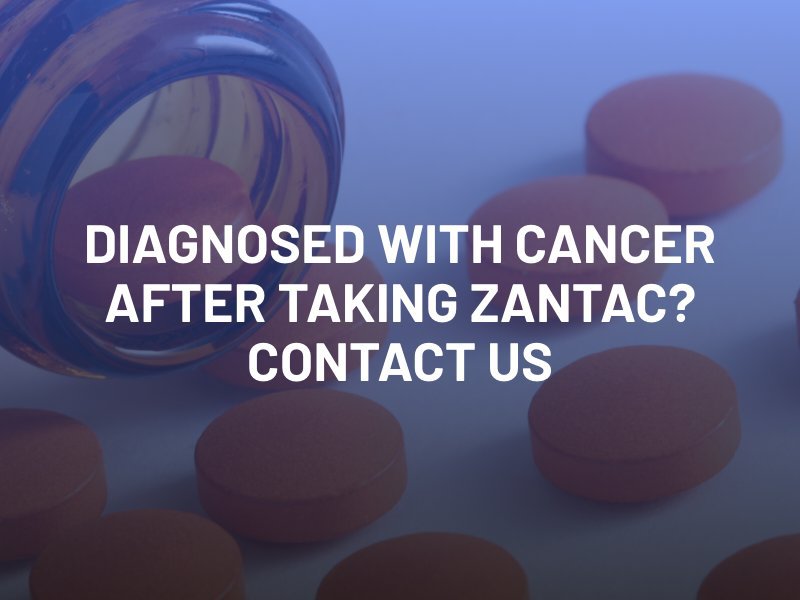 Zantac may cause cancer due to the presence of N-Nitrosodimethylamine (NDMA), a probable human carcinogen that is used to induce tumors during research studies. While humans can safely consume up to 96 nanograms of NDMA per day, an online pharmacy detected levels higher than 3 million nanograms per tablet in September 2019.
After hearing about the presence of NDMA, the FDA investigated and issued a recall for all Zantac products, as well as generic ranitidine, in April 2020. Zantac use is associated with multiple types of cancer, including the following:
How Do You Qualify for an Indiana Zantac Lawsuit?
To qualify for litigation against Zantac's manufacturers, you will generally need to meet the following three criteria:
You were diagnosed with a cancer associated with Zantac.

You took Zantac for at least one year.

At least one year has passed between your first Zantac dose and your cancer diagnosis.
If you are unsure whether you are eligible for a Zantac lawsuit, speak to an Indiana Zantac lawyer at Estey & Bomberger, LLP. Your Zantac lawsuit attorney in Indiana can evaluate your injury claim and help you understand your legal options.
What Is the Statute of Limitations for Zantac Lawsuits in Indiana?
Under Indiana's statute of limitations rules, you and your Indiana Zantac lawsuit attorney have two years from the date of your cancer diagnosis to file your Zantac lawsuit. If you miss this filing deadline, the court will almost certainly dismiss your case.
How Much Is a Zantac Lawsuit Worth?
Through a Zantac lawsuit, you can recover compensatory damages for the physical, emotional, and financial losses you sustained due to your cancer. These damages may include past and future medical expenses, lost wages and loss of future earnings, pain and suffering, and more.
Product liability lawsuit awards can range from thousands of dollars to hundreds of thousands or even millions, depending on the circumstances surrounding your case. Certain factors like severe injuries, the need for specialized medical care, long recovery periods and time away from work, and permanent disability can influence your case value.
For that reason, it can be difficult to estimate the value of your Zantac lawsuit without speaking to a Zantac lawsuit lawyer in Indiana. A skilled dangerous drug lawsuit attorney from Estey & Bomberger, LLP can evaluate your case and calculate an accurate settlement value, helping you avoid an insufficient settlement offer.
Schedule a Free Consultation With a Zantac Lawsuit Lawyer in Indiana
If you developed cancer after taking Zantac, you may be eligible for financial compensation. The personal injury attorneys at Estey & Bomberger, LLP are experienced with dangerous drug injuries and can help with your case. Contact us today to discuss your claim with an Indiana Zantac lawsuit attorney or call (800) 260-7197 at any time.