Kidney cancer is a serious medical condition that may be caused by Zantac, a popular heartburn medication. If you used to take Zantac and were later diagnosed with this disease, you may be eligible for a lawsuit against the drug's manufacturers.
In these situations, trust the Zantac kidney cancer lawyers from Estey & Bomberger, LLP to recover the settlement that you deserve. Our team of Zantac kidney cancer attorneys specialize in dangerous and defective drug litigation and will dedicate themselves to helping you achieve the best possible outcome. 
Why Choose Estey & Bomberger, LLP for Your Zantac Lawsuit
Our law firm represents clients nationwide in their lawsuits against Zantac manufacturers. Our Zantac injury lawyers have the skills and knowledge to present a compelling case for your side.

We have recovered

millions of dollars

for our clients who have suffered from defective medication. Our firm will work tirelessly to secure the highest settlement in your case. 

Our firm prides itself on our 99% case success rate. Our attorneys are highly committed to securing justice for each client, allowing us to achieve these positive results.
What Is Kidney Cancer?
The kidneys are two small, bean-shaped organs that are located on each side of the spine. Kidney cancer is a cancer that develops in these organs, affecting your body's ability to filter waste and perform other important functions. According to the American Cancer Society, approximately 79,000 people are diagnosed with kidney cancer every year in the United States.
Below are some of the most common symptoms of kidney cancer:
Fever

Blood in the urine

Loss of appetite

Persistent pain in the back and side

Unexplained weight loss

Fatigue and tiredness
The Link Between Zantac and Kidney Cancer
Zantac may increase the risk of kidney cancer due to the presence of N-Nitrosodimethylamine (NDMA). NDMA is a carcinogenic or cancer-causing substance that was found in some batches of Zantac and generic ranitidine. While small amounts of NDMA are safe to consume, large amounts could pose a cancer risk.
In April 2020, the U.S. Food and Drug Administration (FDA) requested the removal of all Zantac products from the market. This decision came after researchers discovered dangerous levels of NDMA in batches of Zantac, which may raise patients' chances of developing kidney cancer.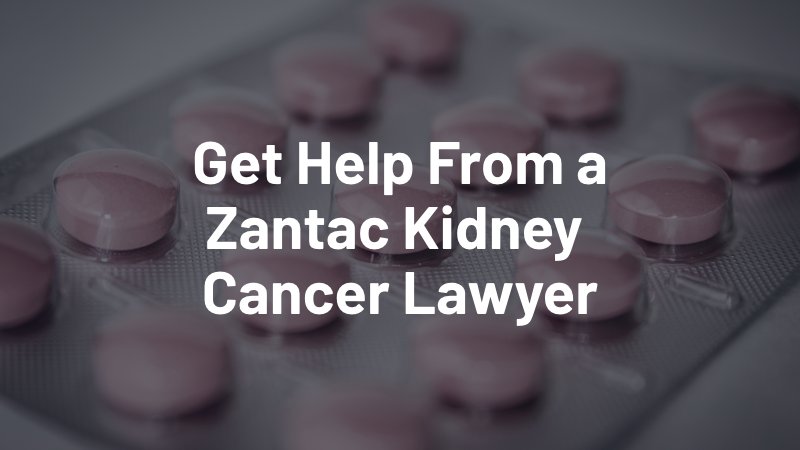 Filing a Zantac Kidney Cancer Lawsuit
Kidney cancer can have a major impact on your life, leading to financial, physical, and emotional consequences. Former Zantac patients who were diagnosed with this condition have the right to pursue litigation against the drug's manufacturers. 
If you find yourself in this situation, filing a lawsuit can help you recover compensation to pay for medical care, lost wages, pain and suffering, and other losses. You may qualify for a Zantac kidney cancer claim if you meet the following criteria:
You took prescription or over-the-counter Zantac for at least one year.

You were diagnosed with kidney cancer.

At least one year has passed between the date that you started taking Zantac and the date of your cancer diagnosis.
A Zantac kidney cancer attorney from Estey & Bomberger, LLP can help assess your eligibility and determine whether you qualify for a Zantac lawsuit.
Contact a Zantac Kidney Cancer Attorney Today
If you were diagnosed with kidney cancer after taking Zantac, the lawyers at Estey & Bomberger, LLP can help you recover the compensation that you deserve. Our team of Zantac kidney cancer lawyers specialize in dangerous and defective drug claims and can help you hold the responsible party liable for your injuries. Contact us today at (800) 260-7197 to discuss your legal options with one of our attorneys.