Zantac, a popular medication used to treat gastroesophageal conditions like acid reflux, may contain dangerous levels of a cancer-causing chemical. If you used to take Zantac and were diagnosed with cancer, you may be eligible for a lawsuit against the drug's manufacturers. In these situations, a qualified Florida Zantac lawsuit attorney at Estey & Bomberger, LLP can help. Our lawyers will fight aggressively to secure the compensation you deserve.
Why Hire Estey & Bomberger, LLP for Your Florida Zantac Claim?
Our firm's track record speaks for itself. We have secured millions of dollars in settlements and jury verdicts on behalf of our clients.
Our Zantac lawsuit attorneys specialize in defective and dangerous product litigation. We have the resources, experience, and skills necessary to hold Zantac's manufacturers accountable.
Our firm operates on a contingency fee basis, meaning that we will not charge legal fees unless we secure compensation in your case.
What Is Zantac?
Zantac was a popular medication that contained the active ingredient ranitidine. It belongs to a class of drugs known as histamine-2 (H2) blockers, which target a receptor that is responsible for producing stomach acid. Zantac works to reduce the production of acid, relieving symptoms of conditions like:
Heartburn

Gastroesophageal reflux disease

Zollinger-Ellison syndrome

Peptic ulcer disease

Stomach ulcers

Indigestion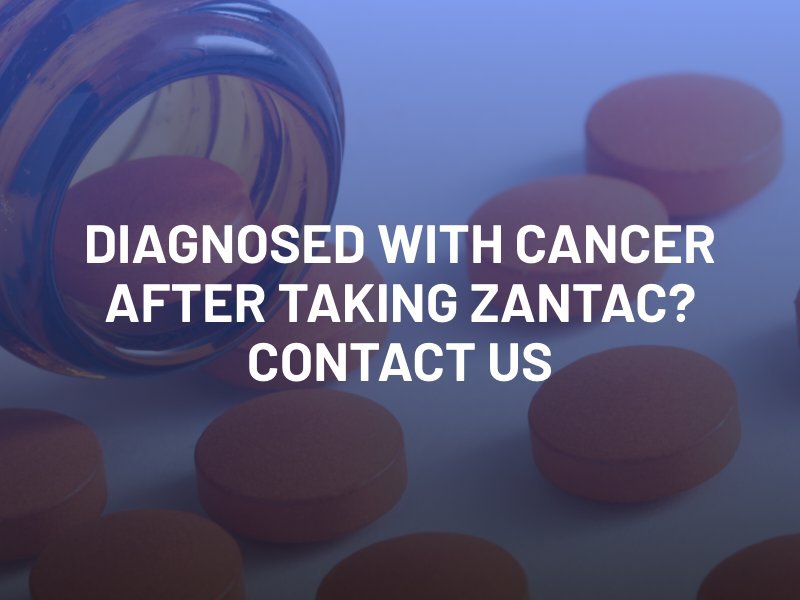 In April 2020, the U.S. Food and Drug Administration (FDA) requested the withdrawal of all Zantac and its generic version, ranitidine, from the market. This decision came after online pharmacy Valisure discovered dangerous levels of N-Nitrosodimethylamine (NDMA) in ranitidine medications. 
NDMA is a probable human carcinogen. According to the Environmental Protection Agency (EPA),  animal studies have shown that NDMA exposure caused tumors in the kidneys, blood vessels, liver, and respiratory tract. Humans can safely consume up to 96 nanograms of NDMA per day, and Valisure discovered NDMA levels up to 3 million nanograms per Zantac tablet.
What Types of Cancer Are Associated with Zantac?
Several types of cancer have been linked to Zantac use and the NDMA impurity. If you were diagnosed with any of the following conditions and used to take this medication, speak to an attorney at Estey & Bomberger, LLP:
How Do You Qualify for a Zantac Lawsuit?
You may qualify for a Zantac lawsuit if you took the medication for a sustained period of time and were later diagnosed with cancer. You will likely need to meet the following criteria:
You were diagnosed with cancer.
You took Zantac or generic ranitidine for at least one year.
At least one year passed between the first day you started to take ranitidine and the date of your cancer diagnosis.
Learn more about whether or not you qualify for a Zantac lawsuit by speaking with a Florida Zantac lawyer today.
What Is the Statute of Limitations for Zantac Lawsuits in Florida?
Under Florida law, product liability claims are subject to a rule known as the statute of limitations, which sets a filing deadline for certain claims. You have four years from the date of your cancer diagnosis to file your lawsuit in civil court. If you do not file your claim in time, the court will likely dismiss your case so consult a Florida Zantac lawsuit attorney to preserve your legal rights to compensation.
How to Prove a Zantac Cancer Lawsuit
In Florida, Zantac lawsuits are a type of product liability claim. These lawsuits are filed against manufacturers and, in some cases, retailers and distributors over injuries caused by a defective product. There are three main types of product liability cases: claims that arise due to manufacturing defects; claims that arise due to design defects; and claims that arise due to a failure to provide adequate warnings or instructions.
Zantac manufacturers failed to warn consumers about the dangers of their medication. Zantac contains a dangerous NDMA impurity that gets worse over time and when the medication is stored at higher-than-room temperatures. Therefore, former patients have the right to pursue product liability lawsuits against these manufacturers and recover compensation for the damages that they suffered.
To prove a Zantac cancer lawsuit in Florida, you will need to gather enough evidence to prove four important facts:
You were diagnosed with cancer.

Zantac is defective.

Zantac is responsible for your cancer.

You used the medication as the manufacturer intended.
Your Florida Zantac lawyer from Estey & Bomberger, LLP can help you gather the evidence needed to establish each of these facts and prove your right to recovery. Your attorney will enlist the help of expert witnesses, gather scientific evidence, and leverage his or her skills and experience to present a compelling case in your favor.
How Much Is a Zantac Lawsuit Worth?
Through a Zantac lawsuit, you can recover compensation for the economic and non-economic losses you suffered due to your cancer diagnosis. Common forms of damages available in Zantac claims include the following:
Past and future medical expenses
Lost wages
Loss of future earnings
Chronic pain
Post-traumatic stress disorder
Depression and anxiety
Loss of quality of life
Disability accommodations
The value of your Zantac lawsuit will vary based on the severity of your condition. The Florida Zantac attorneys at Estey & Bomberger, LLP can help calculate the full value of your claim and explore all possible avenues to compensation.
What to Do If You Were Diagnosed with Cancer After Taking Zantac
If you used to take Zantac and were later diagnosed with cancer, you can feel scared and overwhelmed. In these situations, it is important to remain calm and continue to see your doctor. Your medical team will recommend the best course of treatment for your cancer. Continue to follow your doctor's orders and keep up with your medical care.
You should also take steps to gather as much evidence related to your case as you can. Gather prescription slips, empty bottles, and any other documents or items that can prove your Zantac use. Collect the medical records that prove your cancer diagnosis and the treatment that you are receiving. 
Then, reach out to a Florida Zantac lawsuit attorney right away and schedule a free case consultation. Your lawyer will carefully assess your case eligibility, consult with expert witnesses, and take the first steps toward recovering the compensation that you deserve.
Schedule a Free Consultation With a Zantac Lawyer in Florida
Have you been diagnosed with cancer after taking Zantac? Trust the Florida Zantac lawsuit attorneys at Estey & Bomberger, LLP to secure the compensation you deserve. Contact us today to schedule a free consultation and learn more about your legal options.