Zantac is a popular medication used to treat heartburn and other gastroesophageal conditions. However, it was recalled by the U.S. Food and Drug Administration (FDA) after researchers discovered that it raised patients' risk for cancers, including testicular cancer.
If you were diagnosed with testicular cancer after taking Zantac, the attorneys at Estey & Bomberger, LLP can help. Our Zantac testicular cancer lawyers represent former patients in their claims against the drug's manufacturers. We are dedicated to securing the settlement that you deserve.
Why Choose Estey & Bomberger, LLP for Your Zantac Cancer Lawsuit
Our firm has represented thousands of clients in claims against negligent and reckless companies. Our skilled Zantac injury attorneys have secured millions of dollars in settlements and jury verdicts.
Our award-winning attorneys have achieved numerous recognitions, including Outstanding Trial Lawyer from Consumer Attorneys of San Diego, Super Lawyer from SuperLawyers.com, and Top 100 from National Trial Lawyers.

We take all cases on a contingency fee basis to reduce our clients' out-of-pocket costs. If we do not win an award in your case, you will not need to pay any legal fees.
What Is Zantac?
Zantac, also known by its generic name ranitidine, is a medication that was used to treat conditions that affect the gastroesophageal tract. Patients with indigestion, gastric ulcers, heartburn, and related illnesses took Zantac to relieve their symptoms. Ranitidine products are no longer available in the United States.
Like all medications, Zantac did result in some reported side effects. Some of the most common include the following:
Constipation

Diarrhea

Nausea

Vomiting

Liver failure

Cardiac disorders

Skin rashes
Can Zantac Cause Testicular Cancer? 
Zantac may lead to testicular cancer due to the presence of N-Nitrosodimethylamine (NDMA), a carcinogenic or cancer-causing substance. NDMA is found naturally in food, water, and other substances, and humans can safely consume up to 96 nanograms per day. However, some Zantac tablets contained NDMA levels well in excess of this safe amount. 
In April 2020, the FDA announced a voluntary recall of all Zantac and ranitidine products, including prescription and over-the-counter variations. Patients who took Zantac have reported being diagnosed with several types of cancer, including testicular cancer.
Signs and Symptoms of Testicular Cancer
Testicular cancer develops in the testicles, which are part of the male reproductive system. While testicular cancer is relatively treatable, it can lead to significant discomfort and require intensive medical care.
Below are some of the signs and symptoms that are associated with testicular cancer:
Back pain

A lump in either testicle

Enlargement of the testicle

A heavy feeling in the scrotum

Pain or discomfort in the testicle

A dull ache in the abdomen or groin

Breast enlargement or tenderness
Treatment for testicular cancer may include surgery to remove the testicle and nearby lymph nodes. You may also need radiation therapy or chemotherapy to kill cancer cells. Your medical team may also prescribe medications and therapies to manage the symptoms and side effects of your treatment.
Who Is Eligible for a Zantac Cancer Lawsuit?
Zantac failed to inform its patients and medical providers about the drug's cancer risk. Now, patients who developed testicular cancer after taking Zantac are filing lawsuits to hold the manufacturers accountable for their losses.
The only way to determine if you qualify for a Zantac lawsuit is to speak with a lawyer who can evaluate your case. However, you are likely eligible if you meet the following criteria:
You used to take prescription or over-the-counter Zantac.

You were diagnosed with testicular cancer, or another condition linked to Zantac used.

You were diagnosed with cancer after taking Zantac for at least one year.
If you are unsure whether you qualify for a lawsuit, speak to a Zantac injury attorney at Estey & Bomberger, LLP. Our firm can evaluate your case and help you better understand your legal options.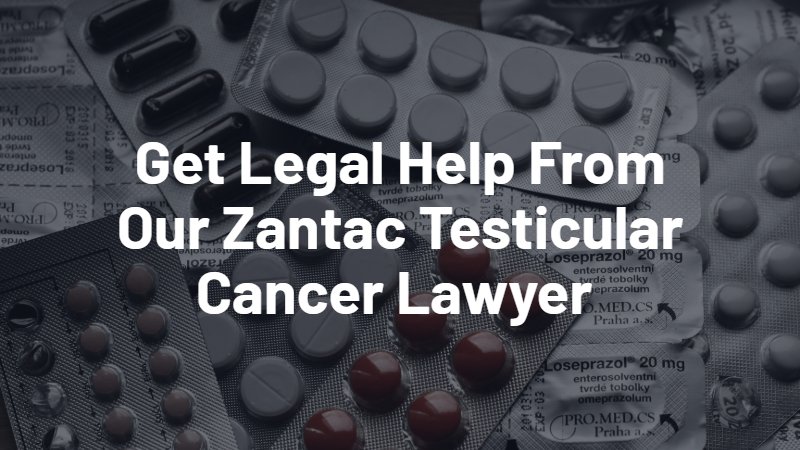 Compensation Available in a Zantac Testicular Cancer Lawsuit
A lawsuit provides victims of defective drugs with a way to recover compensation for the losses that they sustained due to their injury or illness. If you are diagnosed with testicular cancer after taking Zantac, you can recover compensation for both the economic and non-economic damages that you endured due to your condition. 
Economic damages involve financial losses, such as past and future medical expenses, lost wages, loss of future earnings, and any disability accommodations or specialized treatments that you require. On the other hand, non-economic damages refer to the physical and emotional pain and suffering that you endured.
It is important to advocate for maximum compensation in a testicular cancer lawsuit. If you accept a low settlement, you could experience financial hardship later on. In these situations, a Zantac lawsuit attorney from Estey & Bomberger, LLP can identify all possible avenues to compensation and help you accurately calculate your potential award.
How Long Do You Have to File a Zantac Cancer Lawsuit?
If you believe that you qualify for a Zantac lawsuit, it is important to speak with a specialized mass torts lawyer at Estey & Bomberger as soon as possible. All states have laws in place that limit the length of time that someone can file a civil lawsuit. These rules are known as statutes of limitations.
Your lawsuit filing deadline will depend on which state you live in:
If you live in Delaware, you will need to file your claim within two years from the date of your cancer diagnosis.

If you live in Georgia, you must file within two years of your diagnosis but no more than 10 years from the date that you first purchased Zantac.

If you live in Missouri, you have five years from the date of your diagnosis to file your lawsuit.

You have four years from the date of your cancer diagnosis to file a product liability lawsuit in Florida. 
Contact a Zantac Testicular Cancer Attorney Today
Testicular cancer is a serious condition that can have a significant impact on your life. If you or a loved one were diagnosed with this disease after taking Zantac, the lawyers at Estey & Bomberger, LLP can help you secure the justice that you deserve. Our Zantac injury lawyers specialize in mass torts and dangerous drugs cases nationwide.
Contact us today to schedule a free consultation with a Zantac testicular cancer lawyer and learn more about your legal options. Call (800) 260-7197 at any time.