Zantac is the brand name of a medication called ranitidine, which is used to treat conditions like heartburn and stomach ulcers. However, researchers have discovered dangerous levels of a cancer-causing impurity in Zantac, compelling manufacturers to pull it from the market. 
If you were diagnosed with cancer after taking Zantac, the Montana Zantac lawyers at Estey & Bomberger, LLP can help you seek justice. Our Montana Zantac lawsuit attorneys are dedicated to helping victims of dangerous medications, and we will not rest until you recover the settlement that you deserve.
Why Choose Estey & Bomberger for Your Zantac Claim?
For decades, our firm has fought to hold drug manufacturers accountable for defective products. We have the skills, knowledge, and resources to handle your Zantac lawsuit.

Our law firm has recovered over $500 million for our clients in a five-year period alone. We will work tirelessly to find your optimal path to maximum financial compensation.

Our injury attorneys have received numerous awards recognizing our track record of success, including Martindale-Hubbell's "AV-Preeminent" and "5 of 5 Possible Stars" and National Trial Lawyers "Top 100."
The Zantac Recall and Cancer Risk
In April 2020, the U.S. Food and Drug Administration (FDA) requested Zantac manufacturers remove the product from the market. Zantac contained dangerous levels of N-Nitrosodimethylamine (NDMA), a carcinogenic substance. Many former Zantac patients unknowingly ingested high quantities of NDMA and were later diagnosed with cancer.
You may qualify for a product liability lawsuit against Zantac if you used to take it on a regular basis and were later diagnosed with a cancer associated with the drug. Many cancers have been linked to Zantac use, including the following:
How to Prove a Zantac Lawsuit in Montana
To prove a Zantac lawsuit, you will need to show that the medication was responsible for your cancer diagnosis. The following elements must be established in order to prove product liability in Montana:
Zantac is defective.

You were diagnosed with a cancer linked to Zantac.

Zantac's defect caused your cancer.

You were using Zantac as the manufacturer intended.
Proving a Zantac lawsuit often requires a great deal of legal knowledge and scientific evidence, along with testimony from medical experts. Your Montana Zantac injury lawyer from Estey & Bomberger, LLP can help you gather the evidence you need to prove each of these elements and build a compelling case in your favor.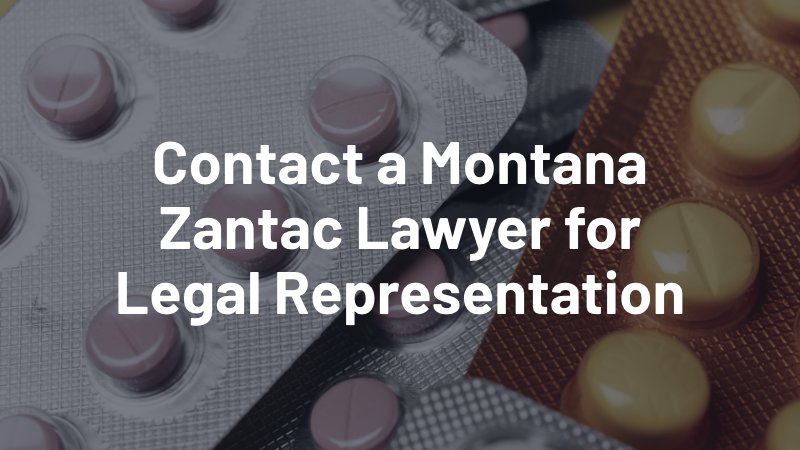 What Is Montana's Statute of Limitations for Zantac Claims?
The statute of limitations is a law that sets a deadline for filing certain types of lawsuits. If you don't file by the appropriate deadline, your case will likely be dismissed, and you would not be able to recover a settlement. 
In Montana, the statute of limitations for Zantac claims is three years from the date of your cancer diagnosis. Protect your right to compensation by consulting with a Zantac lawsuit attorney in Montana immediately.
Contact a Montana Zantac Lawsuit Attorney Today
Our team of Zantac injury lawyers at Estey & Bomberger, LLP are dedicated to fighting for the rights of former Zantac patients. If you were diagnosed with cancer after taking this medication, our Montana Zantac lawsuit attorneys can help. Contact us today for a free case consultation and start planning your next steps.