In April 2020, Zantac manufacturers were instructed to pull the medication off of the market. This decision came after researchers discovered a cancer-causing impurity in Zantac and its generic version, ranitidine. 
If you were diagnosed with cancer and used to take Zantac, the Colorado-based attorneys at Estey & Bomberger, LLP can help. Our Zantac lawsuit attorneys can represent your claim against the manufacturers and will fight for your right to compensation each step of the way.
Why Choose Estey & Bomberger, LLP for Your Zantac Lawsuit
Our law firm specializes in defective drug litigation and represents clients nationwide in Zantac lawsuits. You can trust our Zantac injury lawyers to build a compelling case in your favor.

Our attorneys are committed to seeking justice for each of our clients. We have recovered

over $500 million

in settlements and jury verdicts. 

Our law firm has obtained numerous awards and recognitions for our outstanding case results, including Martindale-Hubbell "AV-Preeminent" and "5 of 5 Possible Stars."
Does Zantac Cause Cancer?
N-Nitrosodimethylamine (NDMA) is a carcinogenic substance, meaning that it can raise the risk of certain cancers. NDMA can be found in trace amounts in certain foods, water, and the environment. While small amounts are safe to consume, high levels of NDMA can be dangerous.
The U.S. Food and Drug Administration (FDA) discovered an NDMA impurity in batches of Zantac. Levels of NDMA increase over time and at high temperatures, increasing the risk of cancer. Many Zantac patients have been diagnosed with cancers such as:
Who Can File a Colorado Zantac Lawsuit?
If you were diagnosed with cancer after taking Zantac, you may qualify for a lawsuit against the drug's manufacturers. To qualify for a claim, you will generally need to have taken Zantac for at least one year and have been diagnosed with a cancer associated with Zantac use. A Colorado Zantac lawsuit attorney at Estey & Bomberger, LLP can evaluate your case and help you determine whether you are eligible for a lawsuit.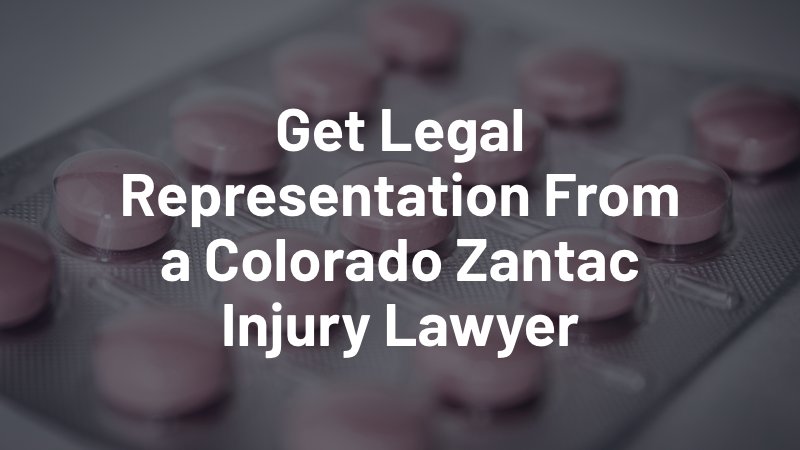 Compensation Available in a Colorado Zantac Lawsuit
Filing a Zantac lawsuit allows you to recover financial compensation for any losses that you suffered due to your cancer diagnosis. Below are some types of damages that you could recover in a claim:
Medical expenses

Lost wages

Chronic pain

Permanent disability

Loss of quality of life

Mental anguish

Emotional distress
Your lawyer from Estey & Bomberger, LLP can also help you identify the damages that you could recover in your lawsuit and accurately calculate your potential award. 
How Long Do You Have to File a Zantac Lawsuit in Colorado?
If you believe that you qualify for a Zantac lawsuit, it is important to reach out to an Zantac lawsuit attorney in Colorado as soon as possible. In Colorado, there is a law known as the statute of limitations that establishes a filing deadline for certain types of claims. 
For Zantac lawsuits, you must file your claim within two years from the date that you received your cancer diagnosis. If you do not file your lawsuit by this deadline, the court will likely dismiss your case—which is why you should contact a Colorado Zantac injury lawyer at Estey & Bomberger, LLP as soon as possible. 
Contact a Colorado Zantac Lawsuit Attorney Today
Zantac manufacturers deserve to be held accountable. If you were diagnosed with cancer after taking Zantac, the Colorado Zantac lawsuit attorneys at Estey & Bomberger, LLP can help. Call us today at (800) 260-7197 or contact us online to schedule your free legal consultation and discuss your next steps.