Zantac, a popular heartburn medication, has been linked to the development of bladder cancer. If you or a loved one were diagnosed with this disease after taking Zantac, trust the attorneys at Estey & Bomberger, LLP.
We are dedicated to fighting for the rights of people injured by dangerous drugs. Our Zantac bladder cancer attorneys represent victims nationwide. If you believe that Zantac is responsible for your cancer diagnosis, contact us today to schedule a free consultation.
Why Choose Estey & Bomberger, LLP for Your Zantac Lawsuit
Our personal injury lawyers have years of experience representing victims of dangerous drugs like Zantac. We will leverage our skills and experience to craft a compelling case in your favor.

We have recovered

millions of dollars

for our clients who have suffered from defective medications. Our law firm will fight to secure the settlement that you need to treat your bladder cancer.

Our law firm operates on a contingency fee basis. If we do not secure compensation in your Zantac cancer lawsuit, you will not be charged any legal fees.
What Is Zantac?
Zantac is a medication that is used to treat heartburn, acid reflux, indigestion, and similar gastroesophageal conditions. Also known under the generic name ranitidine, Zantac is available in prescription and over-the-counter varieties.
There are multiple manufacturers who create Zantac, including Sanofi, Mylan, and Precision Dose Inc. You can take Zantac in a tablet form, as a capsule, and as a syrup. Dosages usually include 75 mg, 150 mg, and 300 mg. 
The Link Between Zantac and Bladder Cancer
Zantac may increase patients' risk of cancer due to the presence of a contaminant known as N-Nitrosodimethylamine (NDMA). Several cancers are linked to NDMA impurities, including bladder cancer, pancreatic cancer, and lung cancer.
Previously used to make rocket fuel, NDMA is no longer commercially available in the United States and is now used by laboratory scientists to induce tumors in animals. In these studies, NDMA can cause the development of tumors in the lungs, kidneys, liver, and gastrointestinal tract. 
After U.S. Food and Drug Administration (FDA) received reports of unsafe levels of NDMA in Zantac, it launched an investigation. The agency found that NDMA impurities increases in Zantac over time and when stored at higher-than-ideal temperatures. These findings led the FDA to recall all Zantac and generic ranitidine products from the market in April 2020.
Bladder Cancer Symptoms and Treatment
The bladder is a muscular organ that stores urine in your lower abdomen. Bladder cancer begins in the cells that line the bladder and may expand to surrounding organs and structures. Symptoms of bladder cancer may not appear until later on, but common signs include the following.
Frequent urination

Pain while urinating

Back pain

Blood in the urine
Treatment for bladder cancer will depend on factors like your overall health, the stage of the cancer, and the location of the disease. You may undergo surgery and engage in therapies like chemotherapy, radiation therapy, and immunotherapy. 
If you notice any unusual symptoms, see a physician as soon as possible to receive a formal diagnosis and devise your treatment plan.
Filing a Zantac Lawsuit after Being Diagnosed with Bladder Cancer
Zantac lawsuits are a type of product liability claim, which is a civil action involving injuries caused by dangerous and defective products. Injured patients who were diagnosed with bladder cancer allege that Zantac is inherently defective, and that the manufacturer failed to warn patients about its carcinogenic effects. 
By filing a Zantac injury lawsuit, you can hold the manufacturer accountable for your losses related to the cancer diagnosis, including medical care and lost wages. However, you will need to prove the following facts in order to secure a settlement.
You were diagnosed with bladder cancer.

Zantac is defective.

Zantac's defect caused your bladder cancer.

You used the medication as the manufacturer intended.
You can leverage several pieces of evidence to prove a Zantac lawsuit, including medical records, receipts, and correspondence with employers and loved ones. Proving the nature of the defect often requires expert testimony and access to scientific evidence. 
Your Zantac injury attorney from Estey & Bomberger, LLP will connect you to important resources that can support your claim, as well as expert witnesses who can testify on your behalf.
Do You Qualify for a Zantac Cancer Lawsuit?
Not everyone qualifies for a Zantac injury claim. Generally, you will need to prove that you used Zantac for at least one year; you were diagnosed with bladder cancer; and at least one year has passed between the date that you started using Zantac and the date of your bladder cancer diagnosis.
If you are unsure whether you qualify for a Zantac lawsuit, schedule a consultation with a Zantac bladder cancer lawyer. A skilled Zantac injury attorney can carefully evaluate your situation and determine your eligibility. The team of attorneys at Estey & Bomberger specialize in dangerous drug lawsuits can provide expert legal guidance with your Zantac injury claim.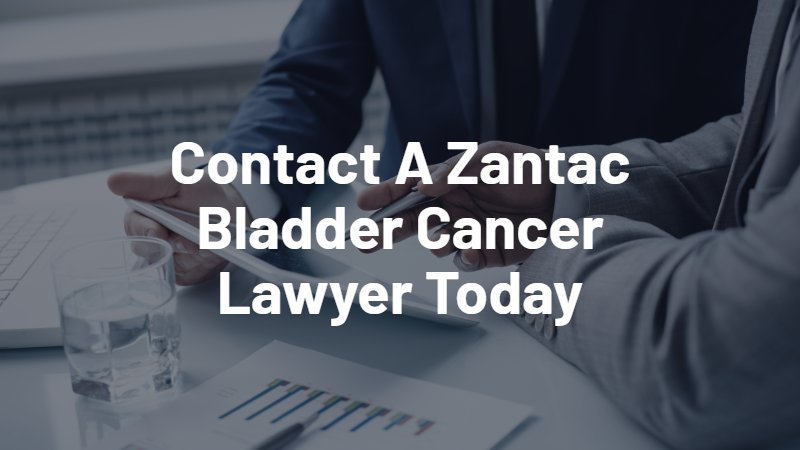 The Statute of Limitations for Zantac Bladder Cancer Lawsuits
All civil lawsuits, including product liability claims, are subject to a rule known as the statute of limitations. This law establishes deadlines for filing certain kinds of lawsuits. Different states have different statutes of limitations for product liability claims.
For example, if you live in Hawaii or California, you have two years from the date of your bladder cancer diagnosis to file your lawsuit. If you live in Nevada or Florida, you have a four-year filing deadline. In South Dakota, you must file your lawsuit within three years of your diagnosis, but no more than six years after purchasing Zantac.
It is very important to adhere to the statute of limitations. If you file your claim after this deadline passes, the court will likely dismiss your case—preventing you from recovering a settlement. To protect your right to recovery, speak to a Zantac bladder cancer lawsuit attorney at Estey & Bomberger, LLP as soon as possible.
Contact a Zantac Bladder Cancer Lawyer
If you were diagnosed with bladder cancer after taking Zantac, you deserve justice. In these situations, the team of Zantac lawsuit attorneys at Estey & Bomberger, LLP can help you hold the manufacturer accountable and secure the settlement that you deserve.
Our Zantac bladder cancer attorneys represent injured Zantac customers nationwide. Contact us today to schedule your free case consultation and identify your optimal path to maximum compensation.