In Wisconsin, many people live in discomfort due to gastroesophageal conditions like acid reflux and stomach ulcers. Zantac was a popular treatment for these illnesses, but the U.S. Food and Drug Administration (FDA) recalled the drug after discovering that it could raise patients' risk for cancer.
In the event that you were diagnosed with cancer after taking Zantac, trust the lawyers at Estey & Bomberger, LLP. Our Wisconsin Zantac lawsuit attorneys can help you hold the manufacturers accountable and secure the compensation that you deserve.
Why Choose Us for Your Wisconsin Zantac Lawsuit
Our law firm specializes in dangerous and defective drug lawsuits. We have recovered over

$500 million

in settlements and jury verdicts on behalf of our clients.

Our team of attorneys have won multiple awards recognizing our track record of success, including AV-Preeminent from Martindale-Hubbell and Trial Attorney of the Year from Consumer Attorneys of San Diego.

Our law firm understands the financial hardship that often accompanies a cancer diagnosis. Our injury attorneys will not charge any legal fees unless we recover a settlement in your case.
What Is Zantac?
Zantac was a popular over-the-counter and prescription medication that helped treat conditions caused by an overproduction of stomach acid. It was also sold under the generic name ranitidine and came in a tablet, syrup, and effervescent granule or tablet form. 
Multiple manufacturers produced Zantac, including:
Sanofi

American Health Packaging

Dr. Reddy's Laboratories Ltd.

Precision Dose Inc.

Sandoz Inc.

Novitium Pharma

Mylan

GSMS, Inc.
Can Zantac Cause Cancer?
In April 2020, the FDA requested a voluntary recall of all Zantac and ranitidine products from the market. This decision came after it discovered dangerous levels of N-Nitrosodimethylamine (NDMA) in the medication. 
NDMA is a probable human carcinogen that can induce tumors in laboratory animals and may increase your risk of certain cancers. These illnesses may include the following cancers: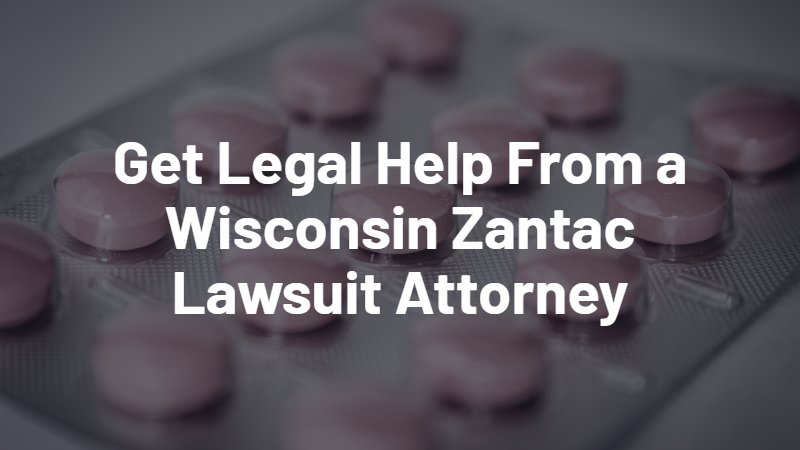 Filing a Zantac Lawsuit in Wisconsin
A cancer diagnosis can have a major impact on your life, affecting your physical health, psychological well-being, and financial situation. If you believe that Zantac is responsible for your illness, you may qualify for a claim against its manufacturers.
In Wisconsin, people who were injured by a dangerous or defective product have the right to file a lawsuit against the manufacturer in civil court. Through your claim, you could recover financial compensation to help pay for your medical care, lost wages, pain and suffering, and more. However, you will need to provide sufficient evidence that shows that Zantac is responsible for your cancer.
At Estey & Bomberger, LLP, our Wisconsin Zantac lawsuit attorneys represent former patients nationwide. We have access to the resources, experts, and case strategies that we can leverage to build a compelling case in your favor. When you hire one of our Wisconsin Zantac injury lawyers, you can trust that we will work tirelessly to prove your right to financial recovery. 
Contact a Wisconsin Zantac Lawsuit Attorney at Estey & Bomberger, LLP Today
Being diagnosed with cancer can be a scary experience. If you believe that Zantac is responsible for your condition, the Zantac injury attorneys at Estey & Bomberger, LLP can help you recover the compensation that you deserve.
Contact our law firm for experienced legal support from our team of attorneys skilled in dangerous and defective drug lawsuits nationwide. Schedule your free consultation today by calling (800) 260-7197 or filling out our online form.