Have you or a loved one been diagnosed with cancer after taking Zantac? You may be entitled to financial compensation. The U.S. Food and Drug Administration (FDA) issued a recall for Zantac in April 2020 after the discovery of a cancer-causing impurity, and now, patients are filing lawsuits for the damages that they suffered.
The Connecticut Zantac lawsuit attorneys at Estey & Bomberger, LLP are currently representing former patients in their claims against drug manufacturers. If you believe your cancer is related to Zantac, our Zantac lawsuit attorneys in Connecticut can work diligently to secure the compensation that you deserve.
Why Choose Estey & Bomberger for Your Zantac Claim?
Our law firm specializes in defective drug claims and has recovered millions of dollars on behalf of our clients. We will fight aggressively for your right to recovery.

Our firm has received outstanding client reviews and multiple awards. We have been named in the National Trial Lawyers' Top 100 and as a Daily Journal Top Plaintiff Attorney.

We understand how difficult a cancer diagnosis can be. Our law firm will provide the support and resources that you need throughout your case so that you can focus on recovery.
Zantac Recall and The Risk of Cancer
Zantac was recalled due to the presence of N-Nitrosodimethylamine (NDMA), a probable human carcinogen. Ingesting unsafe levels of NDMA regularly could lead to the development of cancer. 
NDMA levels increase in Zantac over time and when stored at higher than room temperature. Former patients have been diagnosed with several types of cancer, including:
How to File a Zantac Lawsuit in Connecticut State Court
A Zantac lawsuit allows you to recover compensation for cancer-related damages like medical care, lost wages, and pain and suffering. To successfully prove a Zantac lawsuit in Connecticut, however, you will need to provide clear evidence that establishes the following facts:
You regularly took Zantac, usually at least once per week for one year.

Zantac was dangerous due to the NDMA impurity.

You were diagnosed with cancer as a result of taking Zantac.

You were using Zantac as the manufacturer intended.
Proving a Zantac claim can be very complicated and often requires significant scientific evidence. In these situations, you need a Connecticut Zantac lawsuit attorney on your side who can build a compelling case in your favor.
Your Connecticut Zantac lawyer from Estey & Bomberger, LLP can conduct a full investigation into your case and will leverage his or her resources, case experience, and legal knowledge to build a strong argument for the courtroom. Our firm will work tirelessly to secure the settlement that you deserve.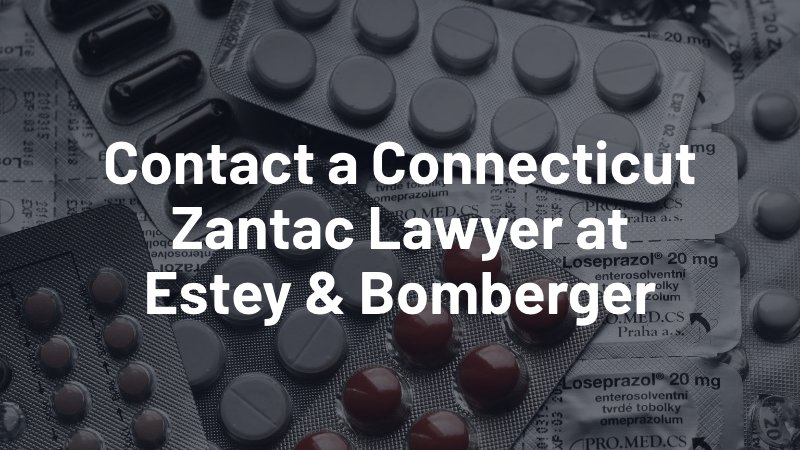 What Is Connecticut's Statute of Limitations for Zantac Claims?
In Connecticut, you must file a Zantac lawsuit within three years from the date that you discovered or should have discovered your cancer. Additionally, you cannot file more than 10 years from the date that the manufacturer last parted with the product. To protect your case, speak to a Zantac injury lawyer in Connecticut as soon as possible to initiate your lawsuit. 
Contact a Connecticut Zantac Lawsuit Attorney Today
If you were diagnosed with cancer after taking Zantac, the Connecticut Zantac lawsuit attorneys at Estey & Bomberger, LLP can help you recover a fair settlement to pay for your medical care, lost wages, and more. Contact us today at (800) 260-7197 for a free case consultation. Our experienced and knowledgable Zantac injury lawyers will carefully evaluate your case and identify your optimal path to compensation.