If you were diagnosed with ovarian cancer after taking Zantac, you may be eligible for financial compensation. This medication, which was used to treat heartburn and related conditions, has been found to increase patients' risk for certain cancers. Now, patients across the United States are filing lawsuits and holding drug manufacturers accountable.
At Estey & Bomberger, LLP, our Zantac ovarian cancer lawyers are dedicated to fighting for the rights of former patients. If you developed this serious condition, our law firm can represent your Zantac lawsuit and recover the settlement that you deserve.
Why Choose the Zantac Attorneys at Estey & Bomberger, LLP?
Our firm specializes in defective medication claims and works tirelessly to secure maximum results for our clients. In a five-year period alone, we recovered over $500 million in settlements and jury verdicts.

Our attorneys have won multiple awards recognizing our track record of successful lawsuits, including National Trial Lawyers' Top 100 and Martindale-Hubbell AV-Preeminent.

We understand the financial hardship that can accompany an ovarian cancer diagnosis. Our firm accepts Zantac lawsuits on a contingency fee basis; if we do not win your case, you will not pay any legal fees.
Zantac Can Increase Your Risk for Ovarian Cancer
Zantac is a medication that is used to reduce stomach acid, relieving symptoms of acid reflux and other gastroesophageal conditions. In April 2020, the U.S. Food and Drug Administration (FDA) requested the removal of Zantac and generic ranitidine after the discovery of N-Nitrosodimethylamine (NDMA) in the medication.
NDMA is a probable human carcinogen that can increase the risk of certain kinds of cancer, including ovarian cancer. Levels of NDMA increase over time and when Zantac is stored at higher than room temperature, making the medication especially dangerous.
Signs and Symptoms of Ovarian Cancer
Ovarian cancer affects the ovaries in the female reproductive system. This cancer often goes undetected because it can be difficult to identify. Symptoms may be subtle at first and begin to worsen once the condition progresses. If you notice any signs that worry you, you should see a doctor right away.
Below are some of the most common symptoms of ovarian cancer:
Fatigue

Back pain

Abdominal bloating

Discomfort in the pelvic area

Unexplained weight loss

Feeling full after eating very little

Changes in bowel movements

Frequent urination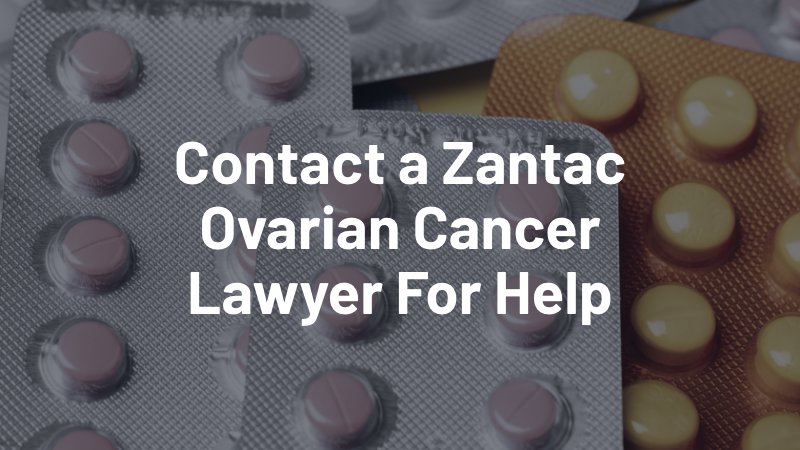 How to Prove a Lawsuit Against Zantac Manufacturers
If you used Zantac for at least one year and were diagnosed with ovarian cancer at least one year after you started taking it, you are likely to qualify for a Zantac lawsuit. By filing a claim, you can recover a settlement to help pay for medical care, lost wages, pain and suffering, and other damages.
To successfully secure compensation from Zantac manufacturers, you will need to prove the following:
You were diagnosed with ovarian cancer.

Zantac is defective.

Zantac's defect caused your cancer.

You used the medication as the manufacturer intended.
The Zantac ovarian cancer attorneys at Estey & Bomberger, LLP can help you gather the evidence necessary to prove these facts and establish your right to compensation. Our team of Zantac injury lawyers have the skills, experience, and resources necessary to build a compelling case in your favor.
Schedule a Free Consultation with a Zantac Ovarian Cancer Attorney
If you developed ovarian cancer and used to take Zantac, you may qualify for legal action. At Estey & Bomberger, LLP, our specialized Zantac ovarian cancer lawyers can represent your case and help you recover the compensation that you deserve. Contact us today to schedule your free consultation with a Zantac ovarian cancer attorney.