Over the past few years, researchers have discovered a link between several types of cancer and Zantac, a popular heartburn medication. Brain cancer, a serious and sometimes fatal illness that causes tumors in the brain, is one of these diseases. If you were diagnosed with brain cancer after taking Zantac, you deserve justice.
At Estey & Bomberger, LLP, our attorneys represent Zantac patients nationwide in their claims against dangerous drug manufacturers. Our Zantac brain cancer lawyers will advocate aggressively for your right to recover and fight to secure a settlement that you need to pay for medical care, pain and suffering, and more.
Why Choose the Zantac Attorneys at Estey & Bomberger, LLP?
Our firm specializes in cases involving the dangerous side effects of defective drugs, including Zantac. We have recovered

millions of dollars

in successful settlements and jury verdicts. 

We understand how difficult a brain cancer diagnosis can be. Our Zantac lawsuit attorneys will handle your lawsuit from start to finish so that you can focus on recovery, not complex litigation.

Our attorneys have received multiple awards recognizing our excellent track record, including Consumer Attorneys of San Diego's Trial Attorney of the Year and Outstanding Trial Lawyer.
Brain Cancer Symptoms
A brain tumor is the growth of abnormal cells in the brain. Some tumors are benign, but others are cancerous and can spread to other parts of your body. Signs and symptoms of brain cancer can vary depending on the location, size, and growth of the tumor.
Some symptoms of brain cancer may include:
Headaches that become frequent and more severe

The onset of headaches or change in headache patterns

Unexplained vomiting and nausea

Changes in vision, such as blurry vision

The loss of sensation or movement in a limb

Difficulty maintaining balance

Changes in speech or difficulty talking

Extreme fatigue and tiredness

Sudden changes in your behavior or personality

The sudden onset of seizures
How Zantac Increases Brain Cancer Risk
Zantac has been linked to multiple types of cancer, including brain tumors. The U.S. Food and Drug Administration (FDA) recalled this medication after discovering dangerous levels of N-Nitrosodimethylamine (NDMA). NDMA is a probable human carcinogen and can increase cancer risk if consumed at unsafe levels.
Researchers discovered that NDMA levels increase when Zantac is stored at higher than room temperature. This impurity also grows over time. Because consumers have little control over the drug supply chain, former Zantac patients have likely ingested dangerous levels of NDMA—increasing their risk for cancer.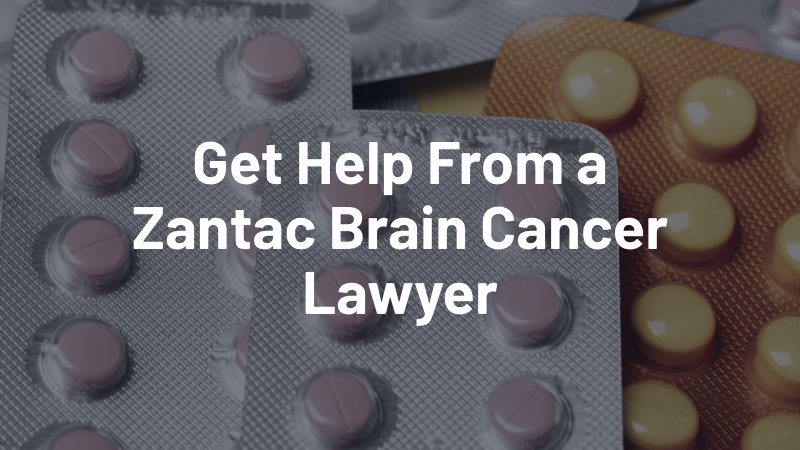 Why You Need a Zantac Brain Cancer Attorney
As a former Zantac patient, you have the right to pursue a lawsuit against the drug's manufacturers if you were later diagnosed with brain cancer. However, Zantac lawsuits can be difficult to prove; these cases are highly complex and require significant legal and medical knowledge. In these situations, you need an attorney on your side.
At Estey & Bomberger, LLP, our firm specializes in Zantac litigation. Our Zantac brain cancer lawyers have access to scientific knowledge, expert witnesses, case strategies, and more that we can leverage to prove your right to recovery. Our law firm will guide you through each stage of the litigation and advocate aggressively for your right to recovery.
Schedule a Free Consultation with Estey & Bomberger, LLP
If you were diagnosed with brain cancer after taking Zantac, our team of Zantac brain cancer lawyers at Estey & Bomberger, LLP can help. Contact us today to schedule a free case consultation with one of our Zantac brain cancer attorneys.