Zantac Recall
Zantac is a popular prescription and over-the-counter medication that is used to treat conditions like heartburn, acid reflux, and gastroesophageal reflux disorder (GERD). This medication is also sold under the generic ranitidine. However, Zantac manufacturers have recalled the medication due to the presence of N-Nitrosodimethylamine (NDMA), a probable carcinogen. If you developed cancer after taking Zantac, you may be eligible for legal action.
What To Know About the Zantac Recall
Zantac and its generic counterpart ranitidine may contain dangerous levels of NDMA and raise patients' risk of certain types of cancer. Individual companies began to recall their Zantac products in September 2019, and the U.S. Food and Drug Administration (FDA) issued a market withdrawal for the product in April 2020.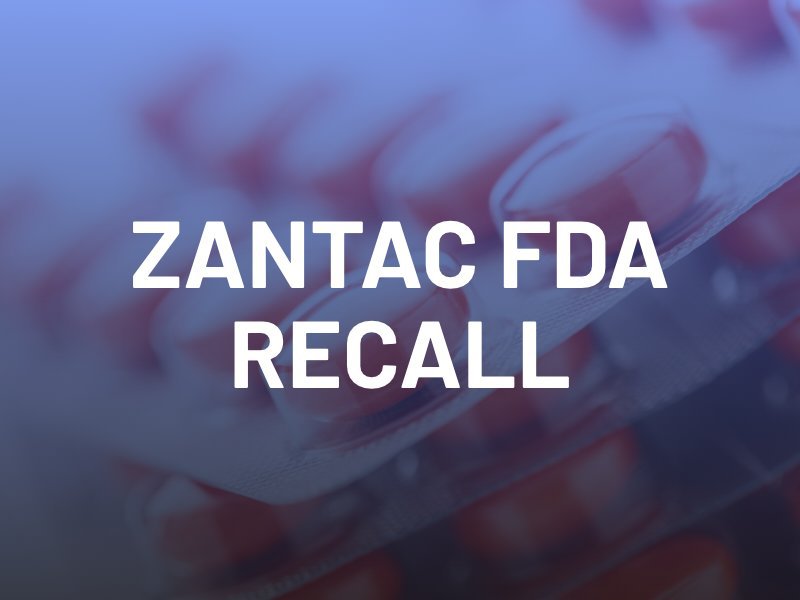 FDA Ranitidine Recall Timeline
In September 2019, Valisure, an online pharmacy based in Connecticut, was conducting routine testing on batches of Zantac. During its examination, the company discovered that the medication contained dangerous levels of NDMA. Humans can safely consume up to 96 nanograms of NDMA per day. According to Valisure's citizen petition, the pharmacy found that contained more than 3 million nanograms per tablet.
The FDA released a statement to the public about the NDMA presence and began to test batches of ranitidine. Between September 2019 and February 2020, Zantac manufacturers began to issue voluntary recalls for its medications. On April 1st, 2020, the FDA issued a formal request for manufacturers to withdraw all prescription and over-the-counter ranitidine drugs from the market. All Zantac manufacturers have since recalled their products from the market.
Manufacturers Involved in the Zantac Recall
Zantac is primarily manufactured by three companies: Sanofi, Boehringer Ingelheim, and GlaxoSmithKline (GSK). Sanofi issued a recall for its Zantac 150, Zantac 150 Cool Mint, and Zantac 75 products in October 2019. GSK and Boehringer Ingelheim have also recalled its Zantac products following the FDA's market withdrawal request in April 2020.
The following manufacturers have announced recalls of generic ranitidine products:
Sandoz
Apotex
Perrigo Company PLC
Dr Reddy's Laboratories Ltd.
Lannett Company, Inc.
Novitium Pharma LLC
American Health Packaging
Aurobindo Pharma USA
Golden State Medical Supply, Inc.
Amneal Pharmaceuticals LLC
Precision Dose Inc.
Glenmark Pharmaceuticals Inc.
Northwind Pharmaceuticals
Appco Pharma LLC
How Dangerous Is NDMA?
According to the Environmental Protection Agency (EPA), NDMA is a chemical that forms both naturally and during industrial processes. It was formerly used to make rocket fuel, lubricant additives, and other commercial purposes. Currently, NDMA is used for research purposes; some scientists use this chemical to induce tumors in laboratory rats. The EPA states that animals exposed to NDMA have developed tumors in their kidneys, liver, blood vessels, and respiratory system.
Humans are primarily exposed to NDMA through tobacco smoke, household goods, and certain foods, such as cured meats, fish, cheese, and beer. However, these NDMA levels are typically very low and do not lead to serious health effects. Zantac and other ranitidine products, on the other hand, may contain very high levels of NDMA—heightening its carcinogenic effect.
NDMA can cause damage to many organs, including the following:
Stomach

Pancreas

Bladder

Kidneys

Lungs

Liver
Zantac Recall Leads to Lawsuits
In response to the recall of Zantac, former patients are filing lawsuits against the manufacturers of this dangerous and defective drug. These plaintiffs allege that Zantac is defective in its design and manufacturers failed to disclose the risk of cancer to patients and healthcare providers. Hundreds of lawsuits are pending in federal courts, and Zantac lawsuit attorneys are expecting more victims to come forward.
What Kind of Cancer Does Zantac Cause?
NDMA may increase the risk of multiple types of cancer. Some of the most common conditions linked to Zantac use include the following:
Kidney cancer

Stomach cancer

Thyroid cancer

Bladder cancer

Liver cancer

Colon cancer
How Do You Qualify for a Zantac Lawsuit?
To be eligible for litigation against Zantac's manufacturers, you will need to prove that you took Zantac and that you have been diagnosed with cancer. You will also need to show a link between your Zantac use and cancer diagnosis.
The only way to know whether you qualify for a Zantac lawsuit is to speak with an attorney. Generally, you may qualify for a Zantac lawsuit if you meet all of the following criteria:
You took Zantac or generic ranitidine.

You were diagnosed with one or more cancers associated with NDMA.

You took Zantac regularly for at least one year.

At least one year has passed between the first time you took Zantac and your cancer diagnosis.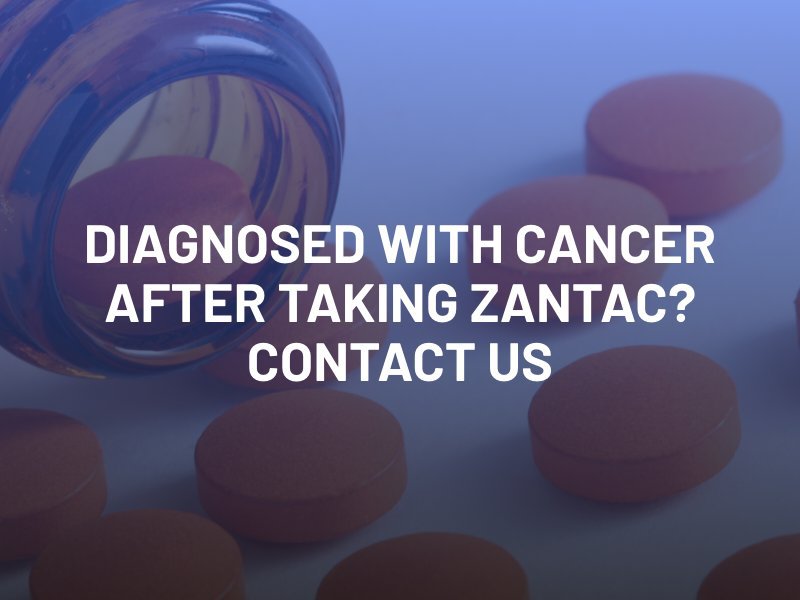 FDA Ranitidine Test Results
Through its investigation, the FDA determined that NDMA impurities are present in Zantac and ranitidine even when the medication was stored in normal conditions. However, the impurity increases over time and when stored at higher temperatures. Zantac may be exposed to hot temperatures and lengthy storage time during distribution and handling. When a consumer takes Zantac home, NDMA levels can increase the longer that the medication remains in the patient's possession.
What Did Earlier FDA Tests Find?
During its initial tests, the FDA stated that NDMA levels in Zantac were similar to levels found in normal foods. However, further studies found that the impurity posed a significant risk to the consumer. These findings led to the market withdrawal in April 2020.
NDMA Levels in Initial FDA Tests
In its initial tests, the FDA found the following levels of NDMA in various batches of ranitidine. Humans can safely consume up to 0.32 parts per million (ppm) of NDMA per day.
Sanofi over-the-counter ranitidine, 150 mg: 0.07–2.38 ppm

Sanofi prescription ranitidine, 150 mg: 0.08–2.17 ppm

Dr. Reddy's prescription ranitidine, 300 mg: 0.68 ppm

Novitium prescription ranitidine, 300 mg: 2.85 ppm

Sandoz, prescription ranitidine, 300 mg: 0.82 ppm

Silarx Pharma, ranitidine syrup, 150 mg: 1.37 ppm
What To Do if You Were Previously Taking Ranitidine
If you used to take Zantac or ranitidine, it is important to take action as soon as possible. Cease use of over-the-counter products. If you take prescription Zantac, speak to your doctor as soon as possible about alternative treatment options.
Zantac Alternatives
There are many Zantac alternatives, including Prilosec, Nexium, Prevacid, and Pepcid. You may also be able to control your symptoms by making lifestyle changes, such as eating a healthier diet and exercising on a regular basis.
Contact a Skilled Zantac Lawsuit Attorney
If you were diagnosed with cancer after taking Zantac, you may be eligible for financial compensation. As soon as possible following your diagnosis, contact a Zantac lawsuit attorney who can represent you in your lawsuit and secure the settlement you deserve. The injury attorneys at Estey & Bomberger specialize in Zantac injury claims and represent clients nationwide. Contact us today to schedule a free consultation of your case or call (800) 260-7197 at any time for more information.