If you or a loved one has been involved in a pedestrian accident in Los Angeles, you may be confused about what to do next. Medical bills may be piling up, and you can't pay them off because you're missing work while recovering from injuries. If your accident was caused by someone else's negligence, the Los Angeles pedestrian accident attorneys at Estey & Bomberger, LLP will fight on your behalf for fair compensation. We have earned millions in settlements for our clients who been seriously injured in pedestrian accidents. Call our office today for your free consultation.
Los Angeles traffic requires a pedestrian to be aware at all times, even when not actively crossing the road. Pedestrian deaths accounted for 41 percent of all motor vehicle accident fatalities in Los Angeles in 2012, well above the national average of 14 percent. While a collision can occur at any place and at any time, Westlake near MacArthur Park is particularly dangerous. In fact, there were a total of 343 pedestrians struck by cars there from 2002-2013, three of whom were killed. The worst individual intersection was Slauson and Western Ave., where there were 158 pedestrian accidents, two of which resulted in a fatality.
How Can a Pedestrian Accident Attorney Help Me?
Hiring an attorney shows insurance companies and negligent parties that you are serious about your claim.  In most personal injury cases, medical expenses, lost wages, and any property damage present are easy to calculate. But in cases of severe injury, these things aren't the only consequences. Loss of quality of life, loss of consortium, emotional distress, and other damages are more difficult to quantify. This is where you need a diligent attorney by your side. An experienced attorney will prevent your claim from being devalued and allow you to focus on your recovery.
Estey & Bomberger, LLP understands that not all injuries suffered in a pedestrian accident can be healed with a cast or medication. You deserve fair compensation for all damages, and you deserve a lawyer who will fight for it on your behalf.
Our Record of Success in Pedestrian Accident Cases
Our firm has handled dozens of pedestrian accident-related cases, yielding more than $15 million in settlement payouts. Our most successful of these cases earned the victim a $3.5 million settlement after they had suffered damages including traumatic brain injury in a pedestrian accident.
"I was very satisfied in regard to the attorney's handling of my case. I admit that when I started the process, I had low expectations, but I didn't experience any frustrations or inconveniences. I am delighted with the outcome!" –Steven B.

"I was extremely satisfied. I never thought we would settle the case for so much. Everybody at the office treated us well. Every time we called, they handled whatever situation was happening." –James S.
We work hard for every client by examining every detail of your case so that we can represent you in the best possible way. Our firm is dedicated to making your life and your recovery easier.
Common Causes of Pedestrian Accidents
While most pedestrian-involved crashes in California occur during late hours and on weekends, pedestrian-involved accidents and fatalities happen at all hours of the day.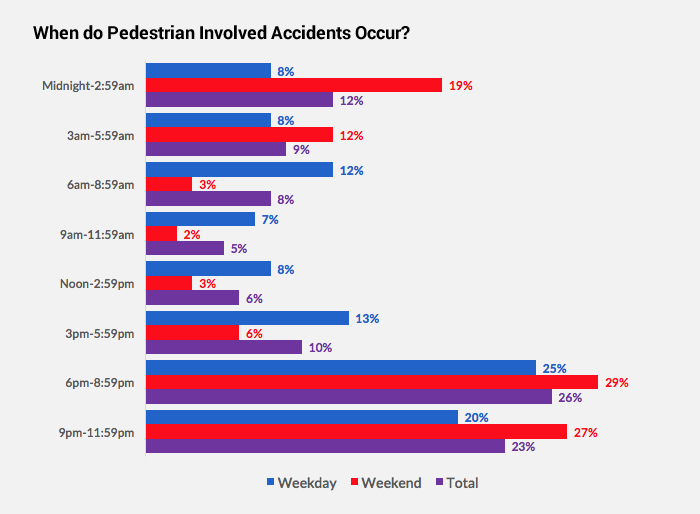 A pedestrian has zero protection in a collision with a motor vehicle, which means severe injuries or death is much more likely in an accident than it is for the driver of a car. Some of the more common causes of pedestrian accidents include:
Distracted driving – Cell phone use, looking at something else and eating make the driver inattentive, thereby slow to react at pedestrian crossings.
Impaired driving – Whether it be alcohol or other drugs, intoxicated drivers are at high risk for not obeying the right of way.
Poorly designed or broken crosswalks or roadways – Improperly placed or broken lights, and those placed near freeway exits or in the middle of a busy street, could mean that the government is liable if it can be shown the driver and pedestrian alike were not properly warned or given the right-of-way by traffic signals.
Overall, the driver has a duty of care to exercise; they must do everything they can to avoid a collision with a pedestrian.
Los Angeles Pedestrian Laws
Most cities have unique ordinances when it comes to the safety of pedestrians; what's necessary for Los Angeles may not be necessary for a smaller city. The laws for pedestrians are:
Right-of-way in a crosswalk: Pedestrians always have the right-of-way, but must still protect themselves. They can't expect a car to stop if it is too near to do so.
Right-of-way outside a crosswalk: Crossing in the middle of a street, or jaywalking, is always against the law. If a driver gets into an accident with another car while avoiding a pedestrian in this situation, the pedestrian could be held liable.
Traffic lanes: It's common in Los Angeles to see vendors or those with hand carts pushing them along the street. This is legal. They must stay as far to the right as possible, and drivers must respect their right to use the lane.
The minimum fine for a driver failing to give right-of-way to a pedestrian is $220. This is just the minimum and increases greatly if extensive injuries are caused.
Call For a Free Case Evaluation
Our clients appreciate our work because it instills confidence; our dedication and commitment to your case are unrivaled. While we take care of all legal matters for you so that you can focus on recovery, you will never be kept in the dark. We establish easy manners of contact between you and your attorney so that we can always be available to you when you have questions.
We work on a contingency fee basis; we don't get paid unless you do. You can rest assured that you will get nothing but 100 percent effort from your attorney throughout the entire settlement and, if necessary, trial process. Call Estey & Bomberger, LLP today to discuss your case with us during your free consultation.