San Diego Surgeon Points to Recent Scooter Deaths as Public Health Threat
Electric scooters have become an increasingly popular fad among residents in many different states. Electric scooters are advantageous in their ability to quickly transport users to different destinations without waiting for public transport or having to ride share. They also emit less pollution than cars, making them a green option for those trying to be environmentally conscious. However, electric scooters have caused injury and death in some cases, calling into question the safety of these motorized vehicles.
Trauma surgeons have recently raised concern after treating patients for electric scooter-related injuries. Although electric scooter injuries are not as common as vehicular injury, accidents related to scooters have sharply increased since 2018, remaining at this intensified rate into 2019. Because of this increase in injuries, UC San Diego and the Scripps Mercy Hospital and Trauma Center in Austin, Texas, are working together to explore scooter injury patterns. Both locations have documented a large number of scooter-related injuries. They will not release the full results of their study until they publish their findings in a medical journal later in 2019.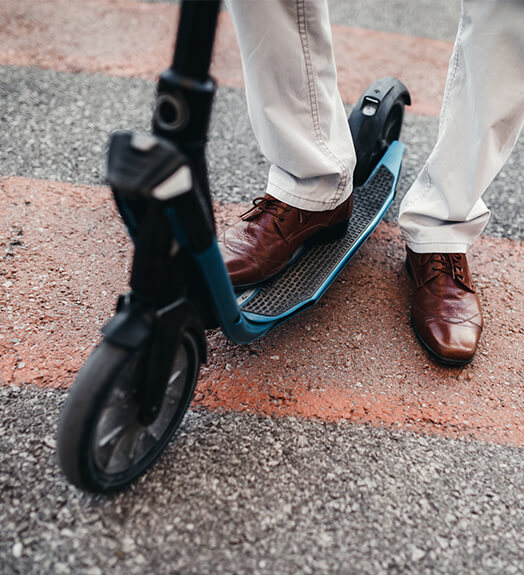 Causes of Injury
Although UCSD's study with Scripps is not yet fully released, they have published some preliminary data concerning emergency room visits. They report that three to six riders bring scooter-related injuries to the emergency room every day. Most of these injuries share one of several causes.
Drunk riding is one of the biggest commonalities when riders report injuries. This often happens with college-aged riders who use electric scooters to travel throughout town after, or in the midst of, drinking. Drinking accounts for at least half of all scooter injuries.
Not wearing a helmet is another huge cause of electric scooter injuries. Not wearing a helmet has caused injuries that are more severe in nature, especially within the context of drunk riding. This issue is difficult to address in California because recent law dictates that individuals older than 18 do not have to wear a helmet.
Many scooter services are dockless, meaning there is no set station, or attendant, who assists a rider in obtaining a scooter. Residents can essentially obtain a scooter no matter what state of mind they are in. Drunk riders and irresponsible users can access scooters at their leisure. This is alarming because there is no regulation that prevents this from happening. This lack of proper scooter safety protocol, coupled with California's no-helmet law, have caused many otherwise preventable injuries.
Common Injuries Associated With Electric Scooters
Electric scooter-related injuries range in severity. Riders suffer less severe injuries when wearing a helmet, resulting in injuries such as minor concussions. However, with most of the electric scooter population neglecting to wear helmets, reported injuries are often more moderate to severe in nature:
Facial fractures
Concussion
Intracranial hemorrhage, or other forms of brain injury
Arm and leg fractures
Broken bones
Studies have shown that, in severe cases, intracranial hemorrhage is possible to sustain in a scooter-related accident. This is a form of traumatic brain injury, which can come with a host of complications. Falling from a scooter is not a laughable matter, especially when the rider hits their head against a surface while falling.
Electric scooters are a class of motorized vehicles many consumers operate recklessly. With 94% of riders neglecting to wear helmets, communities are asking the question of how to address e-scooter safety. When riding a motorized scooter, remain alert and remember that safety practices are in place to protect riders without limiting fun.
Operating an electric scooter while intoxicated is not safe, creating accidents that otherwise would not occur while sober. And helmet usage, though inconvenient to carry with you, can limit the damage sustained in a scooter-related incident. Prioritize your safety over convenience when using an electric scooter to continue reaping its benefits while avoiding injury.