Deadly weekend for car accidents in San Diego County and surrounding areas
Car accidents kill and injure innocent children this past weekend. Numerous adults also killed and injured.
It was a deadly weekend for numerous innocent children who lost their lives due to the actions of others drivers. Sadly, car accidents are one of the leading causes of death for young children, and most times the cause is a careless or negligent driver.
Two young girls injured by hit and run driver in San Diego's Tierrasanta community
Update: Raquel Rosete has succumbed to the injuries suffered when she was struck by Julianne Little. Raquel Rosete had been declared brain dead after the crash on Santo Road Saturday night. A motorist accused of driving onto a sidewalk in Tierrasanta and running down two young girls, pleaded not guilty Wednesday to charges of vehicular manslaughter and hit-and-run with injury. Police arrested Julianne Little of San Diego for suspicion of felony hit and run, and driving under the influence of drugs, after running over two children on a sidewalk in Tierrasanta Saturday night, according to San Diego Police. Two young girls, aged 10 and 12, were struck.
Interstate 15 rear end car crash claims the life of 11-year-old San Bernardino County child
11-year-old Steven Lemelle of San Bernardino County was killed when a vehicle rear ended his family's SUV on Sunday. Lemelle and his family were returning home after having spent the day in San Diego celebrating Lemelle's birthday. The accident occurred on the northbound freeway near Gopher Canyon Road. The impact caused the SUV to veer into the center divider and roll.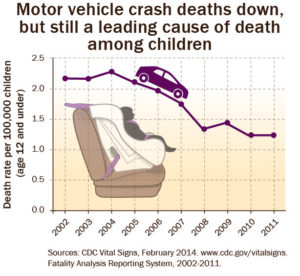 El Cajon car accident injuries family
A speeding motorist lost control of her westbound Lexus sedan in the 1000 block of West Main Street in El Cajon, according to police. The car veered off the road and hit a utility pole, a street sign and a traffic signal before entering Marshall Avenue against a red light and crashing broadside into a southbound Nissan Quest. The family in the Nissan Quest is recovering their injuries.
San Diego resident dies in an I-5 car accident
Marc Scavone was killed on Interstate 5 just north of Highway 119 early Saturday morning. Less than 24 hours later, four people would lose their lives in a single vehicle accident on Interstate 5 just north of the Kern County line in Kings County.
Interstate 8 chain reaction crash claims life of 11-year-old girl.
A chain-reaction crash on Interstate 8 in Pine Valley has claimed the life of an 11-year-old-girl. The three-vehicle crash near the U.S. Border Patrol checkpoint west of Buckman Springs Road trapped the young girl inside the vehicle. Rochelle Hernandez was a backseat passenger in her aunt's Lexus sedan when it was struck from behind by a speeding Toyota Camry. The Lexus then struck the back of a Honda Pilot and burst into flames. Rochelle Hernandez died from her injuries.
Lakeside girl killed
A vehicle struck and killed a girl at a Lakeside-area intersection late Monday afternoon. The accident occurred at Los Coches Road and Olde Highway 80 shortly after 5 p.m., according to Heartland Fire & Rescue. It is reported that the young girl, identified as Kiera Larsen, was struck by an errant automobile as she pushed another young girl out of harms way.
Head-on crash on SR-78 caused by wrong-way driver
A black SUV traveling in the wrong direction iSR-78 hit a white Toyota Tacoma head-on early Monday morning. Two people are in the hospital Monday morning with serious injuries.
Estey Bomberger protect the legal rights of car accident victims
You have legal rights to hold those responsible for your child's death. This may offer you limited comfort at a time that you are grieving but it is important to ensure that those responsible for the loss of your loved one are held accountable for their alleged negligence, which means the motorist could be responsible if they did not exercise reasonable care or caution and it led to the wrongful death of your loved one. When you are ready, call the law firm of Estey Bomberger for a free consultation to discuss your legal rights.