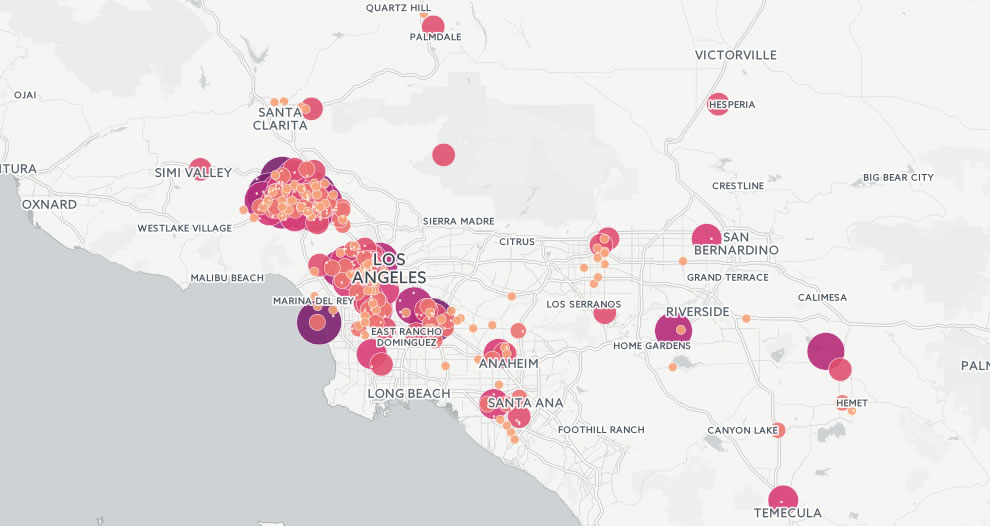 *As part of our commitment to consumer safety, Estey & Bomberger presents the first in our data driven study series: Safety through Numbers.  Each month, with the help of data visualization firm 1point21 interactive, we will take a look at a whole host of consumer safety issues to find out where danger lurks for Californians.  Our first study examines dangerous intersections through out the state. 
What are the most dangerous intersections in California? Where are they located?
Together with data visualization company 1point21 Interactive, we analyzed over 435,000 collision records to find out which intersections in California are the most dangerous. In our effort, we examined every motor vehicle crash recorded by the Statewide Integrated Traffic Records System (SWITRS) in 2015.  Taking total crashes, injuries and fatalities into account, we identified and ranked all intersections with 10 or more accidents.  Based on this 2015 crash data, here are the most dangerous intersections in California:
Rankings
[wpdatatable id=4]
*Intersections with higher scores are more dangerous than those with lower scores. For more information on the scoring system, see our methodology below.
Interactive Map
Zoom in on any area of the map. Larger circles represent a more dangerous intersection. Hover over any circle to see the cross streets and the danger score of that intersection.
Key Findings
In 2015, there were 7,294 crashes, 7,478 injuries and 57 fatalities at the 444 intersections in our study.
The average danger score of a dangerous intersection was 68.24
The average number of accidents per dangerous intersection was 16.43 
The average number of injuries per dangerous intersection was 16.84
The average number of deaths per dangerous intersection was 0.128
The intersection of Devonshire Street and Reseda Boulevard is the most dangerous intersection in California, followed closely by Imperial Highway and Vista Del Mar then Balboa Avenue and Nordhoff Street.
In a state with over 76,000 miles of city streets and another 65,000 miles of county roads, two of the three most dangerous intersections – Devonshire Street and Reseda Boulevard (#1) and Balboa Avenue and Nordhoff Street (#3) -are located in the Northridge neighborhood of Los Angeles, just 3.4 miles apart.
Devonshire and Reseda was the site of the most injuries (41) while Garfield Avenue and Rosecrans Avenue had the highest volume of crashes (44).
Southern California dominates the study.

 

In fact, only 47 of the intersections in our study (10.5 percent) are located anywhere outside of southern California.
City-wise, it's Los Angeles, then everyone else. 221 of the 444 intersections are on Los Angeles streets.
Distribution of Dangerous Intersections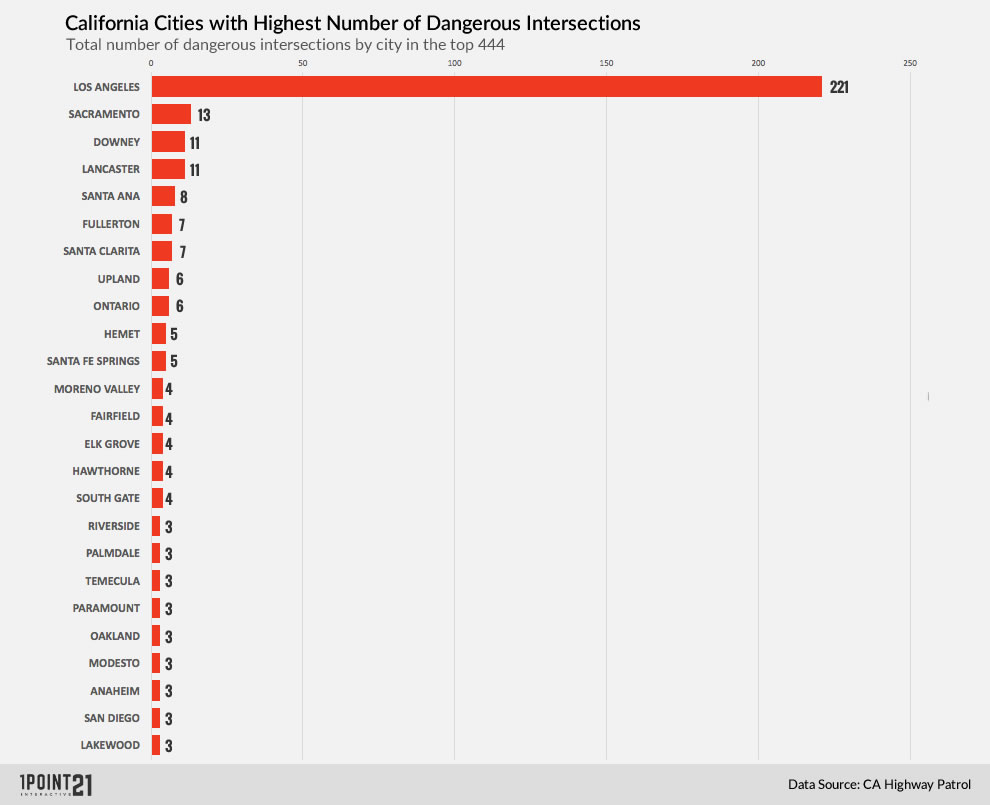 It comes as no surprise that Los Angeles led the way in terms of accident volume, injuries and the number of dangerous intersections. What is surprising, however, is by how much it led the way.  Almost half of the intersections in our study (221 of 444) are located within the city of Los Angeles boundaries.  What's more, 8 of the 10 most dangerous intersections and 17 of the top 20, are also found in L.A. The chart below plots all the dangerous intersections identified in our study. Purple dots (representing an intersection in the city of Los Angeles) dominate the data visualization below.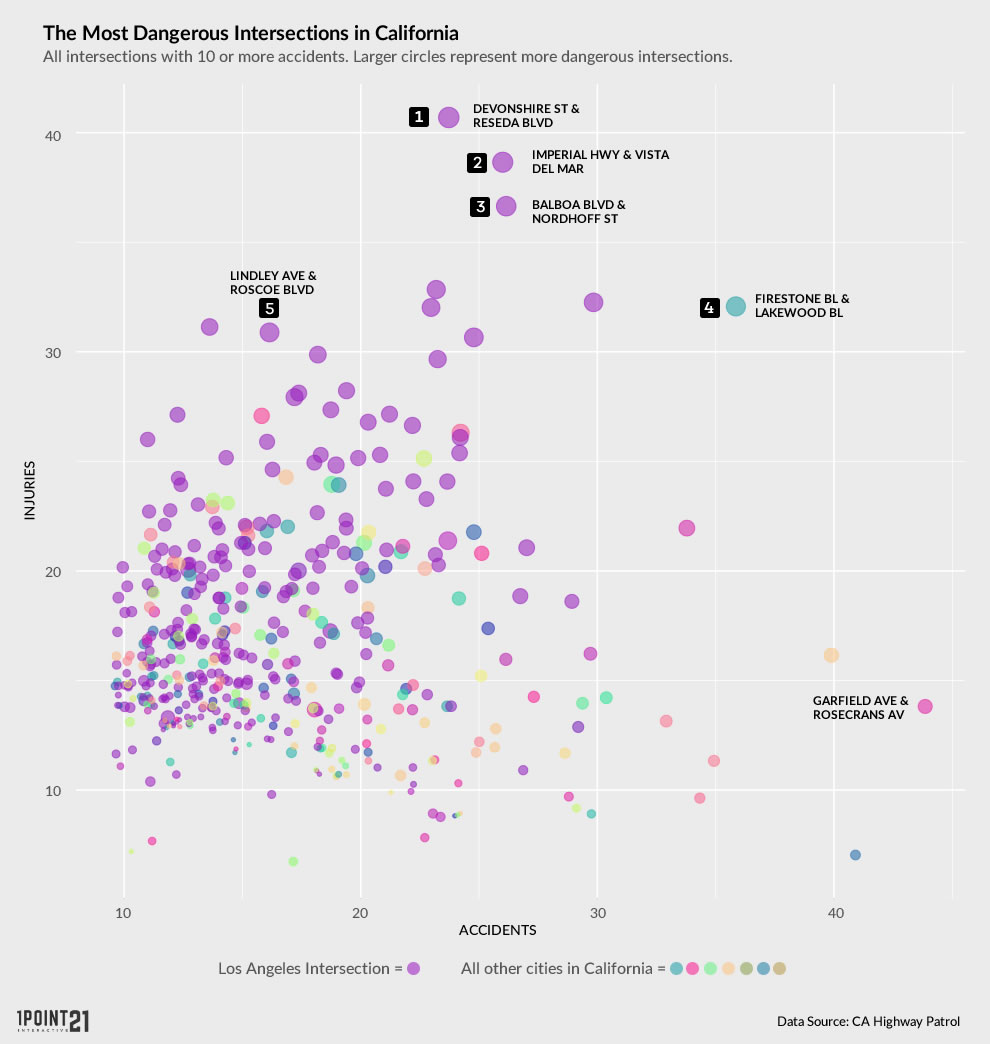 Los Angeles has 17 times as many intersections from our list than the number two city on the the list, Sacramento.  While the Los Angeles metropolitan area is the most densely populated urban area in the United States (classified as Los Angeles – Long Beach – Anaheim by the U.S. Census), six other areas in California are among the top ten.
Why We Did This
Safety on our roads is the responsibility of those using the roads, but also on those that design and maintain our roads. This study identifies trends and dangers that our local government and community can use in improving safety and lowering the risks of serious injury. Proactively approaching the threats of dangerous intersections can save lives — that is what we hoped to accomplish with this study.
Methodology
We parsed over 435,000 collision records for 2015, separating all accidents that occurred at intersections. We then assigned values to each accident, injury and fatality at each intersection to calculate a score to rate the danger of the intersection.
Formula: Accident (x1) + Injury (x3) + Fatality (x10) = Overall Score
Collision data obtained from SWITRS (a multi-agency database maintained by the California Highway Patrol).