If you are in need of a San Diego auto accident attorney, we are here to help. At Estey & Bomberger, we have committed our practice to focusing exclusively on handling personal injury plaintiff cases and the majority of work involves handling serious car accident injury cases. Feel free to call us at anytime, day or night, and we will answer any questions you have. We never charge for consultations and if we take your case, you pay nothing unless and until we recover money on your behalf.
Car Accidents in San Diego County
While San Diego is a beautiful and desirable place to live, it doesn't come without its downfalls. One such negative involves the hectic nature of driving and commuting in and around the county. Weather conditions, defective road conditions, unexpected delays, heavy traffic, large commercial trucks, and dangerous driving behaviors can all lead to accidents, injuries, and death. For the last few years in San Diego, the number of accidents involving motor vehicles is on the rise.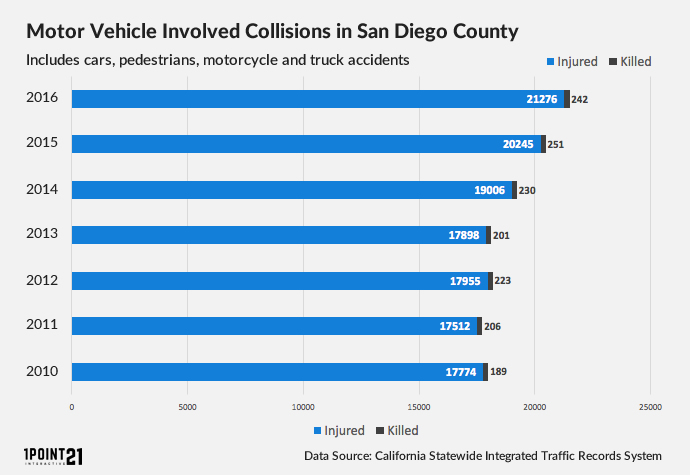 While traffic laws and safety regulations are attempting to curb these dangerous trends, the effects have not yet been felt. In 2016 alone, there were 21,276 car involved collisions in San Diego County. As the chart shows, these numbers are increasing each year. While fatalities from automobile accidents slightly dropped from 251 to 242 in 2015, these numbers are still much higher then just a few years ago. Taking a look at San Diego County specifically, the leading causes of collisions were Unsafe Speed, Improper Turning, Automobile Right-Of-Way and Driving or Bicycling Under the Influence of Alcohol or Drugs.
How many vehicle-on-vehicle collisions were there in San Diego in the last 9 Years?
The above data is courtesy of the CHP's Statewide Integrated Traffic Records System.  We have seen an increase in total collisions since 2011. Comparing the data from 3011 to 2016, there was an increase of 25.04% in vehicle wrecks, which is pretty significant.
How Many Fatal Collisions Occurred in San Diego?
The data in the red shows the total number of collisions that involved fatalities. Looking at the statistics from 2016 back to 2007, we are seeing that the most fatal collisions occurred in 2007 with 88 deadly collisions. The year 2010 proved to be the lowest with 47 fatal collisions.
Common Causes of Car Accidents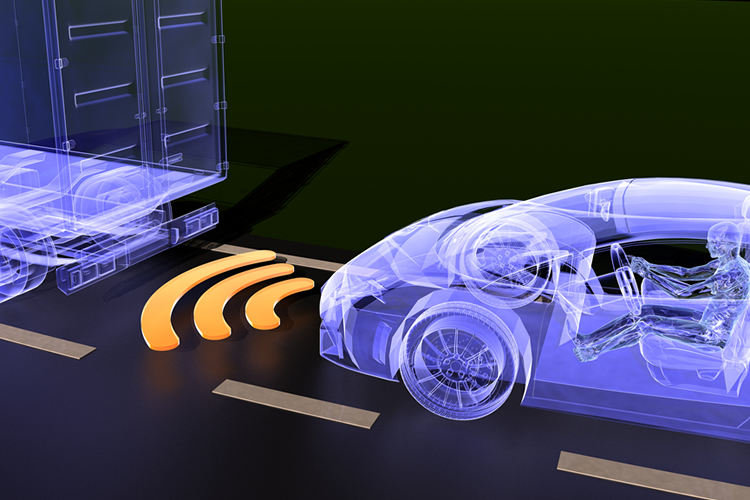 While the cause of every car accident is unique and different, it's usually possible to blame the majority of collisions on a few common causes. Sadly, drivers are not learning from past mistakes and continue to put others at risk when they cause collisions as a result of the following:
Distracted Driving The leading cause of car accidents and collisions is almost always distracted driving, regardless of the state, county, or city. Distracted driving refers to texting, using a cell phone, eating, drinking, grooming, reading, using a navigation system, talking to passengers, watching a video, listening to music, or adjusting the radio.
While all of these are alarming behaviors, texting is probably the most concerning of all. Because it requires the user to be engaged visually, manually, and cognitively, it poses a serious risk. Data shows there are more than 660,000 drivers using cell phones while driving at any given moment.
Speeding It's pretty difficult to ignore speeding on any list of common car accident causes. As mentioned, traveling at an unsafe speed was responsible for 5,068 collisions in San Diego County in 2013. That accounted for almost 33 percent of total collisions in the county. Speeding can almost always be attributed to a lack of paying attention, being in a rush, or trying to efficiently make use of time on the road. While these are all very real concerns, none of these are excuses for car accidents.
Driving Under the Influence As much publicity as driving under the influence receives, you would think the numbers would subside. Sadly, though, people continue to operate their vehicles while under the influence of drugs or alcohol. In San Diego County alone, driving or bicycling under the influence injured 1,273 victims and killed 26 victims in 2013.
While this is certainly one of the leading causes of car accidents, it is also one of the most preventable. However, the responsibility is ultimately in the hands of those on the road.
Other Causes Other leading causes include driver fatigue, reckless driving, rubber-necking or gawking, defective car parts, bad weather conditions, and unsafe roadways.
How many Vehicle on Vehicle Driving Deaths happened Each Year in San Diego?
The graph above shows all of the vehicle to vehicle collision deaths that were reported from 2007 up to 2016. Looking at the data, 2007 had a record high number of deaths with 101 in that year. We saw a slight drop in fatalities in 2016 with 76 total deaths, but the numbers had been steadily increasing since back in 2012, which had the lowest total, 56. Even if the numbers do decrease, we still have a long way to go to protect our loved ones on the San Diego roadways. We can work together to increase safety!
Types of Injuries Related to Car Accidents
Car accidents often lead to a number of painful and debilitating injuries. While a collision can take a toll on any and every part of the body, certain areas are more susceptible to harm. Here is a list of common car accident injuries:
Back and Neck Because of the amount of force a typical car collision produces, drivers and passengers are frequently thrown around and jolted. Less serious neck injuries include whiplash and neck strain, while severe cases can include disc displacement, cervical radiculopathy, or any number of other conditions of the neck. In conjunction with the neck, the back is also a high risk site. Injuries here include strains, sprains, fractures, disc injuries, and more serious issues like lumbar radiculopathy and thoracic spine injury.
Head and Brain Closed head injuries, ranging from mild concussions to traumatic brain injuries, are another common injury. These often occur when the head makes direct impact with some part of the vehicle. When airbags go off, the high impact nature of collisions can cause head or brain injuries as a result of making contact with the airbag.
Broken Bones Broken and fractured bones are commonly treated in car accident victims. Arms, legs, fingers, wrists, ankles, and collar bones are some of the common places for bones to break, but nearly every part of the body is at risk in a high impact collision.
Burns Unfortunately, burns are a common consequence of car accidents in San Diego. The friction caused by contact with moving parts in the car or the roadway itself can leave victims with serious first, second, or third degree burns on their bodies. Our burn injury lawyers are well versed in car accident related burn cases.
Loss of Limb When a car accident is very serious in nature, victims can often lose limbs as a result of being trapped in compromising positions. Injures of this nature may lead to partial or full amputations.
Cuts and Lacerations Other major injuries include cuts and lacerations to the face, limbs, abdomen, and back. These can range from mild to serious in nature and often require sutures and bandaging.
While this is by no means a comprehensive list of injuries resulting from car accidents, these are some of the most common and frequently reported among victims seeking medical attention.
Dealing with Insurance
Aside from injuries, dealing with insurance can be one of the most difficult parts of being involved in a car accident. There are things you should do, things you shouldn't do, tips, suggestions, and pieces of advice coming from all angles. While there is some truth to much of this information, dealing with insurance after a car accident can be broken down into basic advice. Your San Diego car accident attorney will be able to advise you on the following:
Contacting Insurance. First and foremost, it's important to understand who you need to talk with. When at fault, it is important to notify your insurance company right away. As a victim of another's negligence, you may call the other driver's insurance company or wait to hear from them. If you haven't heard from them in a reasonable amount of time – usually a couple of days – it's best to contact them yourself.
Know Your Rights. The insurance process can be tricky and confusing for those outside of the industry, so make sure you know and understand your rights. If you are speaking with your insurance company, they can require you to give a recorded statement.
This statement will be used to determine who is at fault and what they may owe. When speaking with the other driver's insurance company, you are not required to give a recorded statement and should not under any circumstances offer one. Anything you say could be used against you.
Who is Liable?
Car accident liability is largely determined by the exact circumstances of the accident. What makes one driver liable in a given accident may not mean another driver is liable in a separate collision. However, there are a few rules that hold true in the large majority of situations no matter where your accident occurred, albeit in Downtown, Chula Vista, Escondido, North Park or anywhere else in San Diego county.
Rear end collisions are almost always the fault of the driver hitting the other vehicle from behind. While there are circumstances that change liability in these situations, they are few and far between. The rule of the road is that you are supposed to leave enough room between your vehicle and the car in front of you to stop if necessary.
In situations involving a left turn collision, no matter who the plaintiff is, the driver making the turn is almost always at fault. That's because all other vehicles usually have the right of way over a left turning vehicle. Exceptions may include a car speeding through an intersection, running a red light, or failure to obey a yield sign.
Generally speaking, the police report will determine liability. The police officer on the scene will record statements, make notes of injuries, and file a report suggesting which party is liable for the accident. It is usually difficult to get around the details of the official police report, but it is certainly possible with professional assistance.
What to do After a Car Accident
After a car accident, it is important to remember a few things. While it can be difficult to remain calm after such a traumatic event, the outcome from here on out will depend on your ability to do so. First, take a deep breath and check your surroundings. Are you or any of the passengers in your car injured? If there are serious injuries, call an ambulance immediately. If the accident is minor and there are no apparent injuries, move the accident to a safe place and away from traffic.
If the accident is serious in nature, it is best to leave the vehicles where they are until the police arrive. When doing this, be sure to turn on hazard lights, use cones, flares, or any other safety mechanism to which you have access. You do not want to cause additional accidents.
After checking for injuries and calling for medical attention, the police should be contacted. The police will ask for statements and write up an official report.
Important tips to remember after an auto accident include:
Never make incriminating statements, regardless of who is at fault.
Make immediate notes regarding what happened, as you are apt to forget details later.
Never sign any documents unless it is specifically for the police or your own insurance.
Contact a lawyer for further help with liability, injuries, and other circumstances.
Tips for Choosing a Lawyer
If you have been injured in a car wreck, it's important to contact a lawyer as soon as possible. But, what do you look for? Here are a few tips on choosing a good car accident attorney in San Diego:
Experience Always choose a lawyer with experience. Specifically, you want a lawyer with a history of taking cases similar to your situation.
Knowledge You can tell much about a lawyer by asking for their education achievements, certifications, and association memberships.
Fees You should only choose lawyers that charge on a contingency fee basis. In this case, you don't pay lawyer fees unless your case is successful settled. This shows confidence and honesty on the part of the lawyer.
History An honest and truthful lawyer will let you see past results and previous settlements to give you an idea of what to expect.
Recent Client Testimonial:
Click below to hear the story of our car accident client Martin Fricke.

Frequently Asked Questions Regarding Auto Accidents
An automotive accident is a scary experience for everyone involved. If you were injured in a car accident, you may not know where to turn. Consult our FAQs for a comprehensive look at car accidents.
I was injured in a motor vehicle accident. What should I do next?
Call the police and seek necessary medical attention
Maintain bodily safety by exiting the roadway completely
Obtain information from the other driver and any nearby witnesses
Note all memories of the accident and actions that followed
Keep record of all medical attention and repairs after the accident
Collaborate with an experienced auto accident lawyer
Why should I get a lawyer after a car accident?
An experienced auto accident lawyer  knows your rights better than anyone and is able to protect them fully. Working with insurance companies can be a lengthy ordeal, and you should be able to focus on recovery from injury. Let us take care of the legal backlash. 
How soon should I seek legal counsel after my accident?
The sooner the better. Though we will wait to file your claim until all medical treatment has been administered and the vehicle repairs have been estimated, we can help you work with the police and the insurance companies throughout the process.
Why do I need a police report following an accident?
A police report is a valuable, unbiased piece of evidence for your case. Police reports hold up fully in court. Police are also an important asset on the scene to mediate any further interaction between you and the other driver, or to advocate for you in the case of a hit and run.
Should I release my medical records to the insurance company?
No! This could hurt your case significantly. If an insurance company requests your medical records, consult a lawyer before releasing anything. 
The insurance company is offering a decent settlement. Should I accept?
No! In most cases, we can get you a better settlement than what the insurance company offers. Insurance companies make preliminary offers to close the case quickly and avoid trial. This will not benefit you.
What happens if I am partially at fault for the accident?
Comparative negligence in court will determine your percentage of fault against the other driver's, and damages will be split accordingly. 
Can I file a claim if I am a passenger who is injured in an accident?
Yes, absolutely. You can file a claim against the responsible driver whether you were in the at-fault vehicle or the other vehicle. 
What if the other driver is uninsured or leaves the scene?
Often, your own insurance can protect you through Uninsured Motorist coverage. However, your insurance company and the police can track down a driver who leaves the scene with enough identifiers.
Can I file a claim against my vehicle's manufacturer?
Absolutely. If it can be determined that your vehicle was in an accident as a result of a product defect, the manufacturer may be responsible. 
Would my reimbursement include payment for time off of work?
Yes. Successful settlements can cover lost wages.
Who is responsible for providing a rental vehicle during my vehicle's repair?
If complete fault is placed on the other driver, his or her insurance company will provide a rental. If liability is being debated, you should be able to obtain a rental from your insurance company, and your company can dispute reimbursement with the other company.
I feel okay following my car accident. Should I see a doctor?
Probably. Many back and neck injuries can become symptomatic after the fact, but a doctor can determine if your body was affected by the impact.
What if the doctor says I will never recover from injuries sustained in my accident?
Individuals who sustain permanent injury, disability, and a significant reduction in quality of life following an accident may be eligible for much greater recovery in court. Discuss your options with your attorney for best results.
About Estey & Bomberger
Our team of San Diego car accident lawyers at Estey & Bomberger have represented those injured in auto accidents for more than two decades. If you have been injured in a car accident in San Diego County, don't hesitate to contact us today. We would be happy to help you fight for your rights and won't settle until you receive the compensation you deserve.